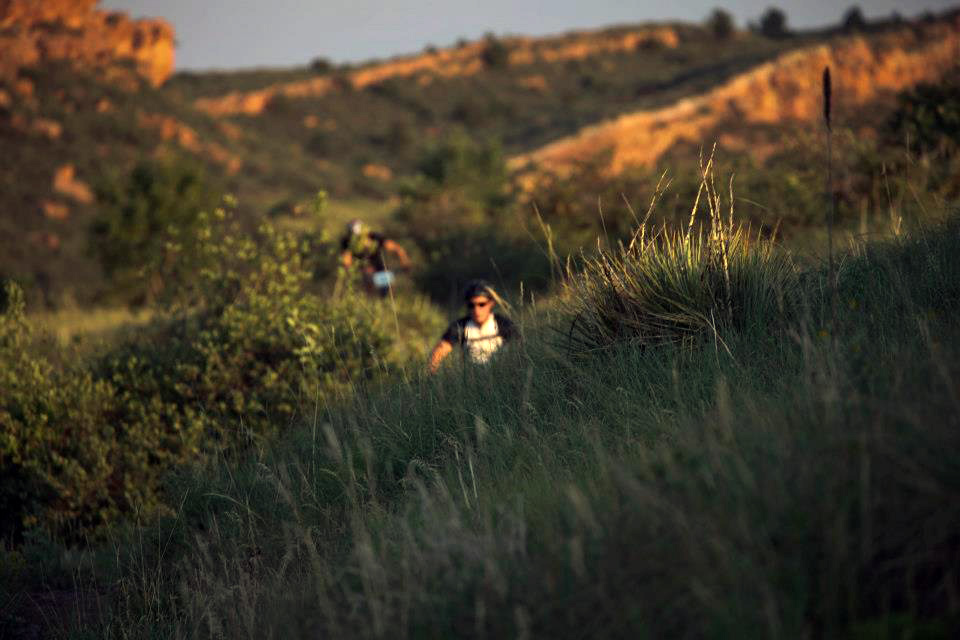 Below you will find the responses from the 4 candidates currently running for Larimer County Commissioner for District 2 & District 3. Overland Mountain Bike Association submitted a list of questions to each candidate for their take on several trail and open lands related issues. As a 501c3 charitable organization, OMBA is unable to endorse or support any candidate for elected office. You are encouraged to read each response and contact each candidate if you would like more information on their positions or responses to our questions.
---
Your 2020 Larimer County Commissioner Candidates are:
---
Candidate Questions & Answers:
Do you ever ride a mountain bike on our local trails?

McCluskey: I don't currently ride a mountain bike on our local trails.
Stephens: No, I do not have a mountain bike, but I definitely would like to try it some time.
Aste: Yes
Shadduck-McNally: YES

How often do you recreate in any way on our local trails and which is your favorite?

McCluskey: I don't walk the local trails in the County very often.
Stephens: When I am not campaigning, I like to get out once a week for a hike. My favorite trails are Coyote Ridge, Horsetooth, and when I have time I like to go out to Soapstone and Red Mountain.
Aste: Annually – Devils Backbone & Hermit Park & Coyote Ridge & Crosier Mountain
Shadduck-McNally: I hike, run or bike 3-5 times a week on local trails or county roads close to these trails. Every year I hike over 100 miles in Rocky Mountain National Park and close to 175 total hiking miles. I have several favorites in Rocky, but if I had to choose it would be Sky Pond. I tend to bike closer to home up towards Pinewood Reservoir (R-S) and Devil's Backbone. My family loves to ride mountain bike trails like Blue Sky, Soderberg, and Bobcat Ridge as well as road bike from Loveland and Fort Collins and sometimes to Boulder. My oldest son rides his mountain bike in the Horsetooth area every week. We also travel to the western slope for biking opportunities. The past six months I have hiked, Eagle's Nest, Red Mountain Open Space, Horsetooth Open Space(multiple trails), Bobcat Ridge, Coyote Ridge, Devil's Backbone, Pinewood Reservoir, Hermit Park Open Space, and more.

Natural-surface trails and outdoor recreation in general are a major economic component of Northern Colorado. OMBA envisions trail expansion as a substantial economic driver in Larimer County, similar to the Bentonville and Northwest Arkansas area. A study completed by the Walton Family Foundation & People for Bikes demonstrated that recreational trails provide an annual economic benefit of $137M to that area. How do you see recreational trails impacting our local economy & what could you do to increase this value?

McCluskey: Recreational trails can be an added draw to the current list of hospitality attractions in Larimer County. Being on the State application of trails (Cotrex – Colorado Trail Explorer) should give local riders and out of town riders easier access to local trails. Becoming a more active part of the local hospitality marketing initiative should pay dividends and help the local economy.
Stephens: I have heard from dozens of businesses that our Open Spaces and trails are a big part of why they moved here or why they stay here. In addition, our trails bring in tourists and provide great recreational opportunities for local residents. I have also heard from outdoor enthusiasts and especially mountain bikers that we need to have more trails especially for intermediate and beginners, better trail maintenance, and better maps to orient both hikers and mountain bikers. Furthermore, I know that many groups and nonprofits would like to help with our trails. If elected I will support more multi-use trails, engage trail users, and work to make current trails safer and more accessible to everyone
Aste: I think that it is important to support continued development of Open Space and Multi-Use Trails, due to the retail economic impact to the improved well-being of our citizens.
Shadduck-McNally: I believe that a CSU study showed that outdoor recreation brings $200 million of economic benefit to Larimer County. I see recreation businesses and that economy being very integral for the future of small businesses in Larimer County. The indirect benefits of overall health, behavioral health, mental health and social connections will also benefit our communities in many unmeasurable ways. If we increase the connectivity of trails, increase the number of QUALITY/ well planned trails close to neighborhood access, increase parking or public transportation to parks, provide better trail maps or innovative map navigation, we can increase all overall trail utilization in a sustainable way. I think also encouraging bike clubs for youth connected to schools would be a great way to exercise, health, and build lifelong habits.

Trails in Larimer County are more overcrowded than ever before, with demand growing rapidly every year. What will you do as Larimer County Commissioner to address the overcrowding issues on county open space trails such as Horsetooth Mountain Open Space & Devils Backbone?

McCluskey: The first step would be to get involved in the Horsetooth Mountain Plan. By either becoming a member of the Open Lands Board or participating in the outreach, either should give you an opportunity to reshape the Horsetooth experience. Perhaps the National Resources staff can publicize the remainder of the biking opportunities in the County in order to spread people out over more trails
Stephens: We could decrease some of this overcrowding by building more trails throughout our Open Space areas. This especially makes sense for Open Spaces that are closer to urban areas.
Aste: As we are able, I would like to see the expansion of this system as well as look at a possible Reservation System. We personally, as equestrians, chose to not add to the overcrowding of the Devil's Backbone Trail by utilizing other options.
Shadduck-McNally: COVID 19 has shown a 40% increase on our Larimer County open spaces. County staff have told me they think the levels during COVID are 2050 expected levels. Our Larimer County population is expected to double to over 750,000. With the influx of folks coming from Denver and other counties, we can expect the conflict between users and crowding to increase and get worse. First, we will need to look into addressing the fees not charged at Devil's Backbone and a number of folks are taking advantage of that and riding up to Horsetooth this way. I am also interested in using a tiered system for those who do not live in Larimer County but travel up to use our open spaces. Secondly, we need to use the money from the taxes raised to strike that balance between open space land conservation and purchasing strategic pieces of land to expand our trail system, connectivity and trail variety for multi trail users. We also need to evaluate using more money from the general fund to support the natural resource department for trail development and maintenance. We need to provide more opportunities for all trail users to give their input to the strategic plan for our trail system and natural resources.

Larimer County currently owns over 55,000 acres of conserved land, but most of it is not publicly accessible, despite extremely high demand. Would you support increasing the number of trails on Larimer County lands for all users?

McCluskey: Yes, I would support more trails in Larimer County.. The staff should be evaluating open spaces as they are evaluated for purchase.. If the terrain supports adding recreational trails, there should be outreach to ask all the potential users what they think are the appropriate uses for the new open space. Over time, more trails could be added to increase the diversity of trails available in Larimer County.
Stephens: I support having a good balance between conservation and multi-use trails, and I support looking at places where it makes sense to build more trails. Right now, trail users do not feel heard, and I want to bring them to the table to have discussions about where we can build new trails.
Aste: Yes, as we are able.
Shadduck-McNally: I would support increasing the number of trails on appropriate Larimer County Lands for multi users.

"People don't need trails, the land does." Conservationists and Recreationists agree that properly constructed and maintained trails better conserve the land and environment and provide a better experience for users. Many of the trails in Larimer County open spaces were never planned or designed, rather evolving from game trails, old forest roads and social use, which has led to very high maintenance costs, significant resource degradation and other negative issues. What are your thoughts on expanded maintenance, design, and construction of these existing trails?

McCluskey: The Natural Resources Department has needed to trade off-trail construction, design, and maintenance with purchasing new areas. They have learned to balance improving their existing holdings with new acquisitions. My sense of the Larimer County residents who have voted on past ballot issues is they would rather protect new open space than spend money on maintenance. This would be a good discussion when the County does a new master plan or is evaluating a new open space purchase.
Stephens: We need to expand maintenance of our current trails, to make them more accessible, safer, and easier to maintain. I know there are local mountain bike groups and nonprofits that would be willing to help with this work and we should accept this volunteer assistance.
Aste: I was impressed with the Volunteer Hours your organization put into Trail Management and believe Public & Private entities can work in conjunction with one another to accomplish these important community projects.
Shadduck-McNally: I have done some trail maintenance and mitigation in Lory State Park as a volunteer with my daughter. I am not sure social trails and "spidering" is the best way to make new trails. I think a proactive, expert planned/designed trail system with better connectivity for all users is the best approach. I know many of the Soderberg trails were just from his travels around his land and most of the "new trails" in the Horsetooth Open Space were just "social" trails that were formalized. I feel like that is a reactive response and I think going forward being proactive with the approach to the future of our trail system and natural resources is best.

Would you support the development of new multi-use natural-surface trails around the south side & north side of Horsetooth Reservoir to create a fully connected trail system encircling the reservoir? Why or why not?

McCluskey: Yes, I would support a new trail system that encircles Horsetooth Reservoir.
Stephens: This seems to make sense to me. I believe we should always work to have a fully connected trail system.
Aste: I plan to look into this possibility to gain a better understanding of the scope. But in general I am favorable of this idea.
Shadduck-McNally: I need more information about this development. I am open to supporting this endeavor for more new natural-surface trails. I need to know about the current land ownership around these areas, sensitive wildlife areas, and more. Could I get some more information about the amount of land needed, costs, resources needed, how much trails would this create, and if the trails would have all levels of riding ability.

Youth mountain biking is exploding in popularity around the state of Colorado and across the nation, but access to mountain biking trails in Larimer County is particularly difficult for non-driving youth. What would you do to improve the safe access to trails for non-driving individuals from our urban areas? What other benefits do you see this having?

McCluskey: I believe the best way to support more Larimer County youth enjoying the recreational trails is to insure the connections between the municipal trails with the County trails. If there are gaps in those connections, we should work jointly to complete the system.
Stephens: As I said previously, we should work to have a fully connected trail system that includes municipal bike trails so that young people or others without cars can access trails that are closer to urban areas. I would also love to work with local outdoor enthusiasts to help kids in lower income families experience mountain biking and hiking in our Open Spaces. Recreation opportunities should be open to all our residents.
Aste: Possibly utilize the the local "Flood Way' locations along the Poudre & Big Thompson Rivers to create Mountain Biking Parks for Youth.
Shadduck-McNally: I have been informed about the increase in popularity across Colorado and learned about the challenges facing our local youth participating. We need to work with and collaborate with the municipalities, school districts, and nonprofits to help reduce the barriers to all youth having access to this great sport that could lead to a lifetime of healthy habits. We need to provide connectivity and safe paths from urban areas to the trails for this sport, look into public transport of the youth and their bikes, and welcome other ideas to support this sport.

With tens of thousands of mountain bikers residing in Larimer County & the real potential of significant county budget issues over the next several years, what role do you see volunteers playing in regard to trail building, maintenance & patrol assistance in Larimer County Open Lands?

McCluskey: There should always be a place in building or maintaining County trails for volunteers. By decreasing budgets, there will an even greater need to use volunteers.
Stephens: Volunteers are crucial to building and maintaining our trails. Furthermore, many groups have expressed that they are eager to help, but that the county has not accepted their help. I would change this and engage volunteers to help with this crucial work.
Aste: Again, this is an area of strength for many of these bike enthusiasts and I do believe that much of this could possibly be self-regulated with the support of the County's Open Trail System.
Shadduck-McNally: I think volunteers and nonprofit organizations play a large role in planning, strategizing, building, organizing, maintaining and supporting trail etiquette. I have volunteered with Volunteer Outdoor Colorado since 2016, and the last project I did with them was last fall with trail maintenance at Lory State Park on the mountain bike trails. I volunteered with my daughter. It was fun to have the mountain bikers say thanks as they rode by on the trail. I have also volunteered with CATS, VOC and the Big Thompson Watershed Coalition (since 2016) in river riparian area restoration work after the 2013 floods. Those projects have been along the Big Thompson on County Parks, State areas, and private lands. I think with the current budget having zero coming from the general fund, reluctance to be increasing fees a lot, utilizing nonprofits, organizations, grants, and skilled, experienced volunteers are all good resources to use.
Thank You to each candidate for taking the time to respond! High-quality access to our trails & open spaces is very important to many Larimer County residents, and we hope this information helps you form your voting choices. PLEASE VOTE!!!