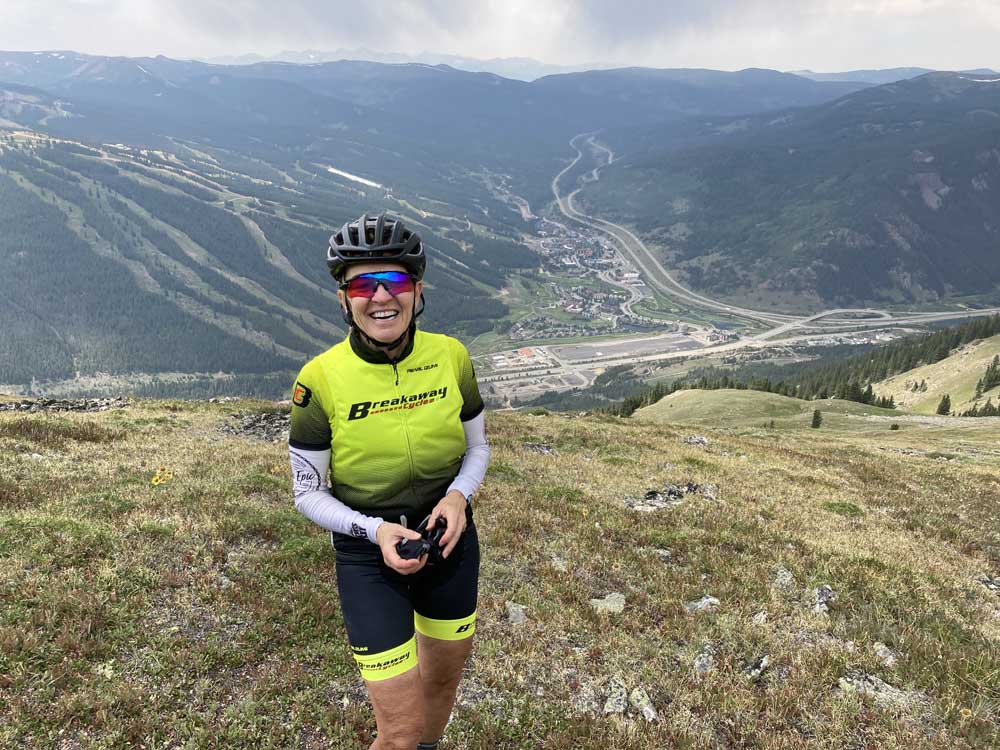 Local cyclist and coach, Gale Bernhardt has been appointed to the Larimer County Open Lands Advisory Board for a three-year term. Her term started on July 1st and will run until June 30th, 2023. The 12 member Advisory Board makes recommendations to the Board of County Commissioners regarding the County's share of the Help Preserve Open Spaces sales and use tax. As a member of the board Gale hopes to help influence the preservation of open space for future generations. "I don't want my hometown to look like wall-to-wall homes and businesses like some western areas. Our open spaces have provided me with opportunities to maintain and improve my own physical and mental health. I want the same for others in the future." "It is fair to say I have my own biases – I want more mountain biking and running trails. That written, because I'm a former 4-H kid, I want horses to have access too. Some lands are best preserved for wildlife – I don't want all wildlife to be destroyed by human use. I'm looking for a balance."
Gale is a life long resident of Loveland, she has served on the City of Loveland Open Lands Advisory Committee for 13 years, and has been an International Triathlon Union Constitution Committee since 2004. The 62-year-old has completed 14 Leadville 100s, represented USA at age-group World Championships twice for duathlon and finished the Breck Epic with multiple podium finishes. She is the author of 7 books- six endurance related, one fat burning. "My coaching claims to fame include coaching Nicole Freedman to win the National Road Race in 2000, which placed her on the Olympic Team for Athens. I was then selected by USA Triathlon to help develop coach education for all USAT coaches. I was later selected to travel the world as a World Cup Coach for USA Triathletes. From the small group of USA coaches (only 5 of us) doing this work, I was selected to be the 2003 Pan Am Games Coach for the men's and women's teams. This performance lead to the 2004 Olympic Games Coach selection for both the men's and women's USA Triathlon teams. I was later selected to be part of the ITU Sport Development team, traveling with athletes from less developed nations to World Cup races, providing coaching support to groups of athletes. The goal of ITU was to get more country flags represented at the Olympic Games – that was accomplished. I was also involved in ITU coach education."
Fact! She was the first coach to sell training plans on TrainingPeaks.
Fact! She rode her bike around the Indianapolis 500 racetrack during a triathlon
Fact! She has the word "FAST" etched on one of the crowns in her mouth.
You can listen to her 10 Tracks here: http://yourgroupride.com/index.php/site-information/10-tracks/1339-10-tracks-noco-coaches-series-gale-bernhardt
According to Gale cyclists can best engage the OLAB by: At a minimum, subscribe to the agenda and minutes https://www.larimer.org/boards/open-lands-advisory-board/minutes so you know what the issues are facing the board. Of course, cycling isn't the only concern – so allowing empathy to others is a good starting position. Sit in on meetings (virtual for now) to understand how to best approach the board. These recommendations come more from my time on the Loveland Board, since I'm just beginning with the county.
OLAB OLAB meetings are held on the 4th Thursday of the month from 5:00-8:00 p.m. at the Larimer County Loveland Campus Building, 200 Peridot Ave, Poudre River Room, Loveland.
The date, time and location of meetings are subject to change. Changes will be noted on the meeting agenda. Meetings are open to the public.