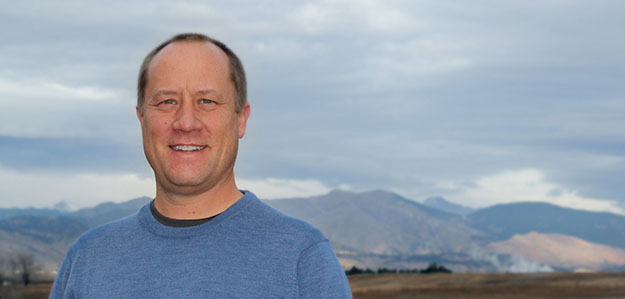 Fort Collins resident and co-founder of Training Peaks, Gear Fisher, announced that he's stepping away from the company(s) he helped start over 20 years ago. Training Peaks revolutionized the way coaches and athletes interacted and analyzed data. After a year sabbatical Gear is getting back to work by launching a new video feedback and communication platform. Read his personal announcement and the Training Peaks press release below.
TrainingPeaks creates endurance training apps and solutions that help athletes and coaches prepare the right way to reach their goals.
---
Gear's announcement:
A New Beginning
Today I am excited to announce that I have begun a new chapter in life. I'll call it the PTP era, as in, the Post TrainingPeaks era. As of today, I'm no longer an employee of the company I co-founded some 20 years ago. While I may no longer hold the title or even be part of the company, I'll always be a founder, and it will forever be a part of my life that was full of some of my greatest accomplishments, thrills and failures and has meant so much to me. What a ride it was!
The quick back-story is Dirk, Joe and I (the founders of TrainingPeaks) brought in a funding partner in 2007, Andy Stephens, whose strategic guidance and capital backing greatly contributed to our amazing growth. Over the years, TrainingPeaks grew and grew, from incredibly humble beginnings to a sizable business with 80 or so employees, significant revenues and a respected and trusted brand. Along the way, we literally changed how people trained in the endurance world. I'm proud of what we stood for, how we did it and for what we accomplished.
In 2014 we decided to create a holding company, Peaksware Holdings, and move several businesses under that umbrella in an effort to scale resources, diversify the ownership's investment and restructure for growth.
Those companies are the current businesses of Peaksware: TrainingPeaks, TrainHeroic, Alfred Music and MakeMusic. Andy asked me to be CEO of Peaksware and off we went. The last 5 years was an amazing experience: Immersive learning about the music industry, trying, failing and succeeding in team building and restructuring, and learning a million lessons along the way. I've often said that I earned a real-time MBA during the process, maybe even a PhD! I think about the many meetings and key moments that seem like they happened yesterday, but happened years ago already. Crazy.
I am so grateful for the experience, for the people I've been able to work with, and I have learned so much.
In late 2018, Andy decided to take over the CEO role and I was charged to lead a new investment arm of the business to seek out and find companies to invest in or acquire, it was called Peaksware Ventures. Suffice to say, I'm a product guy. I love pleasing customers. I love the process of creating and building products. It fuels my inner being. This is one of the things I learned about myself over the years and I longed to get back to it. I was fortunate to take a year's sabbatical during 2019 to figure out just what might come next.
That sabbatical has come to an end, and today I'm excited to start talking about my "what's next". Look for more updates in the coming weeks. To say I'm energized would be an understatement, but that will have to suffice for now.
But this is not meant to be a postmortem, rather it's an announcement of what's to come. And the future is full of potential and excitement, the kind of stuff I live for. Before I get to that, I have to acknowledge so many people that have helped shape and guide who I am to this day. My wife Shana who believed in me often when I didn't, Dirk (my work-wife), Joe, Andy, Keith, Mike, Stephen, Ben P., Jeremy, Bryce, Kevin, Tim, Hunter, Trent, Ron, Heath, Fred, Johann, Alex, Brad, Donovan, Kelly, Bernardo, Emily, Ryan, Ben C., Josh and certainly many others. Not to mention the customers I've had the pleasure to work with and get to know over the years. Thank you. I learned something from all of you, and have appreciated our relationships, and for that I am thankful, humble and proud.
Alright, enough typing for now… That took a little longer than I thought, so I'll get to what's next, um, in the next post.
Cheers,
Gear
---
Press Release:
TrainingPeaks Announces Departure of Gear Fisher, Co-Founder and Chief Corporate Development Officer
Boulder, Colo., Jan 16th, 2020— TrainingPeaks, a global leader in providing smart and effective digital training solutions for athletes and coaches, today announced Gear Fisher, Co-Founder and Chief Corporate Development Officer, will be leaving the company to launch a new video feedback and communication platform. Andy Stephens will continue his role as CEO of TrainingPeaks and parent company Peaksware.
Gear Fisher, Co-founder and CEO of TrainingPeaks from 2010-2018, started the company with Joe and Dirk Friel in the late '90s. At the time, coaches had to painstakingly email individual attachments or fax training data. This was exacerbated by desktop software solutions that were fragmented and incompatible with one another. Recognizing the need for a web-based training log for coaches to create and capture their athletes' training data in one place, the three began to develop the TrainingPeaks platform. Over the course of 20 years, Fisher helped revolutionize the way endurance athletes and coaches track, analyze and plan their training, growing the company into the leading endurance training and coaching platform that it is today.
"We wish Gear all the best with his new endeavor", said Dirk Friel, TrainingPeaks co-founder and Chief Evangelist. "We started TrainingPeaks with the goal of empowering endurance athletes and coaches to achieve their goals, pursue their passions, and improve their lives. It's been a great pleasure working alongside Gear for all these years. Although he will be missed here at TrainingPeaks, we're excited about our vision for the future with Andy leading the company."
Andy Stephens stepped into the role of CEO at Peaksware, TrainingPeaks' parent company, in September of 2018, having first invested in the company in 2007. In addition to TrainingPeaks, Peaksware LLC includes the strength training online platform TrainHeroic and interactive musical training and publishing platforms MakeMusic and Alfred Music.
"Over the years TrainingPeaks has grown from an innovative platform where athletes and coaches can plan, track, and analyze their training into the world's largest online endurance training marketplace," said Andy Stephens. "I'm proud to lead this team and will continue to drive home the principles that have made this company great; putting the needs of our coaches and athletes first, building valuable partnerships within the industry, and consistently developing cutting-edge software solutions—that improve the training experience."
TrainingPeaks continues to pioneer endurance training technologies, with a renewed focus on providing coaches with a marketplace to sell their services and a trusted platform where athletes can find expert instruction. Adaptive training plans built by expert coaches, powerful new partner integrations and a soon-to-be-released recommendation engine are only a few examples of what the future holds for TrainingPeaks.
About TrainingPeaks
TrainingPeaks creates endurance training apps and solutions that help athletes and coaches prepare the right way to reach their goals. Products include TrainingPeaks web and mobile apps for iOS and Android to help athletes commit to a clear goal, structure their training so they can work out smarter, and monitor their progress as they work toward their event goal. Additional TrainingPeaks products include WKO desktop software for cutting-edge scientific analysis and planning, and Best Bike Split's predictive performance tools. TrainingPeaks solutions are used by Tour de France teams, IRONMAN® World Champions, Olympians, age-group athletes and coaches around the world. Learn more at TrainingPeaks.com
About Peaksware
Peaksware brings together industry leading brands to help guide people along their journey of skill acquisition. Each company within the Peaksware umbrella organization develops software platforms to connect creators, instructors, and performers allowing them to publish, teach, and practice using the proven principles of deliberate practice: set a specific goal, get expert instruction, perform focused practice, and receive immediate feedback. This shared approach is the common thread connecting the brands across their unique market verticals. Additional information can be found at peaksware.com.