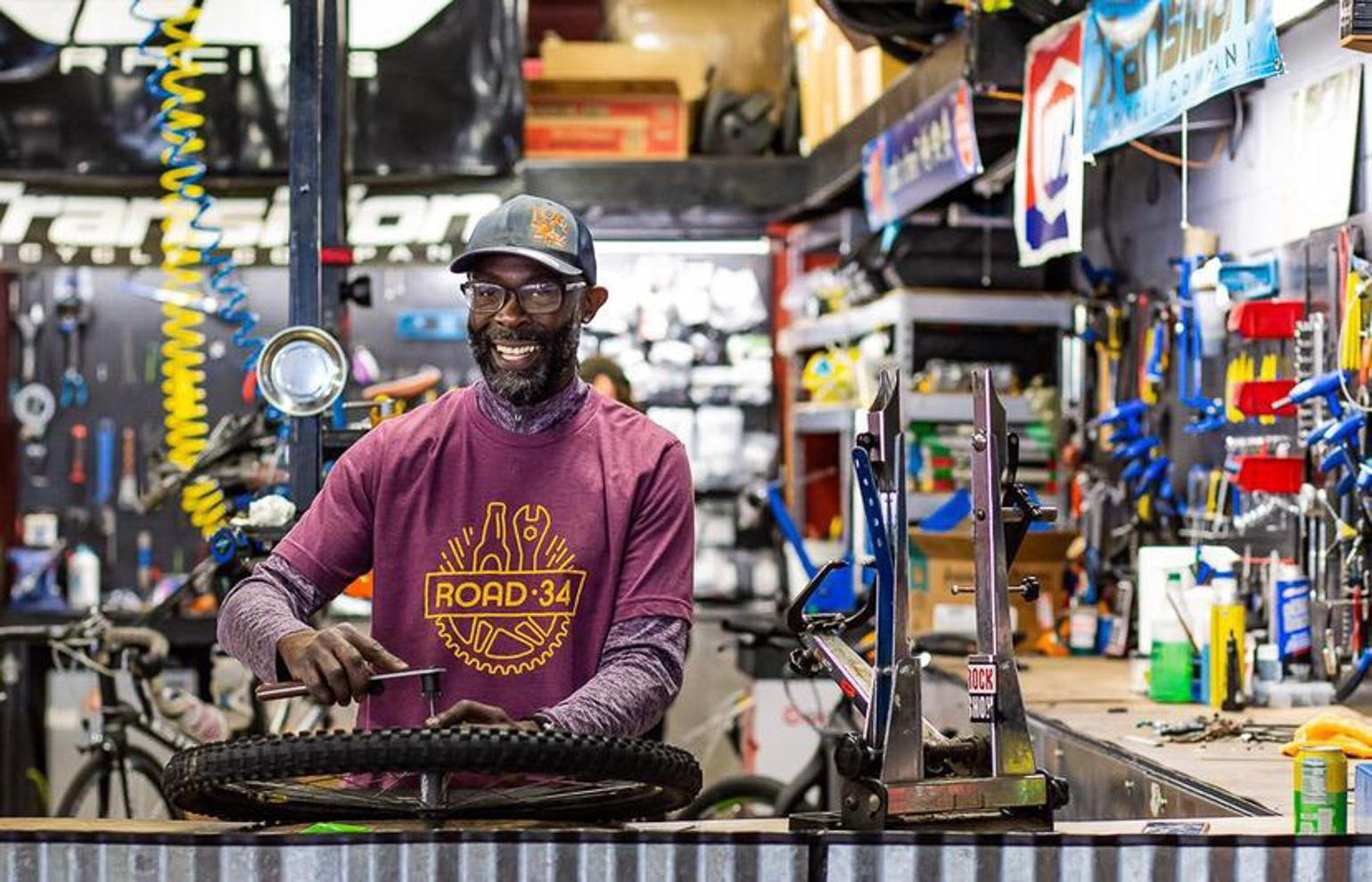 Anna Kelso, the Community Relations Coordinator for Bike Fort Collins, submitted James Bethea's nomination to be inducted into the Mountain Bike Hall of Fame on February 28th. Anna started the process just after COVID hit but ultimately decided to table the idea until induction festivities returned to normal so James could have the full experience. If James is selected by MBHOF Selection Committee he will be inducted in Fairfax, CA over the weekend of October 7-9, 2022.  The MBHOF is located in the Marin Museum of Bicycling in Fairfax, California, and is tasked with honoring people that have had a ripple effect on mountain biking from all over the globe.
Mountain Bike Hall of Fame Information
Anna is still gathering testimonies from those who have been inspired by James, especially testimonies by people of color.  If James' story inspired you, please reach out to Anna. info@bikefortcollins.org
The James Bethea Nomination
To understand why James Bethea deserves a place in the Mountain Bike Hall of Fame as the first professional black cross-country mountain bike racer takes some background.  We must first understand how much we do not know of the life experience of a person of color or of the obstacles James faced in developing his love of that sport. Due to the lack of diversity in mountain biking, these conversations are seldom had and go largely unappreciated, understood, and unrespected.
Growing up in Brooklyn, James came to rely on his bicycle for transportation by age 11. At the age of 17, he was making a living as a bicycle messenger on the streets of New York City, and building a name for himself among these ranks. In 1986, James won the first bike messenger championships (admittedly a different program than today's) and was slowly gaining traction as a model for various companies including Citreon, Rayban, and Ross Bikes. Eventually, James became a sponsored Nukeproof rider, catching the attention and admiration of Janet Jackson in his skinsuit bearing the team's namesake.
An original member of the Brooklyn Cycling ATB, James found a natural transition from the bike-messenger world of New York City to the fledgling mountain bike scene that was just forming simultaneously on both east and west coasts. Competing in races throughout the Northeast and Mid-Atlantic, and beyond into the NORBA Nationals circuit, meant that James had to navigate rural roads through some of our country's most racist territories. James was determined to become a professional mountain biker, regardless of the potential risks he met along the way.  He did so by maintaining his gregarious smile and his steadfast commitment to his mountain bike vision.
James raced professionally from 1986 to 1996. Although his resume does not include World Cup or national titles, it is his style, charisma, and tenacity that resonates most through the halls of mountain bike history. Like so many of us, James eventually retired from racing in order to start a family. He moved to Fort Collins where he worked as a personal trainer and bike mechanic while raising his children and carving out ride time.
Seriously injured in a car crash in 2017, James was convinced he would most likely never turn another pedal stroke. During his slow recovery, James found solace in painting. Drawing inspiration from photos of rides past, James slowly trained himself as a bike-specific artist. Today he continues to hone this craft and make a name for himself in the world of fine art as Skid Marks Fine Art.
At the age of 53 , James continues to race and ride his bike with the same amount of passion and commitment to sport that  he had over 35 years ago. Recently signed as a sponsored Niner rider,  he enjoys his role as an ambassador for the sport and the opportunity this position gives him to advocate for more diversity in the sport decades after his first race.
James rode the streets of New York City and raced the dirt of West Virginia at a time that predated the Black Lives Matter movement. It is a testament to his tenacity and passion for mountain biking that James overcame racial obstacles to scratch out a living doing what he loved. He was and continues to be a charismatic trendsetter in mountain biking and is well-deserving of a place in the Mountain Bike Hall of Fame as the first black professional cross-country mountain bike racer.
The Mountain Bike Hall of Fame Story
The Mountain Bike Hall of Fame was founded in 1988 in Crested Butte, Colorado. Ten mountain biking pioneers were inducted in that first year. Since then, three to seven mountain bike legends have been selected annually. In 2015, the Mountain Bike Hall of Fame relocated to the Marin Museum of Bicycling in Fairfax, California, where its exhibits and reach continue to expand. At the museum in Fairfax, the rich history of the sport comes to life—guided by the people who made that history. The exhibits illustrate the evolution of the mountain bike with numerous incredible bikes that are key to the story, along with memorabilia, stories of Hall of Fame Inductees and a growing archive of photos, books and magazine collections.