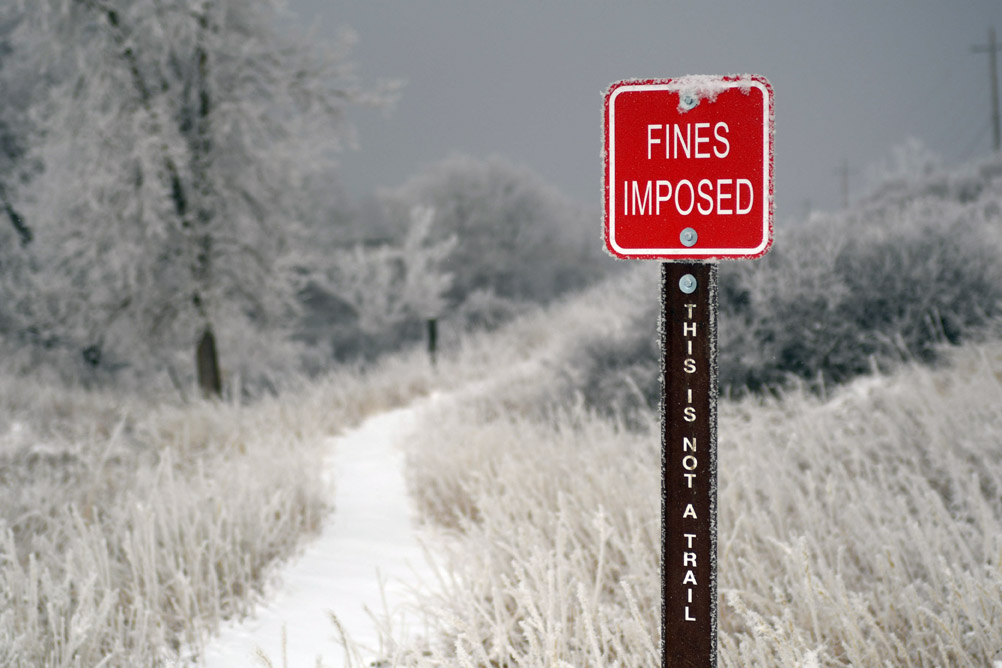 UPDATE 01/27/2021 1:45pm
Change.org petition launched to reopen Way Better Than The Road: https://tinyurl.com/y2xc2qz8
---
Local mountain bikers woke up Saturday morning to find a favorite trail had been closed by Larimer County Natural Resources. Stephen Gibson, the Red Mountain District Manager (Horsetooth Mountain, Fossil Creek Reservoir, Eagle's Nest, Red Mountain, and River Bluffs open spaces) ordered the social trail that runs between Deer Trail Court and the Blue Sky Trail closed due to complaints of illegal parking by some residents of the Continental West subdivision and due to the fact that it was never an approved trail in the first place. Signs went up Friday afternoon, January 22nd, 2021. The entire length of trail, it's entrance at 38E and exit, at Blue Sky Trail are completely on property managed by Larimer County. Advocates of the trail argue that Way Better Than the Road (up) (and down) should remain open because the trail offers a much safer and more fun alternative to riding County Road 38 and that the trail exists on an already improved and graded section of open space. Several years ago an access road was carved in to install power lines. Local mountain biker, Tom Bondurant, reached out to Mr. Gibson and his County Commissioner, Kristen Stephens and asked why no parking signs couldn't have been added in the Continental West subdivision and any trail improvements made rather than just closing the trail down. "It doesn't seem like there are any problems with the trail, it's with the access." Bondurant said. "There are dozens of No Parking signs all along the reservoir" he continued. For now, it looks like Gunner Johnson, Tami Parrin, Ye Pilgrim (whoever that is) and Miranda Sheets will be the undisputed kings and queens of the trail (depending on which segment version you like).
YGR reached out to Stephen Gibson for comment and here are his unedited replies.
Is the closure permanent? Yes. All social trails in the open spaces are closed down, as soon as we can.
Who decided to close it? I made the decision to close this social trail, as the manager of that area. We do this on a regular basis in all our open spaces.
Why was it closed? This was based on the complaints I received from neighbors about vehicles parking there and using the trail, the increased usage for that social trail, and our policy on closing all social trails.
Is there anything that can be done to reopen it? It will remain closed unless there is a neighborhood access point established with the community up there, which they have to apply for, and will only be accessible to that community per our policy. We typically look at new trail alignments, when we do a management plan update.
What fines and other punishments can a ride expect if they're caught riding the trail? There are a few regulations that apply to being in a closed area and being on a non designated trail. Each of these regulations are a $75 fine. Regulations are designed to help educate people about safe and sustainable usage of the open spaces/ parks.
Is there an alternative trail planned for the near future? A new trail development is being proposed that goes from South Bay to Inlet Bay. There will be a public process for this, where you can way in an opinion before any alignments or trail is planned.
When did the powerline ROW go in? Not sure when that happened.
What is the county's stance on social trails like this one? As Natural Resource Managers we have to look at all aspects of the properties we manage from recreation to natural resource conservation. We have these social trails pop up on a regular basis on the 40,000 acres we manage and have a policy we use to shut them down. This signage is what we start with. If we allowed everybody to go wherever and however they wanted, these social trails develop and start to degrade the resource quality. The impacts from this are seen at the vegetation and wildlife level and are magnified the more it is used. These social trails fragment the landscape causing damage to vegetation and wildlife habitat. Also planned out designated trails are designed to be sustainable to erosion events and social trails are not. In short, a lot of thought and planning go into trail development that many are not aware of. We manage these areas with conservation and recreation in mind to be sustainable for future generations to enjoy, while protecting the natural resources as best we can.
Is there a process for improving them (social trails) and getting them turned into legitimate trails? I assume some social trails are adopted and turned into official trails from time to time. New trails are started through the Management Plan Update process. During this process, for instance, we are doing Horsetooth Mountain this year, we will have a public process for folks to weigh in on trails, trailheads, ect…That is the route to make changes on Open Spaces.
---
UPDATE 01/27/2021 1:45pm
Change.org petition launched to reopen Way Better Than The Road: https://tinyurl.com/y2xc2qz8