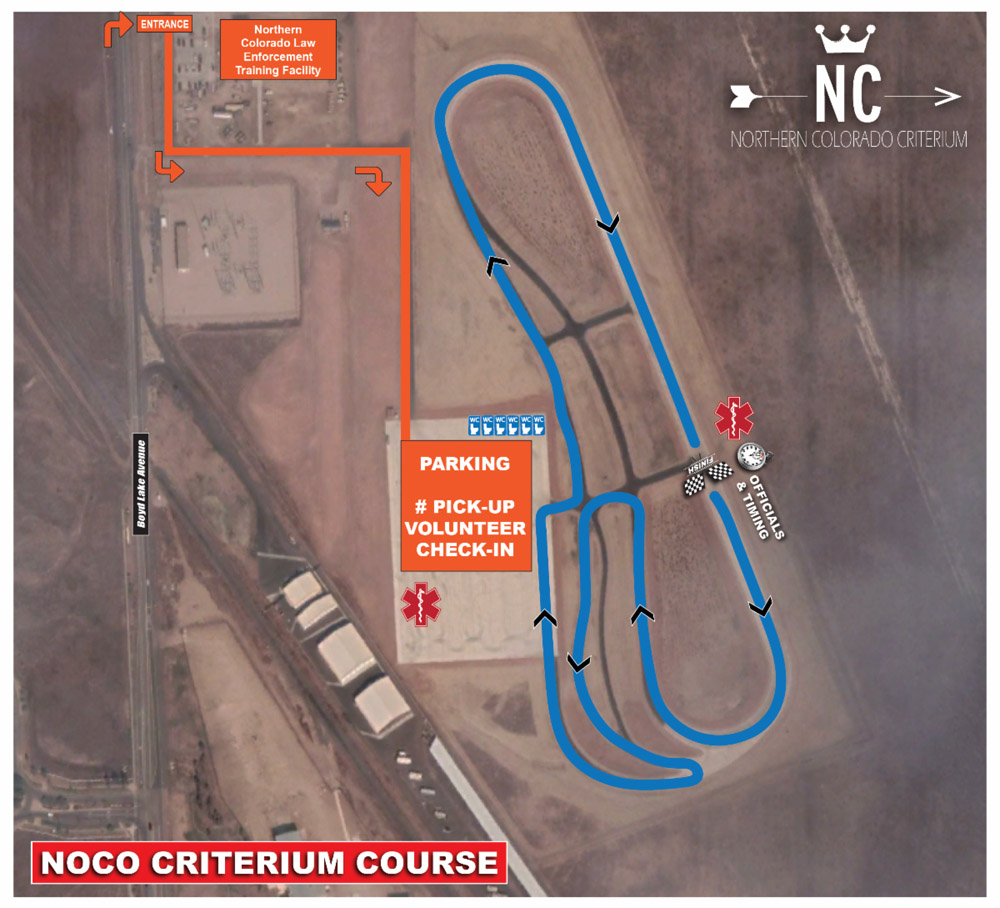 New Date:
Sat May 1, 2021
Field size limitations eased:
New event size is now 500 total racers. All categories currently have spots open.
From the promotor:
"CYCLING Race Update: All races with previous category restrictions have been lifted. Note: per Boulder County Level Blue we still have a total event capacity of 500, so once total registrations reach this level the event is closed. Translation: don't delay as Koppenberg and Louisville Criterium are close to that limit."
Northern Colorado Criterium
Sat May 1, 2021
Loveland, CO
Lance Panigutti and Whiteline Cycling will be hosting a criterium on a brand new course here in Northern Colorado. The race will take place on Sat May 1, 2021 Loveland, CO, the day before the Cobb Lake Road Race, at the Northern Colorado Law Enforcement Training Facility's driving course that recently opened. The 1.1 mile closed-circuit course is located at 5300 Boyd Lake Ave, Loveland, CO 80538 on brand spanking new tarmac with sweeping corners. Registration is open and limited.
From the Promotor:
Dear Colorado Cycling Community,
Over the last year we've been searching every corner of the state for new venues. We couldn't be more excited to announce the NOCO Criterium, a brand new police training facility that features the smoothest 1.1 mile track in the region. If you're a speed demon that loves big gears and sweeping corners, this is the race for you. The best part of this facility is our ability to run multiple courses of differing configurations!
Category Capacity Restrictions: At this current time Larimer County still remains in "level yellow", and with the race just a few weeks away it may not make the jump in time. Therefore registration is now open under level yellow capacity restrictions of 25 riders/category. Don't delay, these 25 slots will go quickly!
TO REGISTER PLEASE CLICK HERE!
RACE FREE: At this time, we're signing up volunteers for all events. Volunteers will receive a free entry, but more importantly have first access to register to race, ensuring they don't get locked out of their desired category. To sign-up, please e-mail Lance@withoutlimits.com
Thank you again for all your support,
Lance and the entire Whiteline Cycling Staff
Registration and Race Information
Course information: A 1.1 mile loop course featuring the smoothest asphalt and concrete course in the state.
Start Times for your category: Please click the category & checklist tab. All registered riders must pick up your number 30min prior to the start of your race.
Weather Check: Please be sure to check the White Line Facebook page for event updates
​
USA CYCLING LICENSE INFORMATION
USAC License Required: USAC 1-Day Beginner license: $10, only for Cat 5 men, Cat 5 Women and Juniors who have never previously held a USAC license with a higher category. Annual licenses available online at www.usacycling.org
BRAC annual membership: Recommended to avoid $5 one day membership fee. BRAC 1-day membership $5, available on site (BRAC 1-day membership exempt with USAC 1-day license. Annual memberships available online at www.coloradocycling.org
Juniors: Gear Restrictions apply to all juniors 9-18. See USAC Rule 1I4 (www.usacycling.org ) Bike Restrictions: apply to Jr's 14 & Under. See USAC Rule 1I5 (usacycling.org)
Race rules: All USA Cycling Rules Apply
Please note: If you just purchased your USA Cycling License Saturday-Thursday, you will have to wait until Friday to register for your USAC license information to be active in the registration system. If you purchase your license on Friday, you'll need to wait until the following Friday to register
​
WHITE LINE CYCLING ENTRY FEE POLICIES
REFUNDS: There are no refunds of entry fees should the event be cancelled. A reason for cancellation includes, but is not limited to; weather related emergency, a late breaking change in the state re-opening guidelines pertaining to COVID-19, or new restrictions imposed by the county health department.
​​SWITCHING DIVISIONS: Up until registration closing you may switch from division to division, 40+4 or Cat 4 vise-versa. This change can be made by you directly on your BikeReg account.
​SWITCHING TO ANOTHER ATHLETE: Another person may take your race slot and you can make this change on your BikeReg account. There is a $5 processing fee for athlete changes.
COURSE CHANGES: We reserve the right to make course changes up until race morning to improve the athlete experience or for the safety of the athletes competing.​
Racer Categories and Racer Checklist
RACER CHECKLIST
You're all set to race, but still have a few questions on what to expect race morning. You're either brand new to the sport, or have raced a few times over the years, but it's still great to go through a quick check list as every race is a bit different in each state.
​
I PRE-REGISTERED, WHAT DO I NEED TO DO NOW?
1. Please double check your category start time and even though you're pre-registered you need to pick up your number a minimum of 40 min before your race start.
2. Once you arrive on site at the race venue please find the registration truck (looks like a mobile food truck) and jump in the left hand line that says pre-registered. You do not need to fill out another waiver.
3. Have a photo ID handy – you don't need your USAC license at this point. Show your ID to the White Line Staff Member in the window and she'll hand you a form to sign and return, and your number.
4. Ask what side the number goes on (left or right)
5. 10min before your start time start hanging out near the start line and the officials will start organizing your group
6. GO RACE, have fun, and after you finish check out your results by the podium​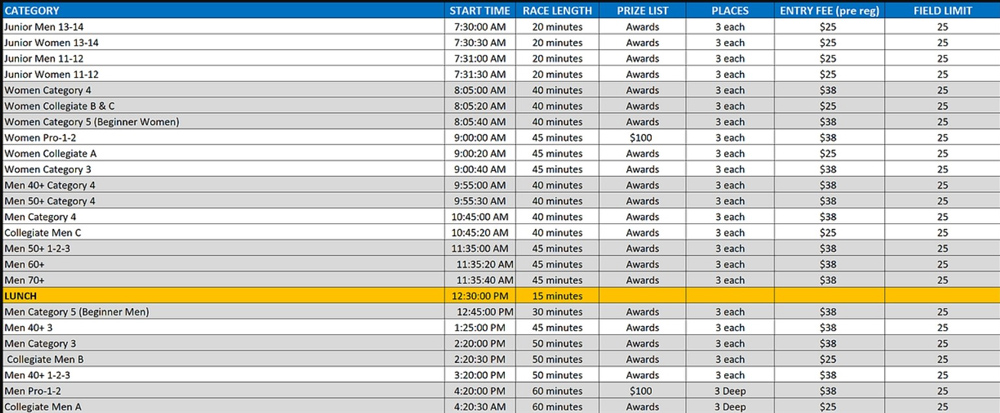 Course, Parking and Directions
Address: 5300 Boyd Lake Ave, Loveland, CO 80538
Parking and # pick-up: Event Parking and Registration will take place on the skills pad. Please follow "event parking" signage off of Boyd Lake Avenue into the training facility, then a professional parking crew will guide you to your spot.
COVID-19 MITIGATION PLAN
https://d2896577-bc0d-4081-804b-c5964cdf6add.filesusr.com/ugd/1c89a1_431f7d55ed984969bf14a7592ba7934a.pdf
Results: TBA
Contact
Website: https://www.whitelinecycling.com/
Email:https://www.whitelinecycling.com/contact
Facebook: https://www.facebook.com/WithoutLimitsProductions/
Instagram: http://www.instagram.com/WithoutlimitsCO