YGR LAUNCHES PROGRAM TO SUPPORT INJURED RIDERS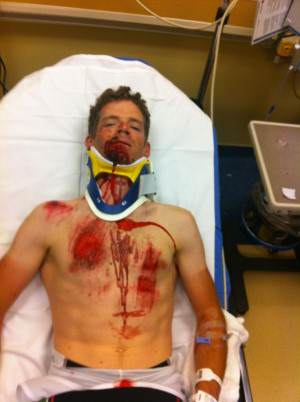 Your's truly after a run-in with a guardrail in 2012.

What is the Wounded Rider Program- WRP?
The wounded rider program is a 501c3 non profit operating under the NoCo Cycling Project umbrella. It was created by Your Group Ride in February 2014 to assist Fort Collins area racers after being injured while racing or training. The goal is to reduce the physical, psychological and financial burden on cyclists immediately after an accident. The WRP is currently looking for indiduals to volunteer their time to run. If you are interested in being part of the team, please message Dan Porter at info (@) yourgroupride.com The WRP was previously directed by Tom Carter and Gretchen Moran.
The program is made possible by the financial support of local racers, teams and businesses.
Eligibility
In order to be eligible for the WRP the racer must be from the Fort Collins area and be active in the racing scene. In most cases the injuries obtained must be bad enough for the rider to have gone to the hospital or rendered them unable to work. Injuries sustained while racing and training qualify.
Services provided
Services provided vary greatly depending on the racer and the injuries sustained. Some racers will only require bandages, a sixer and fireworks (yes, Tom has handed out fireworks in the past) while others may require assistance with meals, trips to the doctor or even lawn mowing and sidewalk shoveling.
Other items provided in the past include: meal gift certificates, beer, professional bike repairs, discounts on parts, helmet and kit, pizza delivery, magazines, candy and just quality time. We strive to take care of the rider and his/her family in anyway possible.
How it Works
Most WRP referrals come from our monitoring of social media, but feel free to reach out to us directly. When we hear of crash with injuries, we out to the rider/family/friends to assess the rider and family needs. Once we know what is needed, WRP members will obtain supplies and pay the rider a visit. From there he'll arrange to have repairs made to the bike and see what long term assistance may be needed.
How you can help
The number one way you can help is by making a cash donation (keep in mind, we are a 501c3 now) via the PayPal link below (COMING SOON). We would also gladly accept gift cards to local restaurants and other services that would benefit an injured rider and his/her family (massage, PT, coaching, bike repairs, lawn service). Depending on the extent of injury and duration of care we may accept frozen meals and rides to doctors appointments. To make unique donations please email info(@)yourgroupride.com
There are no articles in this category. If subcategories display on this page, they may have articles.