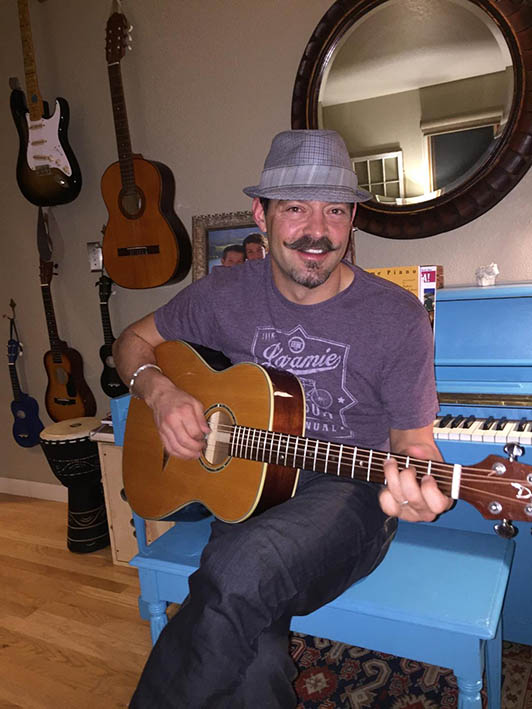 I don't know how many Mike Woodards there are in Fort Collins but to my knowledge, I have the only two that are active in the cycling community featured right here on YGR's 10 Tracks. We've already showcased music from the one that co-owns Brave New Wheel, today we're checking out what the one that co-owns New Belgium listens to. This Mike Woodard rides for First City Cycling and tries to determine what kind and how much New Belgium beer you're likely to consume. I'll let him take it from here.
Late in college, I embarked upon a "50 year plan to learn how to play anything I want" on the guitar. The goal was to take a deliberate but casual path that aligned with the finish line. I can say plainly that I am not a virtuoso but I do enjoy rocking a solid campfire session when the stars align. I can occasionally sing slightly better than I play.
My good fortune has granted a job that often affords the opportunity to listen to music many hours per day. Couple this with a wide interest that includes no loyalty for any one genre and I never know where the next earworm might come from. I dig the Tiny Desk Concert series and have spent plenty of time wandering around those offerings. My last big kick lasted a few months while spreading across a pile of folk, country, and acoustic blues such as John Prine, Colin Hay, Jason Isbell, Chris Stapleton, Chris Knight, Johnny Cash, Sturgill Simpson, Wood Brothers, etc. I am currently on an electric blues kick that includes Hendrix, SRV, Buddy Guy, Albert King, Gary Clark Jr, Muddy Waters, Samantha Fish, etc. The songs on this playlist are mostly a direct reflection of that set. There were a ton of songs that I wanted to add to the playlist but were outside of the motif and limit. On the top of that list were Bulls on Parade and War Pigs.
Favorite bike: I still have the Haro Master that I purchased with grass-cutting money as a child. Perhaps that one means the most for nostalgia reasons. It would be hard to pick a true favorite but the Giant TCR SL makes me want to ride all day. The Niner Air 9 does the same. A Blue Norcross begs to jump from commuter status to CX racing. My favorite cruiser is a robin's egg blue 2006 New Belgium (this one put me in the doghouse for a bit).
Favorite Ride: Whatever gets me out the door. Beyond that, Fort Collins would be the Rist / Masonville loop counterclockwise on the road bike. When I lived in Denver I was always scheming to ride the Deer Creek / High Grade / City View loop or the Lookout Mountain / 40 loop. The Whole Enchilada is always overdue as well although I do not currently have the right bike for this.
Employer: New Belgium – Demand Planner (Sales Forecasting). My goal is to make sense of sales trends and the influences upon them.
When do you listen to these? For intervals, pre-race, or hard riding I often start with something heavy and fast from Rage Against the Machine, Jimi Hendrix, Guns and Roses, or the like. Where it goes from there is anybody's guess. I have ridden some great efforts with John Prine in the ear. While on a long climb or when spending a day as a spreadsheet-monkey, dubstep could easily hit the mark. Rap, new and old, provides great infill at any time.