Hometown favorite, Georgia Gould, has had two admittedly lackluster seasons. 2013 and 2014 come nowhere near her dominating 2012 season that saw her take bronze medals in both the World Championships and the Olympics as well as winning the US National Championships.
Georgia quietly wrapped up her 2014 season with a few strong cx rides and this post from her blog. http://georgiagould.com/blog/
---
It's probably been at least a year since my last race report. I didn't plan it that way- I was kind of waiting to have something really awesome to report, but alas, nothing too awesome materialized. So I'll take a few minutes and outline my last two seasons and what the heck has been going on. (I'll admit, it's probably not the most exciting blog post I've ever written, so feel free to stop reading and wait around for the next one which might or might not be any better.)
After a lackluster and disappointing 2013 I was ready to get back to my old self. I trained my ass off over the winter and was prepared to come out of the gates charging at the first races in 2014. Unfortunately that didn't happen. The first few races didn't go as well as I hoped, and my morale was pretty low. Really low. As in, quitting racing low. It wasn't that I wasn't winning the races, it was that I wasn't even a factor. I had worked so hard, and I was getting dropped so fast. It was demoralizing. I hit the lowest low in the XC at the U.S. Cup in Bonelli. I felt bad, I was riding terribly and I just thought, "I am not enjoying anything about this. I've worked too hard to feel this bad while riding this slow. I'm done."
Luckily, I have some really great people in my life who helped me snap out of it, quit feeling sorry for myself, let go of my ego and expectations and get back to just RACING MY BIKE. So after retiring from racing on Saturday, I made a come-back on Sunday for the short track. And it was better. Not "flip a switch" better, but a little bit better. And a little bit better would be my goal for the rest of the season.
Still, I hoped things would turn around so I could write a really positive upbeat race report once I was back on top. Well, turns out things aren't that simple! Even though I had some good domestic races, my World Cup races were mediocre. Why? I don't know. Probably a lot of different things.
Which brings me to now, the end of the 2014 season. I've learned a lot this year including:
1. Not being so hard on myself. This is a tough one. I still struggle with it. In the early season, when I wasn't instantly riding as well as I wanted to be, I was completely demoralized. I was brushing off the positive things as being random and focusing more on the negatives. I had to let go of expectations, stop worrying about how I "should" be feeling/riding/racing and just ride.
2. Slow progress is still progress. I was expecting to flip a switch and be back to 2012 ass-kicking Georgia, but that wasn't happening. I was making progress, but it was taking a lot longer than I thought. Instead of just throwing up my hands and saying "this isn't working!" I had to take a breath, look at the facts objectively, and recognize (and appreciate) the little things that were going well.
3. Racing smarter. Some of my best races this season were short track races where I was patient and attacked at the right moment. Instead of my old "Diesel engine" drag-everyone-around-and-get-outsprinted-at-the-end strategy, I tried being a little more tactical. This paid off with a few trips to the top step of the podium, and those victories helped me build some confidence back little by little.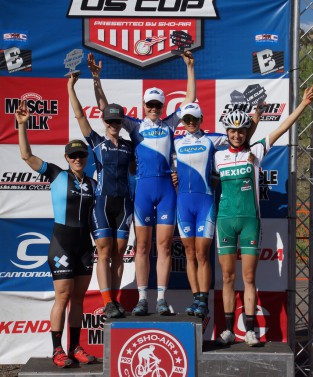 4. Enjoying the process. I had some great training in 2014. My "numbers" were good. I made improvements, and I was really enjoying my training rides. I made a concerted effort to do more skills work, and my technical skills got better as a result. This satisfaction with what I accomplished in training was what kept me going through the whole season, even when the race results weren't there.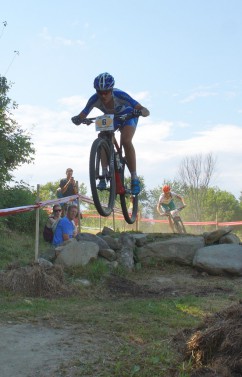 So, some ups and downs during the MTB season. Despite my results not being much better on paper than they were in 2013, I'm in a better place. I know I can be back at the top, I know it's going to be hard work and it might be slow going, but I am up for it. Bring it, 2015.