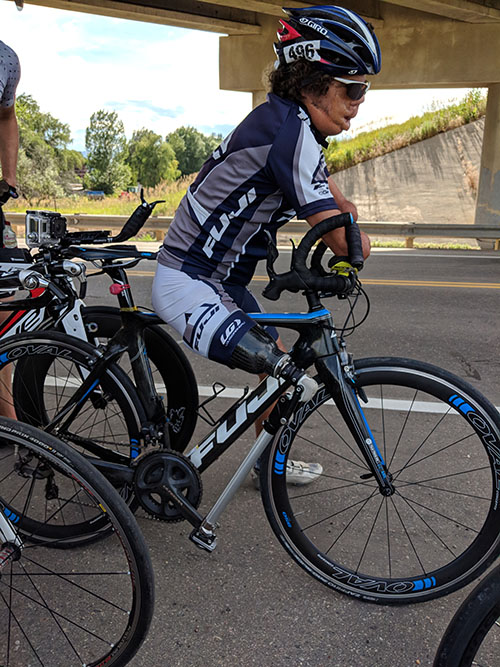 Thanks for coming out and racing last night everyone. We had 27 registered and 24 on the start line. Kelly, Cini, Aaron and Dakota took the top spots in their categories. Thomas was both first and last in his.
Damian started out on his new leg but it was giving him some fit issues so he jettisoned it and finished on one leg. Thankfully he has plenty of time to get it dialed before Toyko 2020.
The time trial raised a minimum of $800.00 for Damian Alfonso Lopez. There were a couple of racers who choose to keep their donation amounts off the record so I put them down for the minimum of $10.00. We also had a bunch of local riders that made donations but didn't register to race. Big thanks for those too.
As of this posting, the fundraiser was at $2900.00 of its total goal of 25,000.00.
You can still donate here if you'd like. https://www.crowdrise.com/o/en/campaign/help-damian-achieve-the-goal-of-a-lifetime1
Damian returns to Cuba for 9 days then it's off to Lima Peru to compete in the Pan American Paralympics then it's back to Cuba for more training before Toyko 2020.
Good luck Damian!
Full results are below. 
Grassroots Race Results
| | | | | | | | | | | | | | | | | | | | | | | | | | | | | | | | | | | | | | | | | | | | | | | | | | | | | | | | | | | | | | | | | | | | | | | | | | | | | | | | | | | | | | | | | | | | | | | | | | | | | | | | | | | | | | | | | | | | | | | | | | | | | | | | | | | | | | | | | | | | | | | | | | | | | | | | | | |
| --- | --- | --- | --- | --- | --- | --- | --- | --- | --- | --- | --- | --- | --- | --- | --- | --- | --- | --- | --- | --- | --- | --- | --- | --- | --- | --- | --- | --- | --- | --- | --- | --- | --- | --- | --- | --- | --- | --- | --- | --- | --- | --- | --- | --- | --- | --- | --- | --- | --- | --- | --- | --- | --- | --- | --- | --- | --- | --- | --- | --- | --- | --- | --- | --- | --- | --- | --- | --- | --- | --- | --- | --- | --- | --- | --- | --- | --- | --- | --- | --- | --- | --- | --- | --- | --- | --- | --- | --- | --- | --- | --- | --- | --- | --- | --- | --- | --- | --- | --- | --- | --- | --- | --- | --- | --- | --- | --- | --- | --- | --- | --- | --- | --- | --- | --- | --- | --- | --- | --- | --- | --- | --- | --- | --- | --- | --- | --- | --- | --- | --- | --- | --- | --- | --- | --- | --- | --- | --- | --- | --- | --- | --- | --- | --- | --- | --- | --- | --- | --- | --- | --- | --- | --- |
| Double Damn Dams #4 08/29/2019 | Steamboat Primer Time Trial 08/24/2019 | Dounble Damn Dams #3 08/22/2019 | Double Damn Dams #2 08/08/2019 | Double Damn Dams #1 08/01/2019 | Damian Alfonso Lopez Fundraiser 07/25/2019 | Taft Hill Time Trial #4 06/27/2019 | Taft Hill Time Trial #3 06/20/2019 | Taft Hill Time Trial #2 06/13/2019 | Taft Hill Time Trial #1 06/06/2019 | Horsetooth Time Trial #4 04/23/2019 | Horsetooth Time Trial #3 04/16/2019 | Horsetooth Time Trial #2 04/09/2019 | Horsetooth Time Trial #1 04/02/2019 | Steamboat Primer TT 08/26/2018 | Double Damn Dams #5 08/30/2018 | Double Damn Dams #4 08/23/2018 | Double Damn Dams #3 08/16/2018 | Double Damn Dams #2 08/09/2018 | Double Damn Dams #1 08/02/2018 | Taft Hill Time Trial #4 07/05/2018 | Taft Hill Time Trial #3 06/28/2018 | Taft Hill Time Trial #2 06/21/2018 | Taft Hill Time Trial #1 06/014/18 | Horsetooth Time Trial #4 04/24/2018 | Horsetooth Time Trial #3 04/19/2018 | Horsetooth Time Trial #2 04/10/2018 | Horsetooth Time Trial #1 04/03/2018 | Double Damn Dams #5 08/30/2017 | Steamboat Primer Time Trial 08/07/2017 | Double Damn Dams #4 08/24/2017 | Double Damn Dams #3 08/18/2017 | Double Damn Dams #2 08/10/2017 | Double Damn Dams #1 08/03/2017 | Taft Hill Time Trial #4 06/29/2017 | Taft Hill Time Trial #3 06/22/2017 | Taft Hill Time Trial #2 06/15/2017 | Taft Hill Time Trial #1 06/08/2017 | HTTT #4 05/04/2017 | HTTT #3 04/25/2017 | HTTT #1 04/11/2017 | HTTT #2 04/18/2017 | Steamboat Primer Time Trial 08/28/16 | Double Damn Dams # 4 08/25/2016 | Double Damn Dams #3 08/18/2016 | Double Damn Dams #2 08/11/2016 | Double Damn Dams #1 08/04/2016 | Taft Hill TT #4 6/30/2016 | Taft Hill TT #3 6/23/2016 | Taft Hill TT #2 06/16/2016 | Taft Hill TT #1 06/09/2016 | Horsetooth Time Trial #4 05/02/2016 | Horsetooth Time Trial #3 04/25/2016 | Horsetooth Time Trial #2 04/19/2016 | Horsetooth Time Trial #1 04/12/2016 | Steamboat Primer TT 08/30/2015 | Damn Double Dams #4 08/27/15 | Damn Double Dams #3 08/20/15 | Damn Double Dams #2 08/13/15 | Damn Double Dams #1 08/06/15 | THTT #4 06/25/15 | THTT #3 06/18/15 | THTT #1 06/04/15 | HTTT #4 04/28/15 | HTTT #3 04/21/15 | HTTT #2 04/14/15 | HTTT #1 04/07/15 | Double Damn Dams #5 09/04/14 | Double Damn Dams #4 08/28/14 | Double Damn Dams #3 08/14/14 | Double Damn Dams #2 08/14/14 | Double Damn Dams #1 08/07/14 | Sheet101 | Taft Hill Time Trial Series #3 06/26/2014 | Taft Hill Time Trial Series #2 06/19/2014 | Taft Hill Time Trial Series #1 06/12/2014 | Horsetooth Time Trial Series #5 05/01/2014 | Horsetooth Time Trial Series #4 04/22/2014 | Horsetooth Time Trial Series #3 04/15/2014 | Horsetooth Time Trial Series #2 04/08/2014 | Horsetooth Time Trial Series #1 04/01/2014 | Double Damn Dams #4 2013 | Double Damn Dams #3 2013 | Double Damn Dams #2 2013 | Double Damn Dams #1 2013 | City Streets Week 5 2013 | City Streets Omnium Results | City Streets Week 4 2013 | City Streets Week 3 2013 | CYF Circuit Race WK 2 2013 | City Streets Week 2 2013 | City Streets Week 1 2013 | Taft Hill TT #2 2013 | CYF Circuit Race WK 1 2013 | Taft Hill TT #1 2013 | New Belgium Short Track WK4 2013 | New Belgium Short Track WK3 2013 | HTTT #4 05162013 | New Belgium Short Track WK2 2013 | HTTT #3 05/09/13 | New Belgium Short Track WK1 2013 | HTTT #2 04/30/2013 | HTTT #1 04252013 | New Belgium CX Week 3 | New Belgium CX Week Two | New Belgium CX Week 1 | Double Damn Dams wk4 09062012 | Lory Park Mountain Challenge wk4 2012 | Double Damn Dams wk3 08302012 | Double Damn Dams wk2 08232012 | Lory Park Mountain Challenge wk3 2012 | Lory Park Mountain Challenge wk2 2012 | Double Damn Dams 08092012 | Lory Park Mountain Challenge Week 1 | Taft Hill TT #4 | City Street Crit W1 07032012 | Taft Hill TT #3 | Taft Hill TT #2 | Taft Hill TT #1 | NBB Short Track Wk 4 | NBB Short Track Wk3 | NBB Short Track Results Wk 2 | NBB Short Track Results Wk 1 | HTT #4 05/01/2012 | HTTT #3 04/23/2012 | HTTT #2 04/17/2012 | HTTT #1 04/10/2012 | FCBRA @ NBB WK3 | FCBRA Cross @ NBB Wk2 | FCBRA Cross @ NBB Wk1 | LPMC WK 3 | LPMC WK 2 | LPMC Wk 1 | FCCT Time Trial | Double Damn Dams TT Series #5 | Double Damn Dams TT Series #4 | Double Damn Dams TT Series #3 | Double Damn Dams TT Series #2 | Double Damn Dams TT Series #1 | FCBRA City Streets Crits #3 | FCBRA City Streets Crits #2 | Taft Hill Time Trial Series #4 | FCBRA City Streets Crits #1 | Taft Hill Time Trial Series #3 | Taft Hill Time Trial Series #2 | Taft Hill Time Trial Series #1 | Short Track @ NBB #4 | Short Track @NBB #3 | Short Track @NBB #2 | Short Track at NBB #1 | Horsetooth Time Trial #4 Dams | Horsetooth Time Trial #3 LC | Horsetooth Time Trial #2 LC | Horsetooth Time Trial #1 Dams 2011 |
>
<