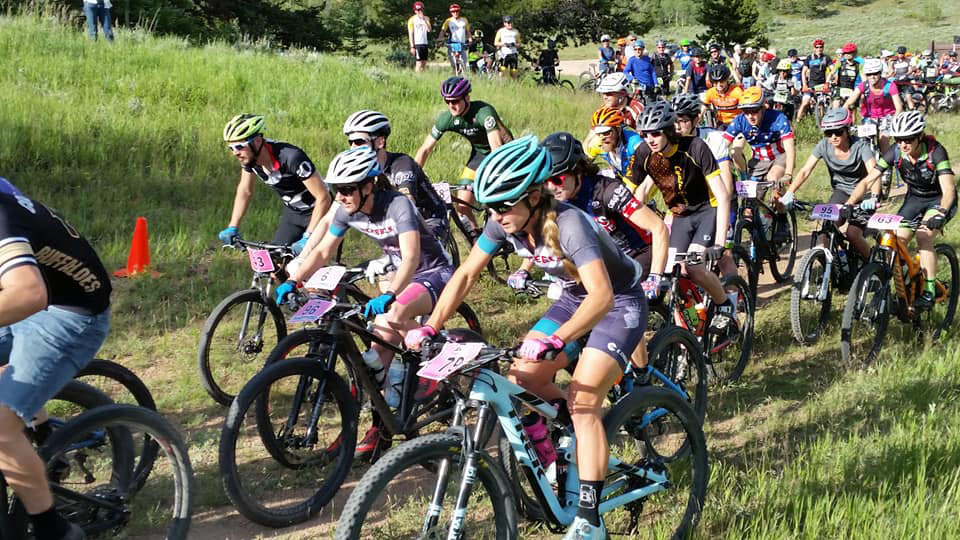 The City of Laramie Parks and Recreation Department is bringing back Tuesday night mountain bike races to the Gem City (apparently Laramie is one of the US' Gem Cities. #themoreyouknow). The Gem City will be hosting a series of three races on Tuesday nights at the Schoolyard/Pilot Hill trail system. Each race costs $35.00, $30 for members. There is NO RACE DAY REGISTRATION. Race Dates: June 22, July 6 & July 20, 2021. I'm checking on the kid's race situation.
The latest information can be found here:
Trailforks info: https://www.trailforks.com/region/the-schoolyard-20568/?activitytype=1&z=13.4&lat=41.29314&lon=-105.51948
Website: https://www.cityoflaramie.org/1177/Gem-City-Mountain-Bike-Races
Facebook Events Page: https://www.facebook.com/events/117607453782768?active_tab=about
Race Dates
June 22, July 6 & July 20, 2021
Registration will open Monday, June 7th at 12 pm
Click HERE to register
We will be offering the following categories:
Expert: Men
Expert: Women
Advanced: Men
Advanced: Women
Intermediate: Men
Intermediate: Women
Beginner: Men
Beginner: Women
Categories are open to all ages. There will be no age distinction.
Races are $30/35 (members/non-members)
No day-of registration.
Races will occur on the Schoolyard/ Pilot Hill Trail System.
Course maps will be posted here on the Monday before each race.
Racing Rules:
Most standard mountain bike racing rules apply. Anything not covered here specifically will be decided on a case by case basis:
Be extraordinarily polite to other trail users. All of our races are on open courses. Expect to encounter other trail users. If you come across non-racers, you still need to follow the standard rules of the trail. Since you are on a bike, that means you yield to everyone else. We have a zero-tolerance policy for racers who are rude to any other trail users.
Do not warm-up on the race course during another race, please stay out of the way of racers.
If you are walking and others are riding, get out of the way.
Be nice and patient when asking to pass.
When you are asked to let someone by (particularly if they are in another category or on a different lap), do so at the earliest chance. That means you need to pull over and slow down long enough for them to go past, not wait for them to find a place to go around you. It's also a good idea to let them know when you are getting ready to move over and what side they should go around on.
When vying for position with someone in your category and on the same lap, the lead rider does not need to yield to the passing rider, however, they may not block someone either. Just be nice. Bike racing is really not all that important.
Tell the timers if you don't finish the race. We don't want to spend the night looking for you while you're safe at home.
Stay clear of the timing area. We will post the results as soon as we can.
It is your responsibility to know how many laps and what course you should be racing.
Headphones are not allowed.
Racers may share parts and tools on the trail with other racers.
If you leave the course or take a wrong turn, you need to go back to that spot to start again.
Do not litter.
You must wear a cycling helmet and read and sign our waiver.
All bikes must be 100% powered by the rider.
Course Marking:
Courses are marked with red arrows and pink flagging. FOLLOW THE ARROWS!!!!! If there is a shorter loop course, it will be marked with a big yellow sign and yellow arrows. Long loops: Always follow the red arrows. Short loops: Follow the red arrows until you see the yellow sign that says "SHORT LOOP", then follow the yellow arrows until you meet back up with the long loop again (you will know you are back on the long loop when you see red arrows again).
We also use orange cones or flagging to mark some intersections near the start/finish. Do not ride through a line of cones or duck flagging.
Trail Conditions:
We will pause, postpone, or cancel races if trail conditions warrant it. We work closely with land managers and trail maintenance crews to make decisions about racing on these trails. We ride on these trails too and have no intention of ruining them. If we do have to cancel a race, we will do our best to post it on websites, Facebook, and send emails
Weather:
Your safety on the race course is your responsibility. If weather conditions necessitate it, we will stop the race, however, you may be a long way from shelter when a storm rolls in. Please use your best judgment as to whether or not you should be out there.
Accidents/Injuries:
We can't monitor the entire course during a race, so please look out for each other. If someone is hurt on the course please do what you can to help them and let us know what happened and where. First-aid is available at the start/finish, and most of the time we have someone out on course.
Start Times:
| | | |
| --- | --- | --- |
| 6:00 PM | Expert Men & Expert Women | 17-22 miles |
| 6:01 PM | Advanced Men | 15-18 miles |
| 6:02 PM | Advanced Women | 15-18 miles |
| 6:03 PM | Intermediate Men | 8-14 miles |
| 6:04 PM | Intermediate Women | 8-14 miles |
| 6:05 PM | Beginner Men | 4.5-8 miles |
| 6:06 PM | Beginner Women | 4.5-8 miles |
Scoring:
Final rankings will be based on a rider's two best results, with a 10 point bonus for competing in all three races.
Points scored in a given category stay in that category. In other words, if you score points in an Advanced race and then upgrade to Expert, your points don't transfer.
In the event of a tie for a podium spot, the following procedures, in this order, will be used to determine final placement:
1) Total score from all three races.
2) Some feat of strength and dexterity to be determined at the awards.
Points Schedule:
Expert/Advanced: 1st-50, 2nd-46, 3rd-43, 4th-40, 5th-38, 6th-36, 7th-34, 8th-33, 9th-32,..,20th and up-5, DNF-1.
All others: 1st-50, 2nd-49, 3rd-48,.., 46 and up-5, DNF-1.
Parking
Please consider riding your bike to the start/finish at the end of Boulder Drive. Parking will be very limited this year. The Snowy Range Academy parking lot is going to be receiving major maintenance and repair this summer and may not be available. The Laramie Recreation Parking Lot at Garfield & Boulder Dr. is available to use and there are public bathrooms just inside. There will also be port-o-potties available at the end of Boulder Dr near the start/finish.
Do NOT use parking spots meant for businesses' customers. If you are caught doing this you will receive a DNF for your race.
COVID Policies
We continually work to be in compliance with the State & County Health Department's Rules for gatherings.
Stay home if you are feeling sick or have a temperature above 100.4F
Please wear a mask at check-in.
Stay 3 feet or more apart unless it is absolutely necessary to be closer.
Bring your own food and water from home.
Contact the recreation coordinator with any questions at 307-721-5261 or parksandrecinfo@cityoflaramie.org.