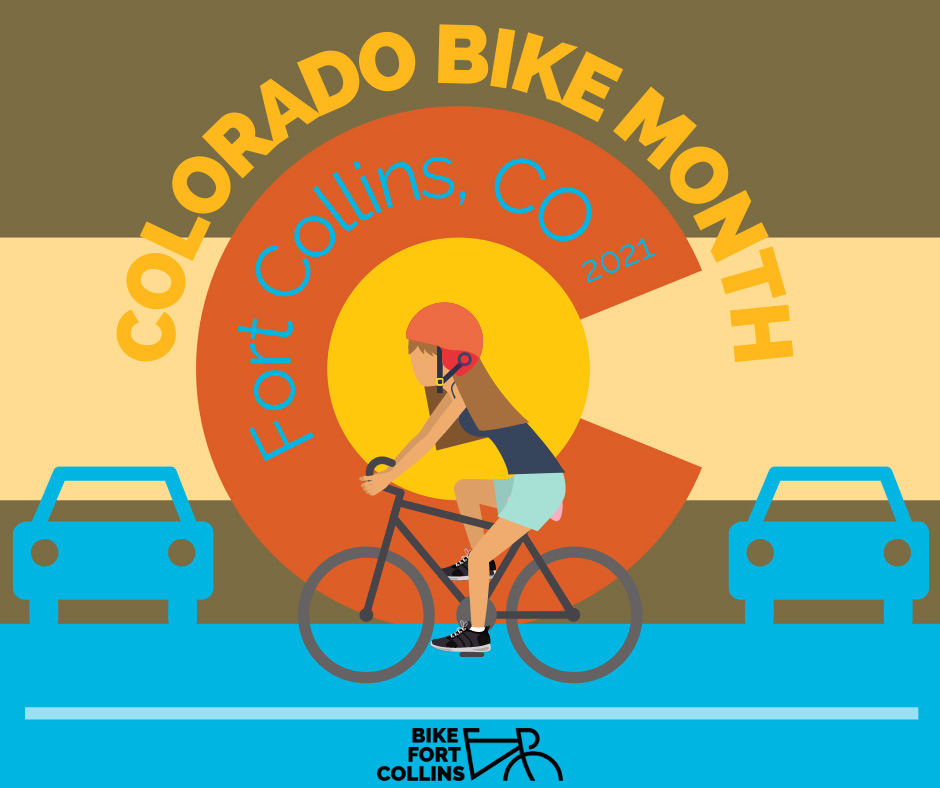 June is Bike Month in Colorado, aka the best month of the year. Bike Fort Collins, Overland Mountain Bike Association, FoCo Fondo Fest and FCBikes have a ton of stuff planned for 2021. Some of the events are part of the festivities some aren't but who cares.
BICYCLE FILM FESTIVAL
Hosted by Bike Fort Collins- https://bikefortcollins.org/colorado-bike-month/
June 11 – 27th
Last December we brought the Bicycle Film Festival to Fort Collins for the first time in a virtual format. We are especially proud to bring back another virtual festival in June to help celebrate Bike Month.
This time, tune in to watch the feature length, Together We Cycle along with a collection of other short films. Together We Cycle chronicles the events that led to the Dutch's bike-centricity, which wasn't always a smooth ride. But, it showcases the struggle can be worth it, as it encapsulates a bicycle culture Bike Fort Collins envisions for our city.BUY TICKETS
How does the virtual Bicycle Film Festival work?
A ticket allows you to view the a series of short films followed by the feature length, Together We Cycle from Friday June 11 at 6:00pm MT through Sunday June 27th at 11:59pm MT streamed to your computer, tablet, or smart TV by simply clicking on the link provided by email 15 minutes before the opening date and time.
Ticket prices are "sliding scale" $10, $15, $20 so all ticket prices entitle you to the same content. You may view BFF in one sitting, or at your own pace from the comfort and safety of your home.
A portion of all ticket sales goes to support Bike Fort Collins
Bicycle Film Festival has been celebrating bicycles through art, film and music for the last 20 years with over 90 cities worldwide and a viewer audience of 1 million and growing. The festival has an incredible history of working with the most important artists, filmmakers, venues, and institutions around the world.
FOCO FONDO SOURCE ENDURANCE TRAINING SERIES – JUNE 12th
Hosted by FoCo Fondo Fest: https://tinyurl.com/yxpn5quf
New Belgium will be open. We'll offer this casual training ride in-person and break into groups as needed to comply with Larimer County's Covid guidelines. Although this is not a no-drop ride, everyone should have some excellent folks to ride with. We'll reserve a table at New Belgium after for those who would like to stick around for a beer and food truck lunch. More info: https://tinyurl.com/yxpn5quf
FOCO FONDO SOURCE ENDURANCE TRAINING SERIES: WOMEN'S DAY – JUNE 13th
Hosted by FoCo Fondo Fest: https://tinyurl.com/yyto4ymb
A just-for-fun women's* ride. We'll have several options to make the route shorter so riders of different abilities can come together for this special day. Although this is not a no-drop ride, everyone will have some excellent women to ride with and be able to complete the route at a pace they are comfortable with. With so many women picking up bikes over the last year, it will be a great opportunity to meet more women along the Front Range and have more friends at events in the future! More info: https://tinyurl.com/yyto4ymb
OVERLAND MOUNTAIN BIKE ASSOCIATION MOVIE & MUSIC NIGHT– JUNE 12th
Hosted by Overland Mountian Bike Association- https://tinyurl.com/y3t8txym
It's been way too long since we've seen our community, families, friends, volunteers, and members in person & in one place. So together with the Lyric, we're hosting an outdoor live music show and screening of Accomplice on Saturday, June 12th! Start your evening rolling over via bike (preferably!) or car to catch local favorites Smelling Melons and People in General rock out. Music to get yer feet movin' & put your mind at ease. The film will start after dark, around 9pm. Feel free to come for any/all of it! Tickets are $10, & all proceeds benefit OMBA. Can't wait to see you there! More info: https://tinyurl.com/y3t8txym
BIKE TO WORK DAY – JUNE 23RD
Hosted by FCMoves- https://www.fcgov.com/bicycling/bike-to-work-day
Every June, Colorado celebrates Bike Month and here in Fort Collins, we love anything that highlights and promotes people who ride bicycles. In 2021, we're back on track with Bike to Work (or Wherever) Day, planned for Wednesday, June 23, 2021.
What is Bike to Work (or Wherever) Day? Some have described it as "Fort Collins' best holiday". Others love the celebration of people who ride bicycles. Some hosts want to contribute to our Platinum-designated bicycle culture and community. During BT(W)D, community members are encouraged to travel by bike wherever they're headed, be it work, errands, to drop kids to daycare, or just for fun. Participants who ditch the car in favor of a bicycle can find free breakfast located all around Fort Collins. Some participants try to hit as many stations as possible. Others are happy to find a scenic spot to comingle with a few other folks. The point is to get on your bike wherever you're headed that morning!
Check back periodically for the most up-to-date information, including our Call for Station Hosts and Station Host Resources, public health guidance, and more.
REMINGTON BIKE COUNT CHALLENGE – JUNE 23RD
Hosted by: Bike Fort Collins- https://bikefortcollins.org/colorado-bike-month/
Let this be the year that we break the Remington Bike Count record!
Back by popular demand, Bike Fort Collins leads the charge to break the standing Remington Bike Count record on Bike to Work (Wherever") Day this June. The current record was set on September 2, 2017 with 1,737 riders counted. Last year,on the same day, we came quite close to beating that record at 1,502 riders, but narrowly missed the goal. Help us achieve our goal of 2,000 riders by riding your bike past the Remington Bike Count located on Remington Avenue near the corner of Lake Street. Racking up the bike count numbers on this day is more about the symbolic coming together as a community than capturing actual bicycle mode share. With that in mind, please don't feel shy about riding past the counter multiple times. This is about having fun and racking up the scoreboard.
FOCO FONDO INTRO TO GRAVEL RIDE AT SCHEELS – JUNE 27th
Hosted by FoCo Fondo Fest: https://tinyurl.com/y4faghux
his ride is especially geared for the newbie and families wanting to try out the gravel thing from Scheels- Johnstown. An excellent way to prepare for the FoCo Fondo on July 25th! Quiz gravel experts during the ride and then pick up those key items at Scheels post-ride.
We'll have some NBS Nutrition on site for you to try out. This is also the hydration we'll be having on event day. https://nbs-nutrition.com/
Join us on June 26 and share with us or tag us in your ride on social media (or email us at focofondo@gmail.com). If you do so and are registered for the FoCo Fondo you will be entered to win some schwag. More info: https://tinyurl.com/y4faghux
BIKE MONTH ART CONTEST
Hosted by: Bike Fort Collins- https://bikefortcollins.org/colorado-bike-month/
In celebration of Colorado Bike Month we invite you to capture your love of bikes in whatever media form you prefer. This is an opportunity to convey the magic of riding through visual arts using canvas, paper, photographs, video, paint, marker, crayon, collage, etc. Get creative with whatever materials you have at your disposal, send us a pic, scan your image, or send the media file and enter your chance to win a prize package from local Fort Collins businesses! Submissions accepted the entire month of June (June 1 – 30) All ages and abilities welcome, please submit to info@bikefortcollins.org
COLORADO BIKE MONTH CREATIVE WRITING CONTEST
Hosted by: Bike Fort Collins- https://bikefortcollins.org/colorado-bike-month/
The Bike Fort Collins Creative Writing Contest is your opportunity to share a bike related story with us in 5,000 words or less. Share your personal experiences, fictional stories, testimonials, inspirational moments… any and all bike related expressions in written word. Submit your stories and enter your chance to win a prize package from local Fort Collins businesses! Submissions accepted the entire month of June (June 1 – 30). All ages and abilities welcome, please submit to info@bikefortcollins.org
POUDRE RIVER FEST – JUNE 25TH
Hosted by: Bike Fort Collins- https://bikefortcollins.org/colorado-bike-month/
Enjoy a self-guided bike tour of the Poudre Trail during the Poudre River Fest! Fort Collins is an amazing place to ride your bike and explore the beautiful and important Cache la Poudre River! Have you ever stopped along the bike path and really looked at the river? Join Bike Fort Collins for a 3.2 mile bike loop with short activities and educational stops along the way! (route and deatils soon to be posted)