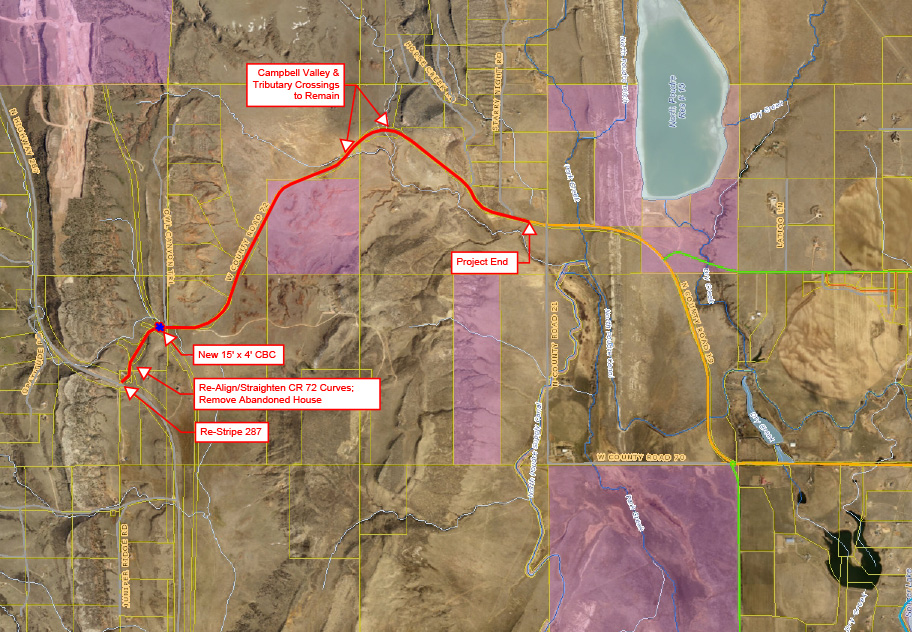 The Colorado Department of Transportation (CODT) and Larimer County Road and Bridge/Engineering have various projects currently underway or slated for the next six months, many of them will or are already affecting cycling in Northern Colorado.
Here's a brief rundown of the projects. Full details are below.
Installation of a traffic light at Douglas Road and Highway 1.
Completion of paving of Owl Canyon from 287 to the North Taft Hill roundabout. 8-foot shoulders!!
Adding 6-foot shoulders to Shields between Willox and 287.
Completion of the last Larimer County piece of the Poudre River Trail.
Larimer R&B is repaving North Taft Hill from CR60 to Owl Canyon. This means Taft will have fresh tarmac from at least Douglas Road all the way to the Owl Canyon roundabout.
CDOT is continuing to widen certain sections of Highway 14 between the mouth of the Poudre Canyon and Rustic (+- a few miles).
CDOT has begun dismantling the Ketcher Road bridge. The new bridge will reopen sometime in late spring.
Douglas Road (CR 54) / State Highway 1 Signalization
SCOPE OF WORK
Project includes installation of a traffic signal at the intersection to improve safety.
Project Budget: $ 550,000
PROJECT STATUS
CDOT awarded the County a Federal Highway Safety Improvement Program (HSIP) grant in the amount of a total project cost up to $550,000 for the State Highway 1 / Douglas Road Signalization Project.
The County has partnered with the City of Fort Collins to bid and construct the signal. The City will operate, and maintain the signal once it is installed.
Construction began on September 7th and is expected to last approximately 2 months. The intersection will remain open for the duration of construction, however slight delays should be expected.
CR 72 Reconstruction and Widening
(CR 72 Owl Canyon between US Hwy 287 and CR 21)
SCOPE OF WORK
The project includes 3 miles of roadway widening, reconstruction, and paving of the existing gravel portions of CR 72 from US Highway 287 to CR 21. The two-lane roadway will accommodate 8 feet wide paved shoulders matching the previously reconstructed phases to the east of CR 21. Re-alignment of CR 72 at the US Highway 287 approach is proposed with this phase. Re-striping of Hwy 287 at the CR 72 intersection is also proposed to allow for an exclusive northbound acceleration and deceleration lane on and off of Hwy 287.
PROJECT STATUS
Larimer County hired an engineering consulting firm, Interwest Consulting Group, in late 2019 to design and prepare construction plans.
Design and right-of-way acquisitions are complete. Connell Resources has been awarded the construction contract. Construction began in April 2021 and will be complete in the Fall of 2021. Asphalt paving has begun as of September 9th and will continue into early October. Two lane traffic will be maintained during construction.
The final design can be viewed on the Larimer County website:
https://www.larimer.org/spotlights/2020/11/05/cr-72-owl-canyon-improvements-between-us-hwy-287-and-cr-21.
Project Budget: $6.4 million is the construction estimate. The project will be funded entirely by Larimer County.
Shields Street to be Widened Between Willox Lane and Highway 287
(Widening of CR 17 from Willox Lane to US 287)
Last Updated: September, 2021
SCOPE OF WORK
Widen County Road 17 (Shields Street) from just north of Willox Lane to the railroad tracks just south of Highway 287 (0.9 mile) to accommodate six foot wide shoulders and at the north end (0.25 mile +/-) a two-way center turn lane.
Project Budget: $2.5 million ($760,000 federal grant, $1,740,000 county match – administered by the Colorado Department of Transportation (CDOT)
PROJECT STATUS
Preliminary design is complete, and the property owner coordination has been underway over the last several months. Environmental impact inspections were completed and are being finalized. Additional site surveys and buried utility investigations have been ongoing over the last several months. Right of way plans have been completed and submitted to CDOT for review. With CDOT's approval of the right of way plans, right of way offerings can be submitted to property owners, and acquisitions can be initiated. Construction is anticipated in the Spring of 2022.
County Road 70 (Owl Canyon Road) & County Road 9 Roadway Improvements
(CR 70 (Owl Canyon Road) between CR 9 and I-25 & CR 9 from CR 70 to the new Larimer County North Landfill
SCOPE OF WORK
The project Includes 1.5 miles of roadway widening and reconstruction of CR 70 from the CR 9 intersection to just west of I-25. The project also includes 4 miles of roadway widening of CR 9 from the CR 70 intersection to the new Larimer County North Landfill entrance. Both roadway widening projects will accommodate two lanes of roadway and 6 to 8 foot wide paved shoulders. Bridges will be replaced at several irrigation canal crossings and major/minor drainage ways. Intersections improvements are planned for both the C9 and CR 7-5J intersections.
PROJECT STATUS
The project kicked off its initial planning efforts in late Fall of 2020 and hired the engineering firm SEH to design and prepare construction plans for the project. Conceptual plans were completed around the beginning of 2021 with preliminary level planning and design effort ongoing over the next several months. Preliminary designs were presented to the Larimer County Agricultural Advisory Board on May 12, 2021 at their bi-monthly meeting to gain input on the several intersection alternatives that are being analyzed with the project. Multiple meetings have been conducted with several landowners along the corridor to discuss project impacts throughout the last 6 months. A public meeting was held on August 16,2021 to gain input on the project from users and land owners in the area. Notices of said meeting were sent to over 500 property owners along both corridors.
The project is tentatively scheduled to be under construction in the Spring 2022 and continue through late Fall of 2022.
Project Budget: $10 million. The project is funded through Larimer County Road and Bridge and Larimer County Solid Waste funds.
Last County Segment of Poudre River Trail Planned
(Poudre River Trail – CR 32E to Timnath)
SCOPE OF WORK
A ten foot wide concrete trail with soft shoulders will be constructed from the trail on the south side of CR 32E (east of the River Bluffs trailhead) north to the Timnath South subdivision – approximately one mile. This segment is part of several segments included in GOCO (Great Outdoors Colorado) and CDOT grants. The other segments that are part of the grants are in the City of Fort Collins and the Towns of Timnath and Windsor. With CDOT's replacement of the Interstate 25 Poudre River Bridge these combined projects will complete the trail between Fort Collins and Greeley.
PROJECT STATUS
The design for this segment is still being finalized as various alignments are considered. Construction is anticipated in 2022.
Repaving CR19 (North Taft Hill Rd) from CR 60 to CR 70
SCOPE OF WORK
The project includes 5 miles of roadway repaving of CR 19 from CR60 to CR70.
PROJECT STATUS
Paving and painting operations are currently underway. Work started on September 13th and should be completed by October 15th.
CO 14 Shoulder Widening in the Poudre Canyon
SCOPE OF WORK
Colorado Department of Transportation will start work in the Poudre Canyon to widen the shoulders at six locations along CO 14. Work will begin west of Ted's Place and continue to the west towards Kinikinik. Construction is expected to continue into the fall of 2021.
Project Budget: $2 Million
PROJECT STATUS
Monday – Friday, September 27 – October 1, from 6 am to 5 pm, motorists can expect flagger and pilot car assisted, single-lane alternating travel on westbound and eastbound on Segment 2.
Kechter Road over I-25
SCOPE OF WORK
To construct the new northbound I-25 lanes and new bridge structures, the Kechter Road bridge over I-25 in Timnath will be reconstructed during a seven-month full closure beginning 6 a.m., Oct. 1, 2021, through May 4, 2022.
The new Kechter Road bridge over I-25 will feature a roundabout on the west side of I-25 to improve safety and traffic flow and provide increased pedestrian safety with new sidewalks, pedestrian crosswalks and bike lanes in each direction.