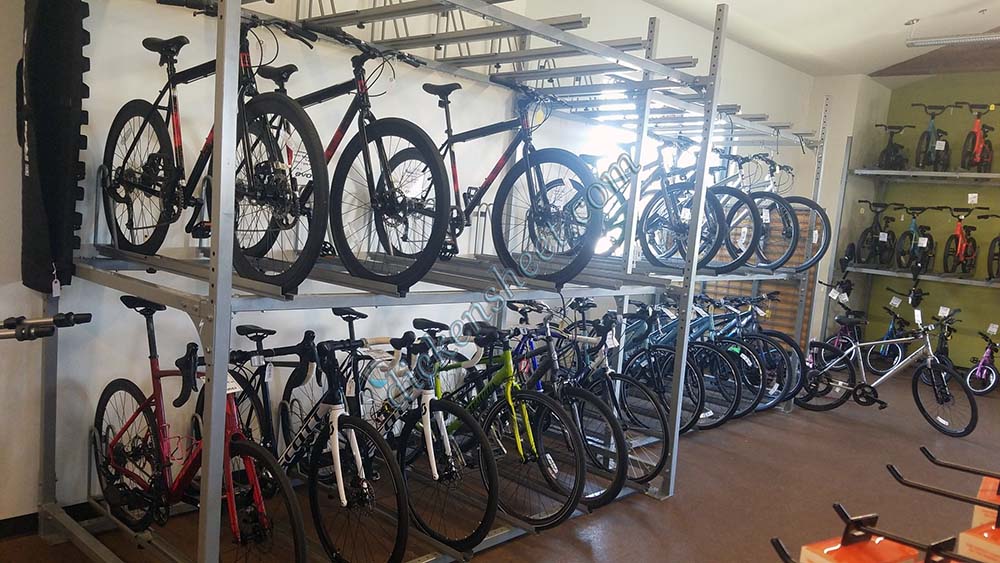 More auction images available at https://www.dickensheet.com/auctions/images/1353
On behalf of the Colorado Department Of Revenue, Dickensheet & Associates will be auctioning off all property that remained inside Peloton Cycles after it was seized by the state on Jully 9th. Those items include personal property, furniture, fixtures, equipment and inventory.
Peloton was shuttered on July 9th for not paying nearly $36,000 in taxes. They had 10 days to come into compliance but that window came and went.
Auction Details:
Date: Monday, August 5th – 10:00 AM
Inspection: Monday, August 5th – 9:00 AM
Location: 1981 Jessup Drive, Ft Collins, CO 80525
Description: INSPECTION: Monday, August 5th 9AM-10AM Please be prepared for removal immediately following the auction. All items will be offered in bulk, then piecemeal & awarded in the highest manner. Please continue to visit website due to possible cancellation.
Auction Website: https://www.dickensheet.com/auctions/view/1353

| | |
| --- | --- |
| Lot | Description |
| 91 | 21 Riding Helmets |
| 92 | 7 Riding Helmets |
| 93 | Giro Shoes 21 Pairs |
| 94 | Scott Bike Shoes 17 Pairs Includes 16 Assorted Pairs |
| 95 | Bike Accessories Fenders, Rear Racks, Helmet Mirrors, Locks |
| 96 | Bike Accessories Keo Grips, X-Track Race Pedals, Socks |
| 97 | Bike Accessories Rechargeable Lights Co2 Cartridges, Tire Pumps |
| 98 | Accessories Water Holders, Hydration Mix, Energy Bars, Camelback |
| 99 | Bike Accessories Seats, Neck Extensions, Gloves |
| 100 | Women'S Bike Clothing Shirts, Pants |
| 190 | Bike Clothing Shorts, Knee Pads, Shirts |
| 191 | Thule 2 Bike Carrier Receiver Style |
| 192 | Thule Single Bike Carrier Receiver Style |
| 193 | Thule 3 Bike Carrier Receiver Style |
| 194 | Thule 3 Bike Carrier Receiver Style |
| 195 | Thule 3 Bike Carrier Receiver Style |
| 196 | Thule 2 Bike Carrier,Recevier Style |
| 197 | Thule Gateway 3 Rear Mounted Bike Rack |
| 198 | Bike Backlights, Luxe Bike Bell, Tire Tools |
| 199 | Samsung Flat Screen Tv |
| 200 | Raceface Tailgate Pad |
| 201 | Evo Action 8 Speed Bike |
| 202 | Evo Action 8 Speed Bike |
| 203 | Evo Action Urban Bike |
| 204 | Hatchet Sora Xl Bike |
| 205 | Scott Addict 30 Disc Bike |
| 206 | Specialized Sirrus Bike |
| 207 | Specialized Sirrus Bike |
| 208 | Trek Navigator 100 Bike |
| 209 | Fuji Finest Le Bike |
| 210 | Evo Swift Ridge Bike |
| 211 | Evo Swift Ridge Bike |
| 212 | Evo Grand Rapid Bike |
| 213 | Evo Grand Rapid Bike |
| 214 | Orbea Onix Bike |
| 215 | Evo Grand Rapid 3 Bike |
| 216 | Evo Grand Rapid 3 Bike |
| 217 | Evo Grand Rapid 3 Bike |
| 218 | Evo Grand Rapid 3 Bike |
| 219 | Evo Grand Rapid 3 Bike |
| 220 | Evo Grand Rapid 5 Bike |
| 221 | Kids Bike |
| 222 | Blue Batch Kids Bike |
| 223 | Red Kids Bike |
| 224 | Blue Batch Kids Bike |
| 225 | Blue Batch Kids Bike |
| 226 | Red Kids Bike |
| 227 | Batch Ignite Kids Bike |
| 228 | Blue Batch Kids Bike |
| 229 | Evo Rock Ridge 20″ Kids Bike |
| 230 | Red 20″ Kids Bike |
| 231 | Blue Batch Kids Bike |
| 232 | Bach Pitch Black Kids Bike |
| 233 | Evo Rock Ridge 20″ Kids Bike |
| 234 | Evo Rock Ridge 20″ Kids Bike |
| 235 | Batch 16″ Kids Bike |
| 236 | Evo Rock Ridge 16″ Kids Bike |
| 237 | Evo Rock Ridge 16″ Kids Bike |
| 238 | Blue Batch 12″ Kids Bike |
| 239 | Contessa Jr 12″ Kids Bike |
| 240 | Batch Rd Kids Bike |
| 241 | Batch 16″ Kids Bike |
| 242 | Batch Balance 10″ Kids Bike |
| 243 | Batch Balance 10″ Kids Bike |
| 244 | Fiteroy E Bike |
| 245 | Evo Granville City Bike |
| 246 | Colorado Men'S Cruiser Bike |
| 247 | Benno Ballooner 24D Men'S Bike |
| 248 | Colorado Men'S Cruiser Bike |
| 249 | Colorado Summer Cruiser Bike |
| 250 | Davinci Fat Minus Altus Md |
| 251 | Davinci Fat Minus Altus Md |
| 252 | Trek 4500 Bike |
| 253 | Scott Seale Bike |
| 254 | Evo Stone Ridge Bike |
| 255 | Evo Stone Ridge Bike |
| 256 | Starboard Inflatable Stand up Paddle Board |
| 257 | Starboard Inflatable Stand up Paddle Board |
| 258 | Craftsman Tool Box Includes Tools |
| 259 | Cycle Ops Indoor Riding Fixture Includes Platform |
| 260 | Craftsman Tool Box Includes Tools |
| 261 | Warehouse Step Ladder 5′ |
| 262 | Rolling Bike Stand |
| 263 | 3 Tier Bike Display |
| 264 | 3 Tier Bike Display |
| 265 | 3 Tier Bike Display |
| 266 | 3 Tier Bike Display |
| 267 | 2 Bike Display Stands |
| 268 | Barn Wood Bike Display |
| 269 | Bike Posters |
| 270 | Clothing Display |
| 271 | Stages Cycling Stationary Bike |
| 272 | Garmin GPS, Includes Mounting Fixtures |
| 273 | Glass Display Case |
| 274 | Counter Top Popcorn Maker |
| 275 | Assorted Sun Glasses |
| 276 | Cycling Clothing |
| 277 | Cycle Ops Indoor Riding Fixture |
| 278 | Cycle Ops Indoor Riding Fixture |
| 279 | Cycle Ops Indoor Riding Fixture |
| 280 | Cycle Ops Indoor Riding Fixture |
| 281 | Cycle Ops Indoor Riding Fixture |
| 282 | Assorted Hardware & Clothing |
| 283 | Leatherette Chairs & Snuggle Couch |
| 284 | Keurig Coffee Maker |
| 285 | 3 Racks Includes Tires |
| 286 | Tubes, Includes Tire Pumps |
| 287 | Parts, Additives Lights |
| 288 | Glass Display Case |
| 289 | Husky Rolling Tool Box Includes Tools |
| 290 | Husky Rolling Tool Box Includes Tools |
| 291 | Dell Computer Includes Monitor, Keyboard Mouse, Receipt Printer |
| 292 | Hp Computer Includes Monitor, Keyboard Mouse, Receipt Printer |
| 293 | Work Table 53″ X 30″ |
| 294 | Park Tool Prs-3 Os 2 Station Bike Work Station |
| 295 | Park Tool Prs-3 Os 2 Station Bike Work Station |
| 296 | Wall Display Includes Grips, Tires, Cable |
| 297 | Park Tool TS 2.2 Wheel Truing Station |
| 298 | Park Tool TS 2.2 Wheel Truing Station |
| 299 | Work Table 53″ X 30″ |
| 300 | Bench & Foot Stools |
| 301 | 3 Racks Includes Tires |
| 302 | Westinghouse Flat Screen Tv |
| 303 | Westinghouse Flat Screen Tv |
| 304 | Front Spoked Wheels |
| 305 | Schwinn Kids Bike |
| 306 | Air Hose Reel |
| 307 | Crown 4300 Drive Core, Juice Goose Power Distribution |
| 308 | 4 Wheel Dollies, Paint ,Fan |
| 309 | Wall Mounted Rack Includes Plastic Bins & Parts |
| 310 | Cleaning Rags Includes Bins |
| 311 | Ryobi Drill, Saw, 2 Batteries No Charger, Craftsmen Drill Battery, No Charger |
| 312 | Dremel, Heat Gun |
| 313 | Dewalt 20 V Screw Gun, No Charger, Sawzall, Assorted Tools |
| 314 | Work Table 53″ X 30″ |
| 315 | Park Tool Prs-3 Os 2 Station Bike Work Station |
| 316 | Park Tool Prs-3 Os 2 Station Bike Work Station |
| 317 | Husky Rolling Tool Box Includes Tools |
| 318 | Hp Computer Includes Monitor, Keyboard Mouse, Receipt Printer |
| 319 | Wall Clock |
| 320 | Bal Bearing Grip Latch Tool Box Includes Tools |
| 321 | Park Tool TS 2.2 Wheel Truing Station |
| 322 | Bike Tools |
| 323 | Assorted Spokes |
| 324 | Ladder Bike Racks |
| 325 | Display Includes 2 Canapés |
| 326 | 3 Stools |
| 327 | Assorted Tools |
| 328 | Transition Seat Post Fit Kit (2) Incomplete |
| 329 | Fit Integration Technology (2) Incomplete, Body Geometry Fit |
| 330 | Craftsman Tool Box Includes Tools |
| 331 | Craftsman 175 Psi, 2.9 Hp Compressor |
| 332 | Westward Parts Washer |
| 333 | Remaining In Closet, Oil, Tools |
| 334 | Assorted Front Rims |
| 335 | Srsunitour Frame |
| 336 | Raleigh Tactic Bike |
| 337 | Cruiser Bike |
| 338 | Rl Bike |
| 339 | Research Dynamics Bike |
| 340 | Race Face Tailgate Pad |
| 341 | Thule T2 Classic Bike Rack |
| 342 | Thule T2 Classic Bike Rack |
| 433 | Cycle Ops Indoor Riding Fixture |
| 344 | Cycle Ops Indoor Riding Fixture |
| 345 | Thule 3 Gatemate Bike Rack |
| 346 | Thule 4 Gatemate Biker Rack |
| 347 | Thule Bike Rack |
| 348 | Thule Helium Pro Bike Rack |
| 349 | Thule Ride On Adapters |
| 350 | Evo Rock Ridge 24Black |
| 351 | Thule Load Bars |
| 352 | Bike Luggage Racks & Locks |
| 353 | Shelving Includes Inventory Tubes, Valves |
| 354 | Park Tool TS 2.2 Wheel Truing Station (2) |
| 355 | Lot Of Tubes |
| 356 | Tires |
| 357 | Work Table 48″ X 30″ |
| 358 | 3 Folding Tables |
| 359 | Desk, 2 Office Chairs |
| 360 | Dell Computer2Monitors |
| 361 | Samsung Flat Screen TV |
| 362 | Bmc Bike |
| 363 | 2 Persons Bike |
| 364 | Evo Red Kids Bike |
| 365 | Batch Black Kids Bike |
| 366 | Scott Bike |
| 367 | Specialized Bike |
| 368 | Scott Bike |
| 369 | Kona Bike |
| 370 | Specialized Bike |
| 371 | Bike Parts |
| 372 | Neon Sign |
| 373 | Batch Black Kids Bike |
| 374 | Shelving Includes Inventory Gears, Chain |
| 375 | Shelving Includes Brake Cable, Gears |
| 376 | Wall Display Includes Brakes, Rims, Gears |
| 377 | Craftsman 6″ Bench Grinder, Includes Welton 5″ Vice |
| 378 | Shelving Includes Parts |
| 379 | Trash Cans And Brooms |
| 380 | Rims |
| 381 | 5 Station Bike Rack |
| 382 | 2 Whiskey Barrels |
| 383 | Antique Plow, Strand |
| 384 | Rebar Bike Rack |
| 385 | Rebar Bike Rack |
| 386 | 6 Station Bike Rack |
| 387 | 4 Station Bike Rack |
| 388 | Expert BBQ Grill |
| 389 | Compact Laptop, Vostro Laptop, No Power Supplies |
| 390 | Nec Phone System |
| 391 | Desk , Chair, File Cabinets Side Chairs |
| 392 | Shelves & Supplies |
| 393 | Break Room Furniture |
| 394 | Office Desk, Chairs, 4 Drawer File |
| 395 | Dell Computer, Acer Monitor |
| 396 | Dell Computer2Monitors |
| 397 | Dell Printer |
| 398 | Comb Bind, 2 Label Makers |
| 399 | Bike Rack, |
| 400 | Chairs, Heater |