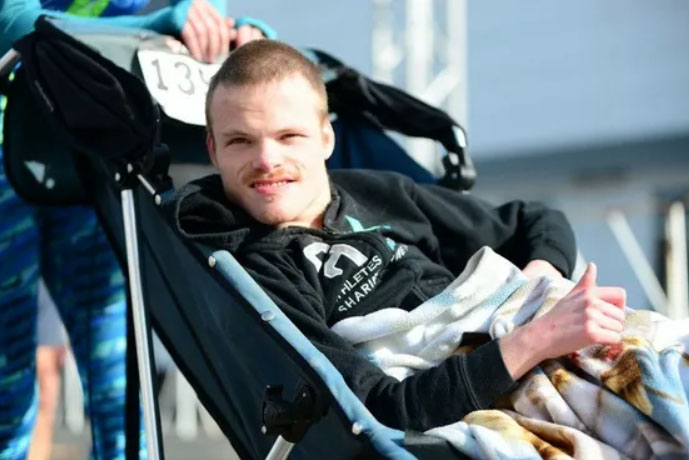 Information: https://pjsjourneyhome.com/
Donate: https://checkout.square.site/pay/2322f8a2abce4a6898c1e16c3cf8e223
Track PJ and Chris Howard Live on Facebook: https://www.facebook.com/PJsJourneyHome
---
On Saturday, September 19th Chris Howard will be biking 24 hours to raise money for PJ and Cindy Snyder. Chris will hop on the bike at 11 am and attempt to ride for 400 miles over 24 hours to raise funds for a down payment so PJ can have his own home. All pledges go directly towards the down payment for their forever home.
PJ Snyder was adopted by his mother, Cindy, a single parent, when he was 8 years old and diagnosed with Angelman syndrome, a genetic disorder that is often misdiagnosed as cerebral palsy. The results of the disorder include stunted growth, seizures, severe scoliosis, balance issues and non-verbal.
PJ's father left his mother when PJ was 22 months old. His biological mother tried to raise him but was overwhelmed and put him up for adoption when he was 4. PJ went to foster care but four years later when Cindy Snyder, his special education teacher, found out he was up for adoption, she started an adoption process and officially became his guardian when he was 8.
Now at 34 years of age PJ has become an accomplished and well known athlete along the Front Range of Colorado competing with Athletes in Tandem, a 501 c 3 public charity, that partners able-bodied athletes with individuals with disabilities to compete in mainstream swimming, cycling and running events. They compete to share in the excitement of racing to bring greater fulfillment to everyone involved. PJ has completed over 120 events including the Boulder Ironman in 2014 and a 12 day 600 mile bike adventure across Colorado! Naturally his mother is always his
biggest fan supporting him at every event.
At age 62, Cindy's biggest challenge besides caring for PJ is securing his future in the event that she passes away before he does. There are a myriad of financial challenges while working as a single parent of a child with special needs in a wheelchair in Denver, CO while only being able to afford renting small apartments during their time as a family.
Athletes in Tandem is working closely with the Snyder family and local business owners to help them achieve their goal of home ownership. Cindy has worked tirelessly to address both her and PJ's medical needs, pay off debts that effected credit scores and find a way to independent home ownership. With those achievements met, she is now in a position to work to secure a loan for their dream of home ownership with the help of Denver based real estate and mortgage loan businesses.
It is our goal to help raise money for a substantial down payment to find a forever home for PJ and Cindy.
On Saturday September 19th Chris Howard will be biking 24 hours to raise money on their behalf.
"Athletes in Tandem believes that all people have a common desire in life to play and recreate. Recreation creates happiness and an improved quality of life. Athletes in Tandem pair's athletes of different abilities to compete in mainstream triathlon, swimming, cycling and running events. We connect the possibility with the experience by sharing the feat."
Event location
The ride starts, finishes and aid station location is at the
Wellington Fire Protection District Station 2 Waverly in Larimer County.
This is the corner of N county road 15 and W county road 66. Just 3 miles West of Wellington.