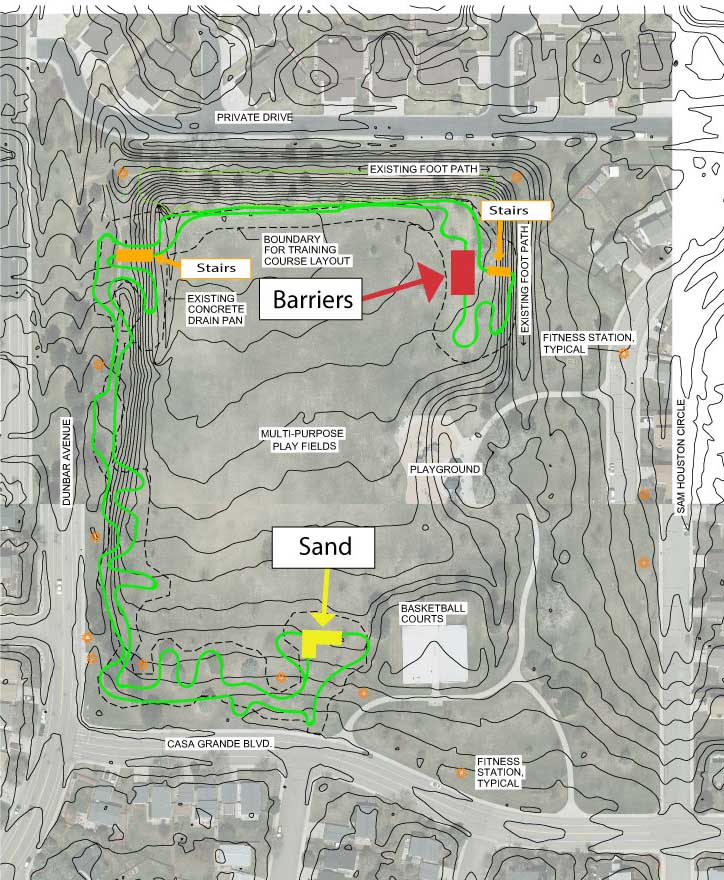 I'm happy to announce that after over 2 years in the works, the cyclocross skills course at Rossborough Park has been approved as a pilot program for 2019! Next week we will begin raising the estimated $1000.00 to cover the costs of an informational kiosk, course signage, course painting and construction of; 1 set of barriers, 2 sets of stairs and one sandpit. Construction is set to begin on or around September 14th and we hope to have the course open by September 20th. The pilot program will run from September 20th until December 10th. After the pilot program is complete most features will be put into storage during the offseason and the program will be evaluated by the city to see if the course will become permanent.
I can not emphasize this enough, we need to be good neighbors while using the course. Local residents voiced a lot of concern about the course at the neighborhood meeting and via online comments. If we want the course to become permanent we have to be respectful of those concerns.
Be A Good Neighbor- Most of these are obvious but…
Always yield to other pedestrians/park users. Give plenty of warning, space and reduce your speed when approaching or passing.
Don't leave any trash behind.
Try to keep the noise to a minimum. Only whisper the swears.
There were concerns about parking so please ride your bike whenever possible. You need the warmup anyway.
There are no bathrooms at Rossborough, plan ahead. Don't pee there. The closest bathroom is at Hans Tishmack's house. Address coming.
And perhaps most importantly, wave, say hi, engage in conversations. Be a good human.
Course rules and other information.
The course will be closed during wet and muddy conditions. Closure information will be posted on the NoCo Trail Report website and disseminated via YGR.
The course has a max speed limit of 15mph.
Max number of 15 riders on the course at one time.
The course will be used as a skills training course; it will not be used for events, races, paid lessons or classes .
Appropriate signage will be provided to include: course use rules and guidelines, course closure information, use instructions at each course feature, yield to pedestrians signs located periodically along the course.
The course layout has been designed to avoid / not cross paved sidewalks or established dirt walking paths in the park.
Painted lines on the turf which delineate the course route will help other park users understand where cyclists are permitted to ride.
The course layout has been designed to minimize interference with other park uses by establishing offsets between the course and features such as the basketball court, playground and paved sidewalks.
The course will be inspected by Parks staff with regular maintenance visits twice a week.
The course will be monitored for user conflicts and/or resource damage by Parks staff.
How can you help?
Donate a couple of bucks once fundraising starts next week.
If you're a carpenter, we could use your help with the construction of the stairs. Mawson Lumber has agreed to provide the materials.
Spend money at Mawson Lumber and tell them thanks for their support.
More information
City website: https://www.fcgov.com/parkplanning/cyclo-cross-pilot-project
Park location: https://goo.gl/maps/EJzXBHLyTPfjBHG86
Trail Conditions: http://yourgroupride.com/index.php/mountain-bike-info/current-trail-conditions