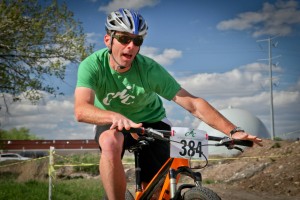 This week YGR digitally sat down with mountain biker, Chris Ellmer. The Ellmer family is among the most active in the Fort Collins cycling community, especially when it comes to riding on the dirt.  It's very rare to attend a cycling event and not see Chris, Tiff, Jack and Alex.   They truly love riding for the love of riding and it's infectious.  Chris is a CYF coach, 1st City Cycling Team member and one hell of a volunteer.
Rider Name Chris Ellmer
Team Stab City Bicycle Club, First City, Ciclismo Youth Foundation
Category  Rodeo clown, 40+ Cat 9 adult strider
Occupation Firefighter / Paramedic with the City of Greeley & CEO at Stab City Bicycle Club
Age 44
Years in the Fort 10
Hometown St. Louis, MO
Type of Racer/Strengths Having fun in the dirt
YGR: How did you end up in the Fort?
: It was a 20 year journey that began after college in Columbia Missouri. There were stops in Denver, Arvada, Windsor, Loveland and then eventually Ft. Collins. We chose this area specifically because of the lifestyle offered here. I wanted somewhere that offered good job opportunities, great quality of life for my family and the ability to ride from my house to MTB trails, oh, and top shelf coffee and beer.
YGR: How did you get started riding?
: I started riding as a way to lose some weight when I was about 15. I was a pretty hefty teenager and didn't really fit in with any of the ball sports. My family bought me a trek 560 road bike (1987 ish) and I started riding it out on the county roads around St. Louis. I found that it provided me with the fitness boost I needed but also allot of fun. I loved riding alone and still do, it's an important part to my sanity. Somewhere around 1990 I purchase my first mountain bike. A Raleigh technium I believe then a Cannondale, next a Klein…
YGR: You worked in the bicycle industry a bit before becoming a fireman. Tell us about that?
: I started at a shop when I was in college. Columbia has many similarities to Ft. Collins and in the early 90's mountain biking was really catching on in that area. The shop I worked at had all the cool shiny MTB jewelry and carried the latest and greatest in bikes. We went to school, traded bike work for coffee and beer and….stuff and played like kids in the dirt with new tonka trucks. After a semester or two of riding, listening to Uncle Tupelo and wrenching on bikes (everything broke all the time back then) I was hooked for life. When I moved to Denver I worked for the Denver Spoke and a frame builder called Clark Kent. There was a long break from all that and then about 6 years ago I dove back in with Ciclismo and the High School MTB league.
YGR: Why did you decide to leave the industry?
: Money, period.
YGR: How come you don't have some sort of a van? You seem like a van guy.
: A man ain't no kind of man unless he's got a van…man! Well, honestly, I would dig a van and Tiff is actually more into it than I am (yeah, that's a cool girlfriend) but, I also have a solid reliable 4runner that we nicknamed Jesus Curtis Christo and I hate to give up on a good vehicle. Maybe someday.
YGR: Believe it or not, many people really look up to you and the way your family embrace cycling as a lifestyle. You, Tiff and the boys seem to truly love riding and racing your bikes regardless of the type of bike, result or destination…. I forgot my question.
: Thanks for saying that. I do love the lifestyle that mountain biking has provided for my family but it goes deeper than that. Honestly, bikes are an excuse to spend time together. There isn't much that makes me happier than all of us piled in JCC with the bikes on the back heading to spend some time in the dirt. I don't even really care what we ride but the experience of being together and seeing my boys ride is indescribable. It could honestly bring me to big happy tears just talking about it. Burning dead dinosaurs pointed out of town with my crew – money.
YGR: Word on the streets is that you're the fastest guy on a 1985 Raleigh Crested Butte in the state, maybe the nation. Is that ture?
: Possibly by pure default. The Raleigh has actually moved on to a new owner out of state, it was time. My mid 80's Diamondback Ridgerunner is my new favorite. It truly has more miles than anything else I own. Slack head angle, lugged steel, fifty bucks, boom.
YGR: So, you've got a thing for vintage bikes. What bike are you always keeping an eye out to restore?
: I used to have a Fat Chance, wouldn't mind having another one of those. Also something from Cook Brothers or an old Joe Breeze would be super cool. I have run out of hooks in the garage a long time ago and have been trying to avoid new projects – trying.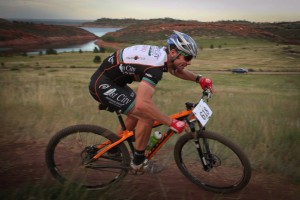 YGR: You don't currently seem all that interested in being fast, just enjoying the ride, has that always been the case?
: Oh I have interest in being fast, just maybe not the motivation it takes to get there! I went through a period where I paid for t-shirts and number plates but I'm not driven by that these days. It wasn't the best fit for me and it took me a long time to realize that. I like to mix it up on the trails and the occasional race course but my bike money goes towards road trips and other forms of bike adventure these days. If you can call Single Speed Worlds a race I guess that's about my only steady race anymore.
YGR: Oh yeah, how did you instill your love of cycling on Jack and Alex?
: that has happened fairly organically in our household. My goal for both of them is to have the choice to add cycling into their lives in whatever way it benefits them. Both boys enjoy racing and have done quite well at it but I want them to first and foremost have tools in their life to escape the stress of normal life and the bike is a good choice for that. If racing provides that outlet then we support each other and work on those goals. Mostly I think they are growing up to appreciate their community and how something like the bike can be pretty damn fun. I'm proud beyond words at the way my boys represent our family and the sport. I think they demonstrate true sportsmanship on the race course and really get what this is all about.
YGR: The boys don't seem to be all that interested in the latest and greatest bikes/components. How the hell did you pull that off?
: I'm pretty lucky that both of my boys understand that it's not about the coolest new toy, those things are fun but riding what you already have to the best of your ability is the way of the bike ninja. I mean, come on, who doesn't get a little thrill out of outriding your buddy and his new bike when you're still sporting your tried and true machine? The dogma of the Ellmer household is the hardtail mountain bike, that's my jam.
YGR: Have you ever yelled "you're weak and I've never loved you!" at the boys to get them to ride harder, further or faster?
: We start each day with that exact phrase! Actually, I've yelled worse at cross races before and they seem to appreciate it.
YGR: How much longer are you going to hang on to that mustache thing on your face? Does TIff approve?
: It was Tiff's idea and it's really not my choice anyway, this year my mustache applied to become it's own entity. I really have no control over it.
YGR: Has becoming a Ciclismo Youth Foundation coach changed the way you ride?
: Absolutely. I tell people all the time that the single best investment you can make in your biking is to take a real MTB skills clinic. Working with Ciclismo and the Colorado league has afforded me the opportunity to train with Lee McCormack and other coaches that know how to teach you to ride better. There is truly a right way to ride your bike if you want to ride fast and it can be tought. You don't have to just keep crashing and hope you figure it out. I really feel like I just learned to mountain bike well over the last few years. I had to unlearn a lot and follow the guidance of those that know better. I've got a long way to go but I love to practice the bike kung fu now. Taking that instruction and teaching the kids also teaches you in return. I work with some amazing people in the Ciclismo group and our rides together have definitely made me a better rider.
YGR: What do you bring to the table anyhow?
: Our little Ciclismo gang has a diverse base of talent. We have some folks with impressive race resumes and that's not me so I really try and focus on the fun of riding and racing. I also work hard to teach our riders about stewardship and being responsible in the backcountry and responsible on local trails. Overall I think our kids do at great job at these things but it's something we all need to work at regularly. Seeing our riders challenge themselves and ride with a smile is a huge reward for me and I hope that they see the value in mountain biking as a lifelong sport and mental escape.
YGR: Who's getting more out of that relationship?
: Clearly – me. Honestly, coaching the kids breathed new life into my cycling hobby. I love riding with young riders and other coaches. When we load up for a race weekend and head out with the kids you know it's going to be a lot of work but the reward is huge. If you haven't been to a high school mountain bike race yet, you should stop by. It's a huge part of the future of our sport and seeing 600+ kids racing the bikes off road is just friggin cool.
YGR: Favorite local MTB trail loop?
: I like the Mountain Park stuff. Wathen, Carey Springs, Sawmill would be the faves. I rarely run into anyone up there during the week except for Kacey Campell.
YGR: Favorite alltime MTB ride?
: I've had the privelage to ride in some cool parts of the world. Ireland, south Africa, Japan, Alaska, Canada, etc. and there are some trails that are forever etched in my mind. Hands down however it was last summer's trip to Whitefish Montana and Fernie BC. My eldest, jack, had just returned from a year abroad in South Africa. The four of us loaded up with bikes, camping gear and coffee and headed out with no set destination. We ended up in Fernie and if you haven't been there you need to put it on your list. Filtered sun through old growth, my boys together. The four of us riding through amazingly constructed trails. A moose or two. I can still remember what that felt like to rip through the forest with all of us together. It's about the trail but it's also not about the trail if you know what I mean. Riding with my family is my podium spot. Damn I love those guys.
YGR: Still trying to sell your road bike?
: Sure, whatever, I guess. I could see Alex adopting it now however.

YGR: What bike do you no longer have that you wish you did? Please don't say your 1984 Ross Mount Whitney, because you can't have it back.
: Ha!, no, the Ross is yours. I don't know, sometimes I think the memory is better than the actual bike. There are a bunch of old bikes that I "wish" I still had but honestly, they probably weren't as cool as I thought.
YGR: Fat bike, yea or nay?
: Sure, why not, whatever makes you happy. I think they're pretty cool actually. Alex has been working with James at Black Sheep on a project for school and if you hang around that shop long enough, you're going to dig fat bikes. For me, there's not one in the garage but if a stray wandered in I probably wouldn't turn it down.

YGR: What's your take on gravel bikes?
: Again, whatever makes you happy. I just build up a RLT Steel and really enjoy the ride. I think the gravel bike and cyclocross world are just evolving road bikes back into mountain bikes anyway so i'm in favor of that. All jokes aside, I think for most riders looking to train on the road and dirt / gravel that style of bike makes a ton of sense.
YGR: What is missing from the Fort Collins cycling scene?
: There's a couple of things that would make a great bike city into a super rad bike mecca. A venue for off-road events that would facilitate cross racing, MTB racing (especially one suitable for Highschool MTB) would be great. Cutting a few more trails to add to what we have (hats off to our trail builders but more is always good!). I think our area has relatively difficult trails and it would be great to see longer flowy intermediate trails in the future. Maybe that's in the works already, I kind of live in a bubble.
YGR: I see you drink a lot of beer but I've never seen you drunk. Why is that exactly?
: You leave early (Editors note: very true).