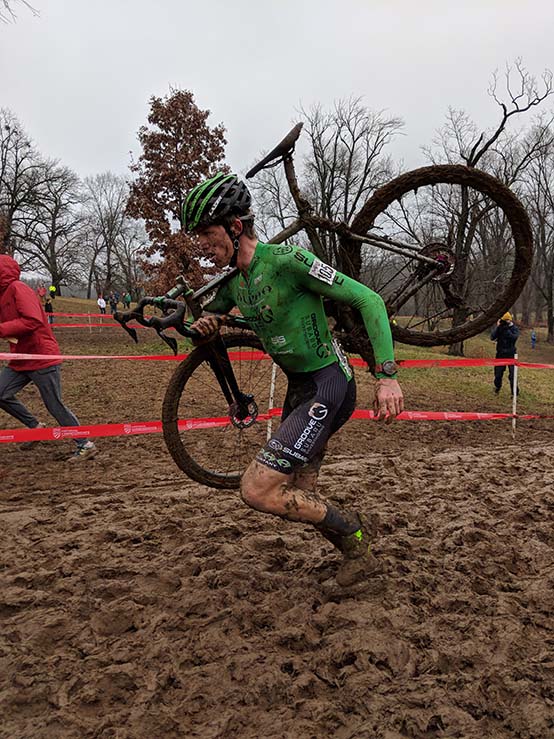 Our local boy, Brannan Fix has been in Europe racing the U23 World Cups and getting ready for Cyclo-cross World Championships for the past couple weeks. Brannan is great example and product of the Fort Collins cycling scene.  He came up racing the New Belgium Cyclo-Cross, New Belgium Short-track , City Streets Crits and other local races and rides.  He raced for the Ciclismo Youth Foundation High School Program and Phoenix Cyclery-Orbea deveo team on the road. He currently races for Colorado Mesa University and Alpha Bicycle Co – Groove Subaru Cycling Team. At Nationals Brannan took 2nd in the Elite U23 race and 3rd in the Varsity Collegiate race.
YGR had a virtual sit down with B to see how things are shaping up for Worlds in Bogense, Denmark on the 2nd.
Rider Name: Brannan Fix
Team: Alpha Bicycle Co – Groove Subaru Cycling Team
Category: U23 Elite
Occupation: Hopefully employable in the future?
Age: 21
Years in the Fort: 21
Hometown: Fort Collins
Type of Racer/Strengths: I'll do it all, but primarily CX. Muddier the better.
YGR: Dude, Worlds team, nice job! You'll be racing the U23 race in Bogense, Denmark on Feb 2nd. Not really a question, just a big fat congrats.
: Thanks Dan! Really happy with the way the season has panned out for sure. That was a big goal of mine for this year to make the team.
YGR: You've ridden for Alpha Bicycle Co – Groove Subaru Cycling Team for the past several seasons. They just announced that they're keeping you around for another season even though you'll no longer be racing in the U23s. Does this signal a change in their status as strictly a development team? Are they positioning themselves to transition to a full fledged pro cx team as you and Gage Hecht graduate to the pro ranks?
: Man, straight into the hard hitting questions! Yes, I'm lucky enough to have someone like Adam Rachubinski, the man behind the Alpha, believe in what I can do and re-sign me for the 2019/20 season, which will be my first elite year. I can't really speak to what Adam's ambitions for the team are, but I know personally that I still feel like I'm in a "developmental state." I've undoubtedly made progress over the last 4 years in the U.S., but I'm still not at the front of the races, there is still work to do for me to get to that point and the team definitely has some of the best resources and best people supporting it to help me succeed as an elite and hopefully be at the front of the races next year and continue the growth that I've seen this season.
YGR: This isn't your first trip to CX Worlds, how did 2015 Worlds go for you as a junior in the 17-18s?
: Worlds for me as a junior was a dream! I mean, 1st Worlds and finishing 15th place? Couldn't have asked for much more. It was a definitely a learning experience but I think I've grown a lot as a rider since then, and even since the last time I was in Europe 2 years ago.
YGR: Why haven't you been back since? Couldn't you have just ridden faster?
: That's a pretty complicated question, but the short answer is yeah! I should have just ridden faster! It's been frustrating to have not been selected until my final U23 year, especially after showing some potential as a junior in Europe, but realistically, I just didn't do well enough domestically, and with the talent pool as big as it is in the U23 category, I truly didn't earn a spot any of the years and that's okay.
YGR: You've always been a strong CXer but the 2018/19 season could be considered a breakthrough season for you. Tell us about some of your bigger results.
: It's absolutely been a huge season for me, I've only missed UCI points at 2 races this season, and really made huge improvements everywhere. I think my biggest results this season for me are not the ones people would expect me to say like winning the C2 in Boulder, or even 2nd at Nationals, but more the races that have been my achilles in the past. Day 2 of Rochester this year was a huge day for me, finishing 6th in a dry, fast race was unlike any result I'd ever had and I knew that this season was going to be different. I've always been good in the mud, but this year being able to compete on every course has been huge for my mindset and in terms of results.
YGR: Any frustrations or missed opportunities there?
: As with every season that are definitely frustrations, U23 Pan-Ams stands out as a major one. I just didn't feel my best and let my head defeat me which is definitely unfortunate because that was a major target this year and I feel like the podium was realistic. But as with everything there's an upside too. Maybe if I would have done well there would have been more pressure on me at Nationals and I would have cracked. Who knows.
YGR: You've been working with Andy Clark of Ciclismo Coaching since you started racing in high school. (number of years?) What about Andy's coaching philosophy works so well with you?
: I've been working with Andy forever now, I think it's 8 years by now? I'd have to have my parents help me with figuring that out! I think Andy's coaching works really well with me over the years because there's never been this sense of pushing too hard, doing too much, and over extending. There's always a plan and a lot of communication which has only grown stronger over the years.
YGR: This season you and Andy mixed somethings up with your training, right? What did you do differently? Why did you decide to change things up? Obviously you're fit but did the changes workout as expected?
: Yeah, this season has definitely been a different mindset for Andy and I. I don't think Andy will mind me sharing this but there was a point after last CX season where I was having some serious doubts about the work we were doing together and whether I should keep Andy on as a coach. It was a difficult month or so of trying to understand how I really felt and what had to change in order for this season to be successful. Ultimately we put together what we felt was a strong plan and I feel executed it really well. We raced less in the summer and trained more, and then this CX season instead of playing catch up, we really did the workouts we wanted and made progress even throughout the season. As a junior the concept of not overreaching was really valuable for me since I think it helped me to not burn out, but at this level now you can't really lollygag, you have to be thinking forward and doing not only the same work that the top guys are doing, but trying to do it better than them. My volume of intensity really increased a lot but we've had amazing training camps and opportunities to focus completely on the task of racing at that level.
YGR: Since USAC moved CX Nationals from early January to early December, you've had a big gap in your racing. How do you feel about that change?
: I feel really good about that change. It didn't work out for me perfectly this year since I couldn't put together a euro racing block over Christmas, but man, the domestic season was really structured perfectly this year to have a great performance at Nationals.
YGR: What have you been doing to sharpen the blade with the lack of racing?
: We put together a similar training block to what we did over Thanksgiving that worked so well for the build into Nationals, but this time we went to California and I had the chance to train with Lance Haidet who is also heading to Worlds. So we got some good work in, and now I have two World Cups to getting some racing in my legs before the big show.
YGR: Does that seem to be working?
: Ha! I'll let you know in 3 weeks. I can tell you my power has never been better but that doesn't mean anything when it comes to actually racing your bike.
YGR: You were kicking around the idea of launching a privateer program before you got word that Alpha was going to keep you around for another season. How far into the process of launching a team were you? Are you relieved to have starting a team off your plate or were you looking forward to the challenge?
: I was not at all ready start my own team, and I didn't have nearly enough of the leg work and networking done to feel good about it. I know that I am going to have to go through that again next season but I know what is coming now and I feel like it's going to be something that I now have plenty of time to prep for and feel good about.
YGR: Your girlfriend Zoe and your dad would have undoubtedly been involved in that program, what do they have to say about it?
: 100% involved in that. They're two of the opinions I value the most and they understand what it's going to take to put together a program that's going to allow me to continue to have success and not just phone it in to get some cash to race my bike. They understand how huge it is to be on Alpha again for a season, and have the time to prep for a team the right way.
YGR: Did you seek any advice from current privateer pros about launching a team (Krughoff, Ortenblad…) ?
: No, I hadn't gotten to that stage yet. I definitely will this coming season to see what they did, especially Tobin since I've been on a very similar trajectory as he was as an U23 racer.
YGR: Who all is traveling to Bogense with you?
: As I'm writing this I'm sitting in the Munich Airport with Katie Clouse and Adam, we're meeting up with Gage Hecht tonight in France and then we have support from USA Cycling while we're in Europe. My dad and Zoë are going to fly over to watch me race Worlds which I'm really looking forward to.
YGR: How many bikes and sets of wheels will you have in Bogense?
: I will have 3 bikes and we have somewhere between 7 and 8 sets of wheels per rider on the trip.
YGR: Is it a good course for you?
: I wish I could tell you. It's only been raced once before as a World Cup last season so it's an unknown for sure but it seems like it could be good for me.
YGR: How many racers and staff is Alpha sending?
: We have 3 racers, Adam as mechanic and do everything superhero, and then Bill Schieken (sp?) from CXHairs will be there on the ground doing some videography and photography for the team.
YGR: Since I originally sent this out, you raced the U23 World Cup race in Pont-Château, and Hoogerheide how did those races go for you?
: Man, the World Cup in France was a pretty rude wake up call to being back in Europe. Very much a crit, and very much jet lagged didn't help things but I didn't get lapped and I was able to blow the legs out. I would be lying if I said I wasn't disappointed with how France went but it's a whole different ballgame over here, it's a different type of bike racing that you have to readjust to. That being said, Hoogerheide went much better for me, it was a classic day of euro cyclocross, ruts that were hub deep, tractor pull, etc, etc, etc, and I ended up 29th. Far from where I want to be for Worlds but I've felt better with every passing day I've spent over here so I'm very excited for what the sensations I felt at Hoogerheide bear for Worlds.
YGR: Other than being a great workouts, how did they help you leading up to Worlds? (points, callup, equipment choice….)
: Like I said, it's always an adjustment to come race over here, the depth of the field is much larger and no one is going to give you an inch. The reminder that cyclocross is a contact sport was a nice one, and remembering how to pace a euro race is another nice thing that I picked up. When someone passes you here, they pass you full gas to try to demoralize you, which worked in France, but now I'm used to it again and I won't tolerate it.
YGR: What was your goal for those races?
: I didn't really have any goals for the World Cups other than to race hard, blow the legs out, and readjust to euro racing. Top 30 is where I wanted to be at both which didn't happen but that's behind us now.
YGR: What's your goal for Worlds?
: World's is a different beast for sure, a few less riders can start so it should mean slightly less competition, but I would be ecstatic with a top 20 at Worlds to cap the season.
YGR: How do the final few days before Worlds look for you? What does Andy Clark have you doing?
: Really chill, easy recovery ride today, a few sprints tomorrow during the ride, travel on Wednesday and then get ready to race on Saturday with a few laps on course and a few openers.
YGR: How do callups work for Worlds?
: UCI points.
YGR: Do you know your callup yet?
: I should be in the 2nd row like I have been both World Cups, I'm not totally sure however.