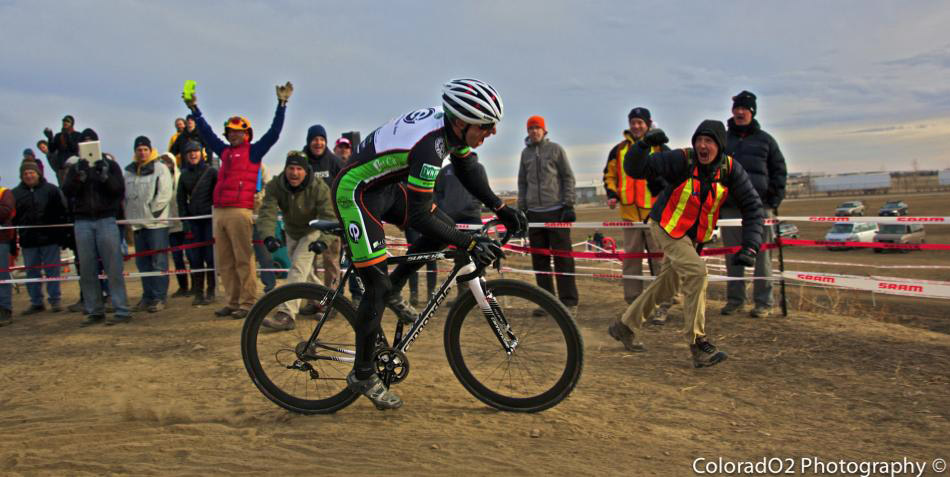 On Saturday, May 9th, starting at 7am 1st City Cycling's Steve Stefko will be riding at least 100 miles on his neighborhood 1/4 mile loop as a fundraiser for the Food Bank of Larimer County. We checked in with Steve to get some answers about his ride and the fundraiser. 
What: In these uncertain times, I want to support our community in a unique way. I live in Fort Collins on a small, non-throughway loop. It's the perfect opportunity to ride laps as I encourage donations to the Food Bank for Larimer County. My plan is to ride at least 400 laps of the 0.25 mile loop. If all goes smoothly, I hope to approach 120 or maybe even 150 miles (which would be 600 laps).
When: Saturday, May 9th. I hope to get started around 7am.
Where: Valley Forge Ave and Hampshire Square https://www.strava.com/routes/26588003
Why: The Food Bank of Larimer County needs our help!
What you can do:
1. Donate to the Food Bank of Larimer County via my fundraising page: https://my.foodbanklarimer.org/hundohood
2. Drop off a shelf-stable or canned item at the corner of Valley Forge Ave and Hampshire Square during the "Hundo in the Hood", approx from 7 am to 7 pm.
3. Come by and ride a couple laps with me…socially distanced of course!
4. Swing by and give a shout of encouragement.
---
What bike(s) will you be riding for your Hundo in the Hood? Probably the road bike only. 2010 Cervelo S1

What do you think your average speed will be? I plan to stay in an aerobic base pace for most of it, so I'll probably end up with 17-19 mph avg.

How long do you think it will take to hit your benchmarks? I estimate 6 hrs to 100 miles including stops. After that who knows! 150 miles is a goal, but I can also see going much longer. It is a question of how long the mind will hold up. I have ridden 230 miles in a day before, so I know the body can do it.

Do you have stops planned? No. I'll have a cooler full of bottles and food, so "stop and go" to refuel. Bathroom stops should be quick too!

What will your nutrition look like? Lots of Skratch hydration! At least a bottle per hour, but up to 2 per hour if it warms up. I made some cookies (choc chip, butterscotch, oats, coconut, bacon) and rice cakes (eggs, bacon, pecans, liquid amino acid, brown sugar). As the day wears on it's all about whatever calories you can get down that sounds good. I've found pickle, bacon, PB, and mayonnaise sandwiches tasty after long days. Fortunately, Melinda will be home and we live near a supermarket.
How will you know when you're done? That's the magic question! I honestly can't answer that because I don't know. The mind is a terrible thing to waste, so we'll see when I can't take it anymore. I'm motivated to put in a big day though!

Do you plan to switch directions? Originally I had, but I'm getting more and more determined to ride the same direction as much as possible before switching.

Will you listen to music? Nah, I like to hear the wind, birds, people saying hello and cars approaching. Ask me again after 8 hrs and I might have a different answer.

What do your neighbors think of all this? Most are supportive. I'm trying to be as unobtrusive as I can be. Remember that if you come to cheer me on that you treat our street and neighbors as your own.

What's the max number of guests you'd like to have at one time? In order for me to keep plugging along I'll be riding my pace, so it's not really conducive for people tagging along for the ride. I'm aware of disrupting my neighbors, so no more than a couple of people at a time would be great. If you must drive, please park along the greenbelt when you first pull into Valley Forge Ave off of Hampshire Rd. There won't be a public bathroom available, so plan accordingly. Don't forget your face masks!

Are you open to teeter-totters, jumps,berms and barriers being added temporarily to spice things up? Usually, I'm all for this sort of stuff, but if I get hurt and can't finish this it would be a bummer. I'm anticipating my mind not working properly after a few hundred laps. I'll pass on the features. Remember this is all about raising money and awareness for the Food Bank of Larimer County.

How do you plan to keep track of your laps? I'll use a Garmin. 1 lap = 0.25 miles. Division of total miles.

How many different bike computers will you have running? One Garmin 810. I have a charger that I can pop on to juice it up while riding. It's usually good for about 14 hrs though! The Fenix3 is my backup.
How much money are you hoping to raise? I had set a goal of $2,000, but as it has gained steam I think it's possible that could be doubled! We have a special community here in Northern Colorado and the number of people who have pledged support is touching.
How did you come up with this idea? I've always wondered how many laps of our subdivision I could ride before giving up. Now I have great motivation to truly push that number higher! We can do outstanding efforts when both body and mind have motivation.
Please, if people choose to come over in a car that they should park along the greenbelt as soon as they enter Valley Forge Ave. off of Hampshire Rd. Do not park in front of neighbors' houses. The fewer cars we can keep out of the street the safer for me.