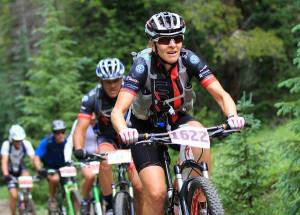 Many of you know Gale Bernhardt, or you've at least heard of her.  She's one of the crazies that rides to Estes Park, at least once per month.  She's currently going on 106 consecutive months.  She missed one month in 2013 due to the floods/closed roads, but heck even the Tour was cancled during World Wars.  YGR hit up Gale to find out a little more about her Estes or Bust rides.
Rider Name Gale Bernhardt
Team Peloton-Specialized
Category I often race open or expert when there are no age categories on the mtb. (Often want the distance.)
Occupation Coach, Author
Age (Editors note, I said she didn't have to answer this) I'm okay that people know I'm 55. Those highly investigative can find it on race results. Additionally, perhaps some will find it inspiring. (When I was much younger (grade school), a friend's sister could ride her bike all the way from Loveland to Fort Collins…and she was OLD…like almost 30! Remarkable for an old woman to do things like that.I was inspired for sure.)
Years in the Loveland Forever.
Type of Racer/Strengths I began my racing career as a triathlete. I bought a mtb for cross-training on dirt roads with zero intention on ever racing. (Heck, people fall over in that sport!) My first mtb race was in 2005 and loved it. I mostly do longer races. If all goes well, this 2014 be Leadville 100 Mountain Bike Race number 10 (scoring the 1,000 mile belt buckle).
Family Husband Del that takes care of your trees in Fort Collins. Two dogs, Rhodesian Ridgebacks, Meeka and Addie. All of them support my cycling and racing – often volunteering to sag for those not-so-fun adventures, like the October ride to Estes Park. Car time for the crew that day was nearly 6 hours.
YGR: How many months in a row have you made the ride to Estes Park from Loveland (not including Nov. of this year)?
: 106 (Editors note: that's once a month for 8.83333333333 years to you and me.)YGR: What is your usual route?
: The preferred route is via Glen Haven, out and back, leaving from my doorstep near Loveland High School. About half the time it will be Glen Haven up and Highway 34 back.
YGR: How many miles is that?
YGR: Who usually goes with you?
: The first year of the "Estes Challenge" there were three of us (Todd Singiser and Scott Ellis). Now there are several people that take on the challenge that never ride with my Sunday group. The "normal" (or abnormal, depending on perspective) group includes Scott Ellis, Ron Kennedy, Bill Frielingsdorf, Bruce Runnels, Ed Shaw and Jerry Nichols. It is not unusual for Pam Leamons, Dave McClure, Peter Stackhouse, Steve Douglas, Kevin McSweeney and others to show up when Estes is the announced route.
YGR: What are the rules for making the ride official?
Rules to achieve the world famous Turd Trophy Award
Ride to Estes Park once per month for 12 consecutive months.

The starting point can be from anywhere in Loveland, Ft. Collins or Windsor and no further west than the Big Thompson Elementary School.

Either route, Highway 34 or via Devil's Gulch Road (Larimer County Road 43 known as the Glen Haven route), is acceptable. If you ride via Highway 34, you must ride west to at least the Estes Park city limit sign near the Olympus Lodge. If you ride via Glen Haven you must ride west to at least the top of the switchbacks where you can see Longs Peak.

A return trip sans car and via bike back to Loveland is not mandatory, but encouraged when conditions are safe and fitness allows. (This means you only have to ride up (one way) to have the trip count towards your trophy goal.)

Riding from Loveland to Lyons to Estes Park via either Highway 7 or 36 counts. This ride can be one way just to Estes or round trip back to Loveland.

The honor system is strictly enforced – ride with or without the group, with a buddy or solo.

You can start any month of the year and go for 12 consecutive months or begin in January and go for a calendar year.
YGR: How did it get started?
: The beginning of the Estes Park Challenge happened in January of 2005. I had just returned from a period of business travel and really wanted to do a bike ride. The problem was that it was 16 degrees Fahrenheit and the roads weren't good for a road bike. On the upside, it was sunny and there was little to no wind.

Knowing that riding is good for my soul, my husband Delbert suggested I call my crazy friends Scott and Todd to see if they would ride to Estes Park with me. Del would provide sag support. Todd agreed to the adventure, but Scott thought it was best to stay warm at home. Frozen camelback tubes and all, Todd and I made it to Estes. We sagged home with Del.

February of 2005, I was on business travel or sick with a cold, but Scott and Todd decided to ride to Estes Park because the weather was reasonably nice. In March of that year, the three of us made the trip.

Somewhere around mid-year, Todd announced that he had ridden to Estes Park every month that year  and was aiming to go through December. He was aiming for consecutive months of riding. Scott had missed January and I missed February…so Todd became the king of Estes Park rides, first on the leaderboard.

After 2005, it became a "thing" with others joining in on the "fun". I think there were six of us the second year and I manufactured really lame elk turd trophies. (With lacquered elk duds.) Those that took over trophy duties after me did a much better job and we've had some fabulous trophies (and fun parties).
YGR: Who has the longest streak in the group?
: Right now (sans November) Scott Ellis and I are tied at 106. If he gets a December ride accomplished, he will jump ahead again and be at 107. (Todd missed September due to storm timing.)
YGR: Tell us about your least favorite ride?
: I can't think of a ride that I can say is my least favorite. All have pros and cons. There have been definite suffer-fests as well. Those make for good stories…later.
YGR: Tell us about your ride in Oct of 2013 after the floods.
: Scott Ellis and I thought there was a chance that all roads to Estes would be open to cyclists late November. We agreed that suffering through one ride from Loveland to Boulder, up Sugarloaf, Peak to Peak and then into Estes would be worth doing to not break the streak and still stay true to the rules. That ride was indeed a suffer-fest with no water available past Boulder and sadly lacking fitness. More fitness would have made being out on the bike around 8.5 hours a lot more enjoyable.
YGR: After seeing the videos and photos of the flood damage, did you think you'd have to postpone your rides indefinitely?
: I definitely thought there was a chance we would have a long delay in riding to Estes. But…my brother and nephew work for Coulson Excavation Company, so I was getting frequent updates on Highway 34. Also, Scott Ellis works for CDOT and was the engineer responsible for leading the Highway 34 rebuild and he was more optimistic late October that it would get done. (He was not responsible for banning bikes on Highway 34, BTW.)
YGR:  At what point did you know the Nov trip was doomed?
: I think someone told me they saw a "no cycling" sign on Highway 34. I started making calls and sending emails. At that point, I was not optimistic that the situation would be resolved by the end of November due to the late Thanksgiving holiday.
YGR: Of all your rides, what is the most memorable experience?
: The October 2013 ride was epic for sure.

Ron Kennedy, Paul Ford and I made an attempt in what would seem like an easy month…but we were turned around by snow and had to call Del for help.
YGR:  Have you had to abort any trips and try again later in the month?
YGR: Do you hit a certain restaurant, gas station or store on every trip?
: The Notchtop Cafe gets a lot of our business. Also the Estes Park Outdoor World employees are fantastic, we stop there as well.. Outside of those two, we'll hit the two gas stations on the east end of town. There's a few others, but these see most of our business.
YGR: Any things you do on every trip?
: When we cross the magic threshold of accomplishment (top of the switchbacks or the city limit sign), there is always recognition for accomplishment for those that "made it". Unless it's freezing cold or windy, the group waits for everyone that is in the hunt to score an Estes ride that day.
YGR:  How do you think the flood damage will change your rides in the future?
: It may make timing more tricky. There will certainly be times where there will be major construction going on and perhaps all traffic will be rerouted to Highway 7 or will experience intermittent long delays (20-30 minutes) multiple times. In the "old days" (August 2013 and before) we typically had 30-31 days to get the ride accomplished and we could plan around bad weather and busy work schedules. Flood repair condenses the calendar.
YGR: What changes do you hope CDOT and Larimer County will make to Highway 34 and County road 43 during their repairs?
: I thought the roads were decent before – as compared to many other roads in the state, country and world. If I had my dream road, there would be ample shoulders (at least 3-feet) on both sides of the road – at minimum on the uphill direction. I know that is really expensive – so a return to the old road would be okay too.
YGR:  Any racing planned for next year?
: I've registered for Gunnison Half-Growler and put my name in for the Leadville Trail 100 Mountain Bike Race. I like the Breckenridge race too.
YGR: Who are some of the more famous athletes you've coached?
: Nicole Freedman (road racer that made the 2000 Olympic team)

Team coach for the 2004 Olympic Triathlon Team (Susan Williams, Barb Lindquist, Sheila Taromina, Hunter Kemper, Andy Potts and Victor Plata)

Currently coaching Ernie Watenpaugh – aiming to get some UCI points this year to race at the World Cup level.