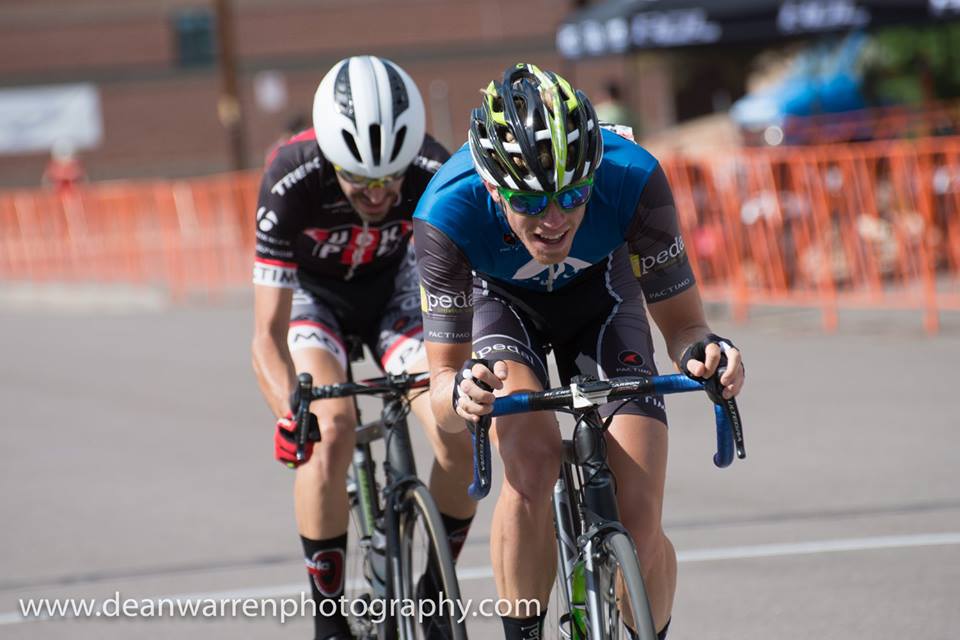 Photo by Dean Warren
This week YGR catches up with the current road and criterium Pro, 1, 2 Colorado State Champion, Taylor Warren.  Taylor is a bit of an anomaly here in the Fort.  He's lived here for 5 years but we know very little about him.  The facts that he rides for a Littleton based team with a heavy travel schedule and prefers to do longer endurance rides during the week means that we seldom see him at our mid week races and group rides. Next week we'll review is 2016, Cannodale CAAD12.
Rider Name Taylor Warren
Team COGA Elite Team
Category  1
Occupation Cycling coach, wannabe pilot in training
Age 23
Years in the Fort 5
Hometown Orlando, FL
Type of Racer/Strengths Long hilly road races, sprinting against tired people.
YGR: First off, congrats on the string of wins, form is pretty good right now. Were State Crit and Road Championships a season long goal?
: Thanks! The state champs weren't necessarily a target, but getting those back to back wins felt super sweet!
YGR: How did Northstar, Dairylands and Elite Nats go for ya?
: All 3 went reasonably well! Took a rough start in Northstar but ended up 38th overall in a very respectable field. Was looking for the podium at Nats, but had to settle for 25th in the Road race and 14th in the crit. I'm still learning tons at the national race scene!
YGR: What's the rest of the season looking like for you?
: Everything is winding down, I dusting off the ol' mountain bike and my training is becoming a lot less structured. As for racing, just a couple local crits, Steamboat Stage race and hopefully Reading120.
YGR: What do you do in the 'off season' to stay fit?
: Run a bit, hike a bit, do some gym work, curl donuts, get gnarly on the b-ball court,
YGR: What does a usual training week look like for ya?
: Usually my coach lays the volume on thick. I'll do maybe two or three 4-5 hour rides, hopefully with treks into the mountains. Some weeks, I'll reduce the volume and do some race specific intervals for whatever's next. I get a lot of my intensity just racing on the weekends though. I'll usually take a couple days in the week where I just ride as slow as possible to recover from the training stress, those are the best days.
YGR: You've been a long time Fort Collins resident, how come we rarely see you on local group rides or at grassroots races?
: Haha,honestly don't have any good excuses. I love the Oval in the winter, hands down best group ride I've ever done. I usually try to hit up a couple Taft Hill tt's as well, just because I'm horrendous at time trialing and need the practice. I guess I usually skip out to keep the intensity lower most weeks.
YGR: Favorite local training ride?
: I really love the Red Feathers loop; going up Rist, up the Poudre, climbing the dirt over to Red Feathers and then it's all downhill to Fort Collins. I think this fall, I want to up the ante and add in Pennock Pass to that loop, now that would be an epic ride!
YGR: Favorite CO race?
: I think I'm going to go with the Steamboat Stage Race. It's usually one of the last races of the year, so everyone is pretty relaxed, the courses up there are super rad and the town just brings out a cool atmosphere.
YGR: Favorite National race?
: I think that'd have to be the Joe Martin Stage Race. I love the courses, it's super well put on and Fayetteville is a really awesome town!
YGR: How did you get started racing?
: That credit would have to go to my dad. Him and his brother (who actually coaches me now) have been riding/racing for the last 25+ years. He never pushed me into the sport or anything, but I think it was just a matter of time before I pulled the ol' lycra up.
YGR: Do either of them still race?
: My uncle races quite a bit still, you can usually find him crushing the Master's 50+ field out in North Carolina. My dad doesn't race much anymore, but can definitely still put me in the pain cave.
YGR: Your dad is still a pretty active supporter of your racing, yeah?
: Both my parents are incredibly supportive of my racing and I most definitely would not have gotten to where I am in the sport without them.
YGR: Is going pro the goal?
: Perhaps maybe a year or two ago, but not necessarily these days. I don't think I would hesitate at a contract, but it's definitely not the end all, be all. I'm learning to just have fun and take in the experience at these bigger national races and I think putting less pressure on myself has helped my racing this year. I'm still trying to figure out what I want to do for a career and trying to figure out where training and racing fits into all of it.
YGR: How did racing for CSU influence you as a cyclist?
: It definitely put the fun in racing and made me realize you can still train really hard but also keep it lighthearted and have a ton of fun. The camaraderie in a collegiate team is huge and it was great to just be able to travel and race with all your best friends. I learned a lot too about racing from some of the more experienced guys like Zack and Logan.
YGR: Ever do any CX or MTB stuff?
: I race at least one CX race a year, just for fun and I'll take my MTB out for a spin every now and again. Usually I just like watching other people suffer in cross races though.
YGR: What do you do when you're not racing/training?
: Fly airplanes, run a small coaching business, take long walks to the fridge, watch Game of Thrones, do Coloradoan things such as snowboard, hike, and swim in Horsetooth.