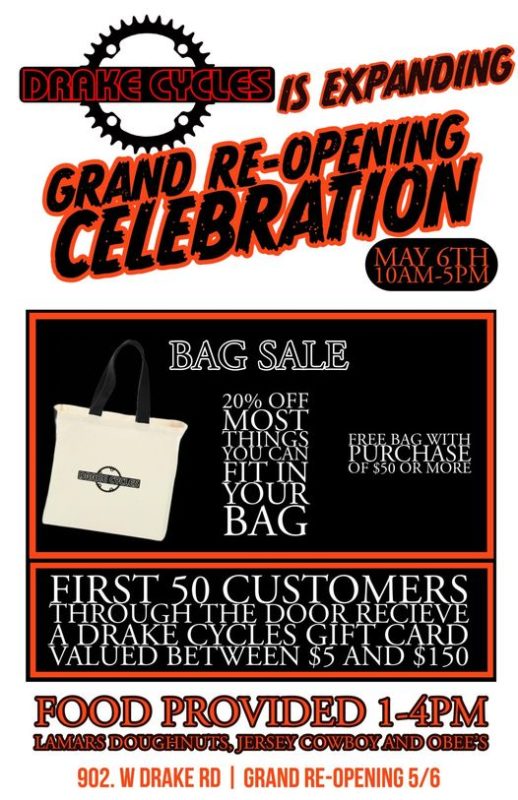 After five years in its current 2400-square-foot location, Drake Cycles is knocking down a few walls. The full-service bike shop located at 902 West Drake Road is expanding to the West and will increase its size by 1400 square feet, bringing the total to 3800 square feet. The new space will provide a larger showroom footprint, dressing rooms, a bike fit location, space to sort and store inventory and allow for dedicated offices and a staff breakroom.
Eric Drake, the owner of Drake Cycles, is excited about the expansion. "We've been growing steadily since we first opened, and we're excited to finally have the space to accommodate our growing customer base," he said. "The new space will allow us to spread out our inventory, and we'll be able to provide even better service to our customers."
The expansion is a sign of the growing popularity of cycling in Fort Collins. "More and more people are choosing to ride bikes for transportation and recreation," Drake said. "We're happy to be a part of the cycling community in Fort Collins, and we're looking forward to continuing to serve our customers for many years to come."
The staff of eight will celebrate the grand re-opening on Saturday, May 6th, from 10 to 5 pm.  The event will include Lamars Doughnuts, Obee's Sandwiches, Jersey Cowboy pork rolls, gift cards valued between $5 and $50 for the first 50 through the door, deep discounts on products and more (food from 1pm-4pm).
Drake opened Drake Cycles 12 years ago at 2100 West Drake Rd in a space that was less than 900sf. His slow and methodical growth has proved successful.  The shop has become one of Fort Collins' premiere independently owned full-service shops. They carry Cannondale, Scott, Rocky Mountain, Pivot, Kona, GT BMX, and Charge electric bikes. They also have Thule and Kuat bike racks and gear from Fox Racing, Giro Tifosi, Smith, Blackburn, Muc Off, and more. While they had an early reputation as an mtb shop, they are experts in selling and servicing all types of bikes. Road, gravel, MTB, commuter, kid's, electric… they sell and can fix them all.
The shop will take over the 1400sf storefront directly to the west.
Group Rides
The shop hosts a monthly women's only mtb group ride led by the CSU Cycling team and a weekly mtb group ride every Thursday.
Calling all female mountain bikers! Join us for the first women's mountain bike ride of the year on Thursday, April 13th led by the women of the CSU cycling team! We'll be meeting at the Blue Sky parking lot at 5:30PM and hitting the trails by 6:00 PM. Get ready to tackle the Indian Summer trail clockwise and enjoy some epic views along Blue Sky. Don't miss out on this exhilarating adventure! Check out our website for the Strava route link which will be coming soon. See you there! FYI these rides will happen once a month and we will reach out about locations and times a few weeks prior.
Join us for an epic ride on Fort Collins local trails! Drake Cycles invites you to our mountain bike group ride on Thursday, April 6th, meeting at the Maxwell Trail Head at 5:45 PM. We're leaving at 6:15 PM sharp, so don't be late! Our plan will be to climb Maxwell, descend Shoreline to the swim beach, and follow the Meadow Trail to descend Maxwell back to the parking lot. Let's hit the trails and make some memories together!
Check the shop's Instagram for future updates.
Keep up with Drake Cycles
If you enjoy this content and appreciate the hustle that goes into YGR please consider supporting the site.