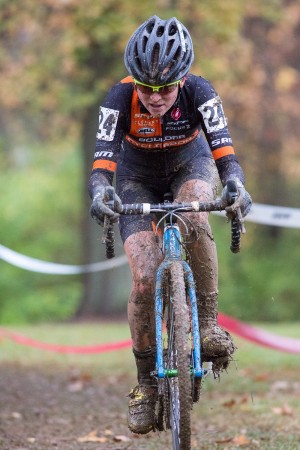 Photo  supplied by Amanda Miller2015 promises to be be a big year for one of our favorite pros, Amanda Miller.  New house, new team, marriage, new races… Unfortunately for us, one of those changes means she's leaving the Fort. Regardless of where Amanda lives, we'll be cheering for her from NoCo.  Read on to see what 2015 has in store for her.
Rider Name Amanda Miller
Team Pepper Palace Pro Cycling presented by The Happy Tooth
Category  Pro
Occupation Professional Cyclist
Age 28
Years in the Fort 7.5
Hometown Mt. Union, IA
Type of Racer/Strengths All-arounder road racer, CX wanna-be
YGR: Alright, 2015 is gonna be pretty crazy, eh Amanda?  Near as can tell, you've moved to Colorado Springs, joined a new pro road team, are getting hitched and are racing Fat Bike Nationals, wait, what?.  Did I miss anything?
Ha! No, I think you've covered pretty much all of it! Yes, 2015 is going to be a crazy
year, but I expected it.
YGR:  Lets start with the little matter of getting married, where did you meet Mark Guthart?  How long have you known each other?
:  Hmmm….I first met Mark at a local race in Iowa in the Spring of 2005, so we've known each other for some time. But….Backcountry Provisions may have been one of our first "offical" (ha no pun intended) dates.
YGR:  Do you have a date and location set for the big day?
:  No date or location yet, as well…this whole job thing kind of got in the way 😉 It will hopefully be in the fall…either this year or next.
YGR: Enough of this mushy stuff, you guys moved to Colorado Springs, what's up with that?
: Yea….so about that….     Mark got a job at USAC as the new Tech Director. Unfortunately it's not a remote kind of thing. And fortunately for him…my job can be done anywhere. So…it was off to the Springs we went.
YGR:  What exactly does the USAC Technical Director do?
: Good question…As far as I can tell he manages lots of things – the official's program (officials training, recruitment, retention, etc.), anti-doping, rules and regulations (both USAC and UCI), discipline, etc. But LOL it's still all pretty new, so I'm not sure even he knows everything the Tech Director does yet!
YGR:  More importantly, when are you moving back to the Fort?
:  Ugh. Trust me. Moving from the Fort was one of the hardest things I've had to do. I wish I was moving back tomorrow.
YGR: Be honest, you won't hurt our feelings, how are you liking it down there?
: Colorado Springs is nothing like Fort Collins. I find it interesting that so many national governing bodies are here. For one…USAC. It's probably the least bicycling friendly town in Colorado (that I've found). Ouch…yea I said that. I haven't explored a ton yet…but I also haven't found the bike lanes or paths like Fort Collins (props!). I have found that there's a ton of climbing…so that's good…I guess…:) I know there's some amazing MTBing here. I just haven't been on the trails yet because of the snow/moisture conditions. Expecting that to change soon as we've had some pretty amazing weather days. We didn't get snow today like you did!
YGR: Pepper Palace Pro Cycling, tell us about the new team.
: I'm really excited to join Pepper Palace. They've really been stepping up their program and have gone UCI this year. We have some really good riders with a good mix of both climbers and sprinters, so it should be an exciting time. You can check us out here → http://www.pepperscycling.com/
YGR: Why did you leave Tibco?
: Honestly, I was at a crossroad with my career. I had been with TIBCO for 4 of the last 5 years. I know the system and structure. It's a great program and could have continued down that same path. But there's something to be said about change, and I'm a firm believer that change can be a good thing. For me it was time to make a change and see where this new/different path takes me.
YGR:  How will riding or PPPC be different than riding for Tibco? (schedule, travel, support, teammates..)
: It will be similar in ways, as I'll be doing most of the major races in the US. The big difference is I won't be spending 3 months in Europe. Pepper Palace would like to get over to Europe to race, but right now it's not on the schedule. Also, I'll have a bit different role on Pepper Palace. They hired me as one of their G.C. riders. It will be a new challenge for me, and I'm excited about it.
YGR: Where's the closest Pepper Palace?
YGR: Despite being sick as a dog leading up to it, how did Nationals go for you (props for not making excuses by the way)?  You had a solid result, was it what you were hoping for?
: Thanks, although I thought I did make an excuse…I was sick!? Honestly, I'm happy with my result. I had been stuck in 8th place at many of the C1's this year when a majority of the racers showed up. Although it was a bit heart breaking as I could see 5th place at Nationals. I've considered myself a top 5 CX rider for a few years…and this year I made more of an effort to get there (more races, etc). However, I think everyone else also made an effort. The CX field has become incredibly strong. Fuel for the fire, for sure.
YGR: Did the extra day help you out?
: Yes, I'd like to think so. I didn't ride Friday or Saturday because I was sick (I'm finally feeling back to normal, by the way). Sunday allowed me to at least stretch my legs. And I had already planned to drive home, so the cost wasn't a huge issue. Just another night at an AirBNB.com place in Austin.
YGR: This past season you raced CX for Boulder Cyclesport Yoga Glo, was this the first year you had actual cx support?  I know you've been a privateer on the cross scene most of the time.
: Support in cross is kind of a hit and miss thing. In 2012, I raced for Optum and had full support with staff, equipment, etc. In 2013, I raced for TIBCO as a carry-over from the road side. Beyond initial equipment, I was pretty much on my own (nothing against TIBCO…their focus isn't really cross is all). Support in the cross world really changed from 2013-2014, with "big" teams downsizing or moving out completely, a lot of uncertainty at the Pro levels, and a lot of self-started teams popped up. For me the BCS/YogaGlo was a list minute thing, but I'm super thankful that we found each other and had a good season. The support and equipment from BCS/YogaGlo was topnotch and super impressive, and I can't say enough good things about it.
YGR: Will you ever make the jump to 'cross full time?  How about MTB?
: That's my goal, honestly. I love cross. I also love MTBing. So you may see me dabbling in some MTB races in the near future….
YGR: I see on the Facebooks that you'll be racing Fat Bike Nationals in a few weeks.  Did you lose a bet or something?
: True story. I am racing Fat Bike Nationals in Ogden…in about a week, actually! The folks at Boo Bicycles approached me and wanted me to race on an Alubooyah at Fat Bike Nationals. I couldn't pass it up! It's kind of funny. Mark has been trying to push fat bikes on me for the last year and a half. I've resisted until now. Can't believe what I have been missing out on! They are so much fun!
YGR: Will we be seeing you and your Alubooyah on the top step or are you just going for a romantic getaway in beautiful and historic Ogden Utah?
: Romantic getaway!?! I don't celebrate Valentine's Day…usually. So stars and bars all the way!
YGR: Mark racing or working?
: Ha, he's racing! He's been commuting to and from work, along with a lunch ride on most days…so we will see. He's a great athlete, and actually used to race. Just doesn't have the same drive/motivation any more. Fat Bike Nationals is more about supporting the movement and having fun. For both of us. I hope a lot of people show up! To me, it's kind of like single speed worlds….;)
YGR: Aside from your Boo Bicycles Alubooyah did you pick up any other fun winter mountain biking gear?
: No. But I wish I would've!!! I'm sick and tired of the trainer…Although I've done a good job dodging that bullet (spent some time in Texas when the weather was bad here, and believe it or not…the weather in Iowa was better in CO when I was back home over the holidays). The Alubooyah is on loan for Nationals. However…I'm picturing a new addition to my bicycle family in the immediate future..
YGR: Besides Fatbike Nationals of course, what is your number one priority for 2015 (bike related, no mushy stuff)?
: Good question! I'd say my number one priority is to really see how far I can take things with this team, both from an individual sense (I'll be one of the leaders for stage races and UCI/NRC races), and from a team sense (we are aiming to qualify for Worlds TTT in September). I've had some results here and there the past few years, but not to the level I would have liked and I'd really like to get back to where I was in the past.
Reader submitted questions
Is she going to race mountain bikes at all given the success of the U.S. Cup? Especially given the current world champ on the road has raced both Cross & Mountain!
: I would really like to if my road schedule allows. Especially when there is a US Cup event right here in the Springs! But we'll see…I'm still getting schedules finalized for the road, which takes precedent. For this year at least.  😉
Does she have any recommendations for girls/teenagers who are interested in pursuing cycling thru college and possibly a career.
: I'd tell them to get started locally, find other girls to ride with and learn from, and collegiate cycling is a fantastic way to do this – there's the competitive element but it also has a lot of camaraderie too which is important. If you find that you enjoy it and have a passion for it, then by all means keep going and see how far it can take you. It's not going to be easy with training, traveling, racing, etc. but nothing worth doing in life is easy. LOL if it was easy everyone would do it!