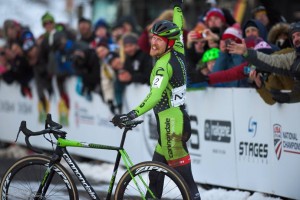 If you've raced your bike in Colorado for any amount of time at all, Dejan Smaic, has surely taken your photo. He's done what many have failed at, he has made cycling photography a profession.
YGR fired 20ish questions at Dejan to get to know him better.
If you'd like to check out Dejan's photos, go to http://goo.gl/YJkJnC.

Dejan will be donating the proceeds from his photos during the Fat Tire Flurry to the Jamestown Community Fund to help with rebuilding that iconic cycling town. The ride is December 22nd. More info here: http://goo.gl/MV0Z0z
Rider Name: Dejan Smaic
Team: Groove Subaru
Category: SM1, SM45+ (road & cyclocross)
Occupation: Professional Photographer, contract Geologist. I still keep my foot in the field of geology less than part time.
Age: 51
Years in Colorado: Approx. 15 yrs
Hometown: Amherst, NY
Type of Racer/Strengths: Road & cross. Very strong work ethic with a turbo diesel engine. I love breakaways & attacking on rolling to flat courses in very windy conditions.
Family: Wife and son.
YGR: Lets start with how to pronounce your name. What nationality is that?
: Dejan Smaic (pronounced dayon smayik).  It is Serbian.
YGR: Secondly, I know you served with the US military.  Which branch did you serve with? When and where were you stationed?
: I have had several periods of military service.  My first stint was when I was mostly completed with college, I wanted to be a USMC officer.  in 1983, I applied and got accepted to officer candidates school as a marine aviator candidate. I got through most of the program until my knees became severely infected after a swamp course in Quantico, VA.  Late 1983, I joined the US Army as an infantryman. I was based out of Fort Carson, CO but spent brief stints in Europe & the desert of CA prepping for a war against the Soviets & their allies.  I then spent time doing the weekend warrior thing in the mid-1990's as an Army Reservist in a unit in Illinois for ex-infantrymen. I got out of that after I was making more money bike racing. There was a little more to my military career between the beginning & ends mentioned, but I'll spare the details.

(YGR Note: This may have seemed like a strange question but we started the interview just after

veterans

day, regardless YGR thanks DS for his service.)
YGR: When/where did you start racing?
: I got started in racing while stationed in Colorado in 1983-85.  Saw American Flyers in Denver in 1985? First Winning Magazine was the one with either Greg LeMond or Rebecca Twigg with her World Champ stripes on gracing the cover.  So, my first bike race was in 1986, the Chestnut Ridge RR in Western NY and took 9th.  I still have that trophy (yeah, trophies for top 10 & t-shirts for all).
YGR:  How far did you take it?  You were still racing the 1, 2s when I started racing in the early 2000s.
:  After several years, I quietly made Cat2, became a chronic over trainer as I loved to train hard.  Never got real results because I was always tired.  Then, I took my first real job as a Geologist and was forced to scale back my training. I discovered quality power-based training with recovery and started getting results and making podiums.  I won the KS State Crit Championship in 1993 and moved up to Cat1 that year. In 1998, I was planning on turning Pro, but a van doing 50mph crossing the shoulder line changed that plan.  Got nailed pretty hard.
YGR: Biggest result?
: I'll only mention the two results that had the most profound meaning. First, was the KS Crit Chap win because I learned that recovery is just as important as spending 2 – 3 hrs behind a moto doing 30 mph., and my last win in 2007 in some Pro 12 in Colorado, I had become a dad earlier that month and realized I can now easy up on the throttle on racing and not have too many regrets….ok, here is a third race with a big cash cow.  A 2 hr crit in Guelph, Ontario…$10,000 CDN. 6 of us lapped the field, I got away then 2 came up.  I led the sprint, but took 3rd and had at least $1K in CDN coming to me. I missed the podium awards ceremony & the promoter skipped out. I never got my money and kept getting the run around when tracking this joker.  Still bitter about that one…really am….oh, wait..then there is that MTB race in 1993 I won as an Expert where I missed my start, epic muddy conditions…ugh, war stories, yeah we all have those and love to share over a room temp Guinness 😉
YGR: Biggest race?
:  Lots of big races, especially out east.  But, to me the biggest was the Boulder to Breck RR and I was a guest rider for Celestial Seasonings. All I can say is that I am not a climber.
YGR: Favorite race?
: In Colorado, it was the Fort Morgan Crit & Bannock.  All time?  Downers Grove or Bannock. I had to really think about this one.
YGR: How did you get into photographing cycling?
: When I was in college in the 1980's, I took photography for electives and had my first Minolta slr with 5 or 6 lenses.  I sent a lot of time with my camera, loved photography, but never pursued it professionally.  Most of my gear was stolen when my Jeep was stolen around 1996.  I never replaced it until around 2005, with a Nikon and a few lenses.  I knew bike racing well, and had some fundamental skills in photography. One thing led to another, then another…
YGR: Favorite photo?
: A tough one as I don't really dwell on any one photo except for some of my landscapes.  Probably one or two from Arches National Park or the oregon coastline.  I really dont have a favorite, just favorites. I really really love landscape photography, but that market is very hard to crack until this year.
YGR: Favorite discipline to shoot?
:  Road racing, cyclocross, and mountain bike racing. I love each because you have to approach each discipline differently and each are aesthetically different, and I'll explain. Road racing is graceful, aesthetically pleasing, and very very explosive / dynamic with potentially dramatic scenery.  It takes place during spring, summer, and early fall mostly when the lighting is intense and high, and as the field winds through city streets, or rolling countryside, you have the ability to capture controlled chaos amidst the calm & serenity of beautiful countryside or the high energy of city scapes. The field, when strung out, produces curves and lines, or when slow a mass of inhumanity.  All these elements and understanding the course features, when put together can lend to artistic beauty or, when the madness of attacks and when every rider is trashed the last 3rd of the race, you can capture the beast of the race…the expressions and body motions, which are all different during the latter stages. You can also capture pure speed on the road, which is why I love shooting time trials…where riders are like cruise missiles flying down the road to their target. With that said, understanding the course, the riders present, and potential weather conditions you have to figure out your key shots & shooting locations.  Capturing a race on the back of a moto is also the best way to follow a race, too.

Cyclocross racing is a combo or roadies & mountain bikers, with some cross dedicated riders thrown into a cauldron of hot lava for 1 hrs.  possibly the hardest 1 hr anyone will ever do in their life…also, some of the funnest moments, too.  Because cross racing involves riding, running, bike handling, and techniques at barriers, plus spectators going crazy in often close proximity to the finish, there is a lot to work with and multiple opportunities to capture defining / dramatic moments of a race.  Plus, because cross racing is during fall & winter months, the lower ambient lighting offers more creative possibilities with speedlights & strobes. Cross racing is like a very intense firefight in a brushfire war…man vs man vs the elements of the day.  Guys & gals are killing themselves to get to the line first.  You can capture the individual hell each rider is going through, as well as the frustration when a mechanical happens on the backside of the course, especially with marquee riders.  With cross racing, because it's slower, you can use different lighting, angles, the tapes, fencing, and crowds interacting with the race to put together all the energy of the moment. Also, cross racing is easier to capture favorable moments of key riders for manufacture sponsors.  Cross racing allows more up close creative opportunities, meaning fisheye, and wide angle lenses are great to use.  Depending on what your priorities are for each race, meaning if shooting for media vs promoter vs manufacturer vs on spec, you can really tailor your shot list and do completely different photography while maintaining your style.

Mountain bike racing…honestly, I love the lighting and landscape opportunities mixed in with the coolness of the sport. It is a pretty simple, yet creative sport to shoot. Knowing the course layout, riders styles, and getting around on a good MTB helps a lot in capturing the racing.
YGR: Biggest cycling client?
: Well, they keep getting bigger.  My best client is Excel Sports. Every race I go to I am always looking for potential cover and inside spread shots.  I shoot freelance for VeloNews, CyclingNews, Cycling Illustrated, and work with 303Cycling. Working for media helps attract additional work and brings more attention to you, your work, and attracts future work is you are timely & do decent work. So, with that said, these three are very important on my list, and I also like the guys & gals I work with in these orgs. Some recent work / clients worth noting are Slipstream Sports, SRAM, ZIPP, the ever present Rudy Project, K-Edge, etc…I also get referrals from guys like Allen Krughoff, and I try to do the same.
YGR: Favorite cycling photography moment.
:  Honestly, the photo turned out well, but is was not the shot, it was about getting the shot. I was on the back of a moto for this years Stage 1 of the US Pro Challenge.  There was this beautiful barn along the road to Snowmass and the field was still together.  All the photogs on motos took off up the road before the race got to the barn, we all dismounted and the motos got out of the shot.  Anyways, there were about 5 of us in this field for the barn shot.  Suddenly, everyone heard a whistle from waaay back at the edge of the field. Jono Devich got there first and we were all in his shot. Everyone was in his shot, others were in eachothers shot…lots of whistling and yelling, and I had to duck behind a farmers combine to be free and clear.  In the end, it all worked out just as the break came by.  To me, that was my moment because after all the maneuvering, i pulled it off and is my favorite from the day.
YGR: Do you make enough shooting local races to make it worth your time or is it purely (or mostly) for fun.
: I love shooting bike races, and make enough from online sales only to pay my mortgage.  I have other work that comes in as well, but to answer the question, I make part of my living doing the local races.
YGR: What is your most lucrative category to shoot?
Usually the Cat 3 & 4 men, and masters men 35+ & 45+.
YGR: Do you think you'll start racing again?
: I never really stopped racing, I just eased back the past two years to focus more on developing my photography business.  In 2012, I raced maybe 12 races, and 2013 only a couple.  However, I'll probably do a few more cross races, ride, run, and xc-ski alot so my engine will be warmed up for the 2014 season.  I'll probably do very select Pro 12 crits, and mostly SM35+ & 45+ crits.  However, my priorities are behind the lens and want to be the best out there, anywhere.
YGR: Favorite pro to shoot?
: Man, tough question because each marquee rider has their own character and I'm in cyclocross mode right now.  With the guys, Ben Berden and Danny Summerhill for cross, and on the road, it's Peter Sagan because he works the break and sprints with style.  The gals, I like shooting Nicole Duke, Katie Compton, and Meredith Miller. there are a few more, but these riders are always on my radar.
YGR: Favorite local racer to shoot?
: Again, a tough one.  You Dan, when you're suffering 😉  Ok, this list is like Carlos Casali, Gage Hecht, all the Weber's in cross. Again, I'm in cross mode right now. ask me again during road & mountain bike racing season in North America.
YGR: Which category do you prefer to shoot?
:  My priorities are the elite mens & womens, and U23 races, then the masters 35+ & 45+ & singlespeed. I try to give both mens & womens equal coverage.  When covering a race for media, I always have to cover the elite mens & womens…always, unless I get specific marching orders from my editors.
YGR: What else do you do besides cycling photography?
:  Photography.  I also keep my foot in the door working as a contract geologist if I get it, and it has to pay well, especially oil & gas projects. But, I have not worked as a geologist since May 2013, but do look for unique opportunities.  Approximately 70% of my annual income is from photography itself.
YGR: Do you think you'll ever go full time w/ photography?
: I'm pretty much full time, working ½ the time, marketing ¼ the time, and being a dad 110% of the time. Like I said, I still like keeping my foot in the door as a geologist because I do like certain aspects of it.  Bust, as I become busier, I may have to hang my hard hat up unless I'm doing an oil field services photoshoot, which I'm marketing.
YGR: Which race do you want to shoot that you haven't yet?
:  Tour de France, Giro, Spring Classics / monuments
YGR: What do you like to shoot besides cycling?
:  Landscapes, corporate headshots (they're easy), track & field when I get the work.
YGR: Got any projects you're planning or currently working on?
: Yes, I am working on a new recruit campaign for the Loveland Fire Department.  Pretty flexible.  Just got this a few weeks ago, and will be doing some ride alongs, too.
YGR: Favorite cycling photographer.
: Tim De Waele hands down.  He approaches cycling photography the way I like to see it captured…grace with drama. Cor Vos comes in second.
YGR: Favorite cycling photograph that isn't yours?
:  All of Tim de Waele's photos 🙂
YGR: What do you shoot with? (lenes, bodies, flashes…)
:  My gear list is like this:
Nikon D200;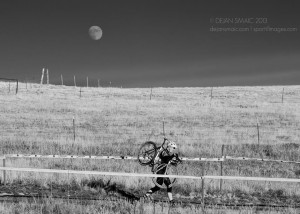 Nikon D300;
Nikon D700 (2);
Nikon D7000
Nikon MB-D10 battery grips (2);
Nikon Coolpix P7000;
Nikon 16-35mm f/4G ED VR;
Nikon 24-70/2.8;
Nikon 70-200/2.8 VR;
Nikon 10.5 / 2.8 fisheye
Tokina 16-28/2.8 AT Pro FX
Tokina 28-80/2.8 DX;
Tokina 12-24/4;
Sigma 50 f/1.4
More lenses;
Nikon SB600;
Nikon SB800;
Nikon SB900 (2);
Nissin 8000
PocketWizards – lots of TTI5's and TTI1;
Alien Bees B1600's and other monolights