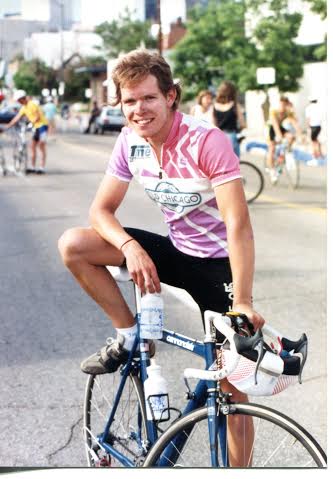 Rider Name Dwight Hall
Team First City Cycling Team
Category  Rd 1, Mtn 1, CX 2
Occupation President CooperSmith's Pub and Brewing Co.
Age 49
Years in the Fort 49
Hometown Fort Collins
Type of Racer/Strengths dumb enough to keep trying
With the help of Tommy Taylor, YGR was able to digitally sit down with Dwight Hall of the First City Cycling Team. Dwight has been racing and winning on the road and trail for 33 years. If you think of him strictly as a roadie, I'll offer his recent win of the Dakota Five O mountain bike race as proof of his trail abilities. That being said, you'll rarely find him outside the top 3 or 4 on a Wednesday night at Worlds.  Having started riding Worlds over 30 years ago, I'd be willing to bet that he's ridden and won more Worlds than any other person in Fort Collins.  Not only is he a heavy hitter on the bike, he's also a very accomplished backcountry skier, husband, father and business owner.
YGR: You reached a pretty elite level in cycling at a young age – tell us what team(s) you were racing for and what kind of racing you were doing. Both on the road/mtb.
I started racing as a junior at 16. At that time I was exclusively focused on road racing (mountain biking wasn't even really a sport then). I worked my way up to Cat. 1 over the course of a few years. I have always been on local teams, Bike Broker, Poudre Racing Team, Trek Allstars, Rio Grande, FCCT and raced for Mongoose mtb team. With PRT, we tried to hit the big stage races, Mammoth SR, Tour of the Gila, Tour de Toona, Casper Classic, Bisbee. In the mid 80s till early 90s most of the Colorado mountain towns had stage races. I had up to 80 race days and over 12,000 miles a year a few times.
YGR: Is it true that you raced in the Saturn Cycling Classic against Jonathan Vaughters? Who else of note was in that field?
Yes, I was there to ride support for Travis Brown on the Trek team. For the record, fetching water bottles on a brutal mountainous road race was stupid hard. I broke a wheel and ended up dnfing but it was a good experience. If I remember correctly Vaughters "out sprinted" Scott Moniger and won the new Saturn suv. That was a little fishy because even I could beat Vaughters in a sprint. Vaughters is a bit a of controversial character but we were on a couple composite teams together when he was young and I've always liked him. On a side note, I was a bit sad when George Hincapie retired because prior to that there was always at least one racer at the Tour de France that I had competed against.
YGR: Tell us about finishing second to a young Levi Lepihiemer in the 200 mile ride/race in Utah.
The LoToJa race goes from Logan Utah to Jackson Wyoming and is 204 miles long. The first year I did it I won with a 60 mile solo. The next year, everybody was just sitting on my wheel which really sucked. Levi had just returned from racing in Europe. About 5 miles to go he slipped away and no one would chase. I ended up super frustrated in second. The third year I got 3rd. I didn't like the trend so I never went back. (Dwight's LoToJa results: 1990 1st, 1991 2nd, 1992 3rd)
YGR: Favorite defunct road race?
The Buckeye Road Race was a true hard man affair. It was in early May so it was almost always really windy. It wasn't the most scenic race but if you got a good result it was something special (my best was 3rd). State roads used to always be at the Air Force Academy. It was a very hard course and all senior men, regardless of category, started together. It was not unusual to have 200 -250 starters and 20 finishers.
YGR: Who did you train with back in the heyday of road racing?
Forrest Newman was my roommate for a couple years. We would regularly battle like all hell on training rides. Mike Hegdal routinely joined us. Estes was a typical Tuesday ride. One particular Estes ride Forrest dropped Heggy and I on Stadium Hill. We chased him all the way to Estes and back and never caught him. There was a mutual understanding when I rode with Forrest that "this is going to hurt". I got to tag along with Randy Whicker a good bit too. He would take us on these 5-6 hour death marches out northeast on dirt roads, complaining was not tolerated. Randy's nickname was "The Wrecking Ball". In retrospect it should have been "The Flaming Wrecking Ball of Death". He was insanely strong and wiley.
YGR: Is there a group ride that no longer exists that you miss?
There are no organized rides that I miss but I do miss riding all day with other good riders. I also miss how quiet the roads west, north and east of town used to be. 25 years ago you did not need to go far to get away from traffic.
YGR: How about a race you never did but wish you had?
Killington and Super Week are races I would have loved to do but I didn't have the money. I have tax records that show and I was living on about $8k/year. Winning $200 was awesome and would pay gas and race entries for a month.
YGR: What year did you start doing Worlds?
1982, no helmets, downtube shifters, steel frames, 10 speed meant 5 gears in the back, toe clips, my first jersey was wool, chamois was leather and caused unspeakable problems, banana in the jersey pocket was state of the art nutrition, we would get the results for European races from "Winning Magazine" 2 ½ months after the race. Trying to make the first group at WNWs was easily the biggest factor in any success I had as a cyclist. Why is this interview making me feel so old all the sudden?
YGR: Who was your local racing mentor when you first starting racing?
Probably my biggest lament about my racing career was that I was generally clueless of what I should be doing to be successful. John Duesing was a year older than me at Fort Collins High and he got me into bike racing. Randy Whicker, Jim Dickerson, John Holcombe, Brian Miller, Snake and Randy Black were the best riders in town. There was not much mentoring it was more of a watch and learn environment and progress came painfully slow. We mostly just tried to do what we heard the Euros were doing, LSD (long slow distance) rides all winter, eat mountains of pasta and race a lot to be race fit. The only fitness tool we had was the bathroom scale. "Training science" was a bit medieval and we rode more on passion than any kind of structure. Don Spence was a teammate later in my career and was a fountain of knowledge and inspiration. I can still hear Dondi's voice "where's your water bottle?" "don't stand if you can sit, don't sit if you can lay down" "use the power of the pack" "we're going to get these f***ers to pull us around all day and then slit their throats" "are you ready for battle?" Dondi was a cunning tacticians and got big results that far exceeded his physical ability.
YGR: It's well know around town that you are an old guard of the FtC group ride scene. What are your thoughts on the current ride formats? What changes have you seen, good and bad?
Wednesday Night Worlds and Saturday Oval rides were some of the most fun and hard days I've ever had on a bike. 20 years ago it was the only game in town and you could test your abilities against some of the top riders in the country. It's a little sad that WNWs could not be sustained in the old format but I've had some good fun with the new ride and I applaud Dan and company for keeping it alive. It's great to remember how rewarding and fun those old rides were but it's clearly time to look forward and evolve new formats. Even though I can't stay with the best, I really like the dams finish, I see that as the new classic. I don't have much interest in the other rides around town. In general I don't feel as safe with the rider mix and the routes. The explosion of grassroots racing is fantastic. I absolutely love being able to ride to a good hard race from home. I believe that if bike racing thrives it will be because of the growth from grassroots events.
YGR: Your two boys are starting to poke around in the local bike racing scene. How old are they and whad'ya think about that?
Sinclair is 14 and Malcolm is 13. Sinclair is racing in the high school mountain bike league for Rocky right now and Malcolm is riding with Ciclismo middle school program. It's pretty awesome because they're both developing really good handling skills. I feel like they understand braking, cornering and body position better than most adult roadies. My wife, Erin, really enjoys mountain biking so that is something we do as a family. As far as racing goes, I like seeing them race mountain bikes because you go out and just do your best but I'd rather they didn't race on the road for a few more years just because if you do it well it's such a cutthroat sport. I've always, half jokingly, said you have to have "daddy issues" to compete at the top level of road racing. You need some demons to train that hard and take that much risk. I guess we'll see in a couple years how good a dad I've been. If they excel at road racing there is probably a good chance I messed them up.
YGR: You're starting your 5th decade of life – what does the next 10 years have in store as far as cycling training and racing? Any big plans/goals?
I'll be 50 soon (yes I know I look 70) and I'm looking forward to not having to race 40 year olds every weekend. It feels like an opportunity to be the young guy in the bunch so I'm very motivated to do my best. I'm looking forward to a couple road races, Koppenberg being a favorite, and then mostly mountain bike racing adding a couple new events in the mix. I'm keen to see where mtb nationals are in 2016, I could get excited about doing that. Because I'm not trying to do anything "great" with my cycling, I'm enjoying it more than ever. Honestly though, I've seen some friends and family get sick and even die recently so I feel like any chance I get to go ride hard is a gift.
YGR: You're also an avid skier. What types of skiing are you into and where are some of your favorite places to go?
I backcountry ski first and foremost and ride lifts with the family. Initially I tried it as off season training but it quickly became a passion. A powder day is better than anything on earth (technically not better than sex but I can ski for 10 hours). I've made regular trips to Selkirk Mountains in BC Canada. The terrain and snow there are unreal. The Wasatch in Utah is fantastic but there are a lot of people. This year I got to spend a couple weeks skiing in Japan. Hokkaido has the best snow I've ever seen.
YGR: How does skiing complement your riding and vice versa.
Backcountry skiing is very demanding. It requires a big engine to hike and ski for 7 hours. The fitness and muscle developed from skiing is nearly 100% transferable to the bike and provides an incredible base fitness. A few years ago I set out to ski over 10,000' in a day and decided to wear my heart rate monitor. For 8+ hours my heart rate averaged 168 and estimated calories burned was over 9000. Steve Stefko is a big backcountry skier – need I say more? The only thing I don't get from skiing is top end speed but I refuse to miss a ski day to ride my bike.
YGR: Is it true you rarely ride your bike until March if the skiing is good?
Actually March is often the best snow month so I often don't get going on the bike until April. It can be tough jumping into a group ride for the first time in April because all the hard cores have been training hard for months but I usually transition pretty quick and I refuse to miss a powder day to ride bikes.

YGR: Thoughts on Nordic skiing?
It's a great idea if you have no mountains. We have mountains so I say embrace gravity. Seriously though, Nordic skiing is a great way to get exercise and wear a unitard win/win.
YGR: Do you think you could have earned a living racing bikes?
No, I made it into the top couple percent of cyclist in this country but I don't have the talent of the very best. I was racing nationals in Park City the year Lance won as a 19 year old. He crushed the entire field. I was 26 and at the peak of my abilities. On a good day, I always thought I had a chance to win but after seeing that I knew there was another level that I could never achieve.
YGR: Any regrets in choosing to avoid that path?
No regrets. I'm really glad I wasn't living in a crappy apartment in Belgium getting paid $400/mo getting my brains bashed in at the races and having some DS pushing "vitamin injections". I don't think I would have had the maturity to say no. Looking back now I'm glad I never had to make that choice. I did make some good money in the early 90s racing mountain bikes but that was because the mountain bikers then had no idea how to train (to be fair my skills were horrible).
YGR: The past few years you've really gotten into long distance mountain bike racing. How did that happen, and how is it going?
Except for a few years in the early 90s when I was a mountain bike mercenary, I've always been a roadie and mountain biked for fun in the off season. In 2010 I got a modern full suspension 29" mtn bike. That changed everything. I now feel like a mountain biker that likes to occasionally ride on the road. The endurance thing is where the sport has gone but for me the most fun races are in the 2 to 5 hour range. Longer races require you to constantly calculate every energy expenditure. Every little thing you do starts to really add up. It becomes a mental chess match. I just won my age group and got 10th overall at the Dakota 5-0 so I'd say it's going OK. The technical aspect of mtn biking is what has kept me excited about racing the last few years. You have to have the fitness but the skills are what separate the top riders.
YGR: For a while you got really into rock climbing. What level did you achieve in that sport? What type of climbing style; Trad or sport? What was your scariest moment?
I "retired"from racing when I turned 30. For the next 5 years I threw myself fully into climbing. Long alpine trad routes were by far my favorite. I never led above 5.10. Climbing is often scary but one of the scariest moments was summiting Spearhead peak in Rocky Mountain National Park in a lighting storm. The rocks, the rope, even the inside of my helmet were buzzing loudly from the electricity. We had to summit, collect 400' of rope, find the rap anchor and descend one at a time. I have never been more "in the moment". I gave up climbing when my first child was born which is what brought me back to racing. I will say that the most all around fit that I've ever been was when I was climbing a lot and riding for fun. Cycling is a little one dimensional that way.
YGR: If you could go for a spin with any pro cyclist, present or past, who would it be and why?
Bernard Hinault, he rode so hard and with so much panache. He was the stone cold killer I dreamed of being.
YGR: I heard that you recently signed on with a coach. Have you ever done that before? Notice any improvements yet? Any surprises with that experience?
It may not be noticeable to others but I try to change something in my racing every year. I think it's important to keep mixing it up or you risk being stale. Coaching wasn't a thing when I started racing. I always suspected I might be better with a coach but for a variety of reasons never pursued it. Earlier this year I was talking with my friend Andy Clark and he offered to work with me in a way that fit my needs. This summer I've set a number of good Strava PRs and had some great race results. He definitely has changed my approach to training. I ride less but with more specific goals and really focus on rest. I'm sure there is room for more improvement and the longer we work together the better he will understand what works best for me. I'd love to report that the old school hard man approach is better but it's not.
YGR: I know you need a little down time between cycling and backcountry skiing, but have you considered giving cyclocross a real go?
I'd love to, it is obviously a really fun time but I have a house with four cyclist to keep rolling, I can't add anymore bikes to the fleet. Besides, October and November is the only time I have to shore-up my marriage and do the yard work I put off all year. Because I'm a cat. 1 road and mountain my license says I'm a Cat. 2 CXer even though I've never done a CX race. If I actually raced they'd probably have to down grade me so it's best I don't.
YGR: How many bike frames have you broken in the past year?
Only one so it's been a good year.
YGR: What is your preferred weather conditions for racing?
57 degrees and overcast. I'm of eastern European descent so I don't like the heat.
YGR: You and two others recently bought out Cooper Smiths. Has being a business owner changed things for your?
It's been really good but it is stressful. I'm lucky to have great partners and employees but I do feel very responsible for the 150 people that work for me. It's not that much different than bike racing, you need to have a plan, be very aware of what's happening in the moment while constantly looking ahead and dealing with an ever changing situation. Oh and my shirts often have a collar now.
YGR: Favorite road ride?
The Masonville-Stove Prairie-Rist loop. 25 years ago we would ride that when it was mostly dirt and our smallest gear was a 42 x 21. It feels like cheating now that it's all paved and I have a 34 x 25. Such an awesome ride!
YGR: Favorite mtb ride?
If I've got 90 minutes, I like to make a loop from my house up Coyote Ridge – Blue Sky – home. The 4 Seasons of Horsetooth course is super fun. Dakota 5-0 is an awesome course. Park City, Summit County, Fruita… there is just so much fun mtn biking to do. I have a fantasy that when I retire from work, my wife, Erin, and I will get a little rv and try to mtn bike in all 50 states.
The following questions were added after the article was originally published. 
YGR: Most memorable race (win?)?
I have two favorite race wins. The first was the "Inner Loop" stage of the 1993 Tour of the Gila. I jumped away just as the break was caught with 1k to go, got a gap and hung on like grim death over the last 400 meters with just enough time to throw up my arms. I also got 3rd on Mogollon stage that year, was 4th on GC 'till the Gila Monster when I cracked and ended up 19th. I can picture the exact moment I lost the leaders- crushing.
The other was "The King of the Rockies" mtb race in Winter Park 2012. In 2011 I was leading that race and took a very bad fall over the bars, clipping a tree with the top of my arm, badly breaking my shoulder with a lot of soft tissue damage. The repair/recovery was long and painful. I worked hard to get back to my former level and in a hard fought battle won that race a year later.
YGR: Most memorable training ride?
Most memorable training ride? Not really a training ride but when I was 10 I told my brother Brent (who was 17) that I wanted to go on a long bike ride. He said OK and we set off with me having no idea where we were going. I was riding my sparkly blue Schwinn Varsity with chrome fenders and a steel rack (I weighed that thing years later and it was 45 pounds). We lived east of town, when we got to Horsetooth reservoir I was completely blown but he wouldn't let me stop. He would take off and disappear in the horizon waiting for me on the side of the road every 1/2 hour or so. We rode to Masonville and on to Loveland. When we got to Hwy 34 and I-25 he let me stop long enough to drink a little carton of chocolate milk, most delicious thing I've ever tasted. We did the last 10 miles getting home just in time for dinner. The first 3 or 4 miles were totally fun, the next 40 were sheer hell but in some demented way I liked it. I had another "fun" day when I was 16. Randy Bristol, and I had the brilliant idea to ride to Cameron Pass and back.  At 8:00am, on a borrowed 60cm Zuess (I ride a 56) with tennis shoes and homemade cycling short (no chamois), we set off. I had one water bottle, 2 honey and butter sandwiches and an apple. We ate our lunch in an outhouse while it rained, took a nap on the side of the road about 1/2 mile from the top cause we were so exhausted, shared a cheeseburger with the little money we had in Rustic and got home a little after 10:00pm. My dad had come looking for me and drove the last 2 miles behind me with his headlights giving me light- he was not happy. 140 miles/ 14+ hours, every ride I've done since has been easy. I must have liked it cause I did again with another friend later that summer when I finally had my own bike and made it in 10 hours.
YGR: Biggest racing rival from back in the day? Did he know you had it our for him?
Rival? The "Library Park Crit" in downtown Fort Collins was my first race. I had no idea what to expect but got in a 2 man break losing the sprint to Forrest Newman. That was the first time I met Forrest. He was an elite high school runner briefly holding the state record for the mile. We both ended up joining the Bike Broker team as Cat. 4s, became roommates for a couple years, trained and traveled together often, partied together, dated sisters and were teammates for most of my P1/2 career. For whatever reason, even though we shared much, we battled fiercely up until a couple years ago when he stopped racing. I'm not smart enough to understand the psychology of our relationship but I do know we both had a never say die spirit that brought out the competitor in us both.
YGR: How did you get into riding in the first place? One does not just start doing world at 16 years old.
I got into bike racing because my parents made me go rollerskating one time. I guess they wanted me out of the house so my dad told me I was going rollerskating, I said "thanks but I don't really want to" to which he replied "I didn't ask if you want to." I was unceremoniously dropped at the rink. It was all a bit awkward until they did the "fast skate" when I found my calling. After the song was over an adult approached me and asked if I knew they had a speed skating team and would I like to come practice with them. I was immediately hooked on the sport but track time was limited so under coaches directions I started riding bikes to train for skating. Skate races were between 500 and 10,000 meters so 50 seconds to 9 minutes. Skating was great because I got to travel to exotic place like Springfield MO, Spokane WA and Tulsa OK and even got to live at the Olympic Training Center for a short time but cycling was a much better fit for my physiology. Brian Durnsworth and Mike Keifer were bike racing classmates at Fort Collins High and I thought they were cooler than. They did the Broker ride (WNWs) so I did the Broker ride. To quote Paul Harvey "and that is the rest of the story".