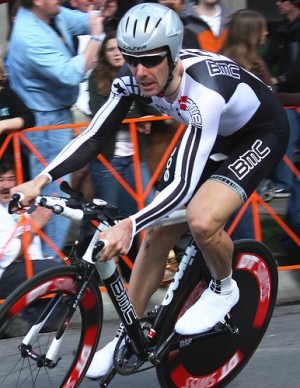 Rider Name Jonathan Garcia
Team Retired
Category Pro
Occupation Massage Therapist, Endurance Coach 
Age 33
Years in the Fort 8
Hometown Boulder, CO
Type of Racer/Strengths Climber, TT, stage racing
In the mid 2000s, after a college running career, Jonathan Garcia rose through the ranks of Colorado racing to become one of the strongest domestiques in the nation.  After 3 years with BMC, Jon retired from professional cycling in 2009. YGR caught up with Jon to see what he's been up to since retiring.
 YGR: You've been retired from racing for about 6 years now, do you still work riding into your normal routine? 
: Not as much as I want to. It's hard with a busy work schedule and being a new dad. It was nice to take a break after competitive racing to focus on other endeavors. I'm planning to get back on the bike this fall for some cyclocross.
YGR: Be honest, do you still shave your legs out of habit?
: I do. Been a leg shaver since 2002.
YGR: You've got a fairly new massage therapy practice and coaching company, right? How have those been going?
: I opened my massage practice (Jonathan Garcia Massage) in 2013 and that has gone remarkably well. I've built a steady client base and really enjoy working with a wide variety of clients, from weekend warriors to college and professional athletes to Olympic medalists. With respect to coaching, I had the opportunity to work with Kevin Younger at Athletic Improvement Center and gained valuable experience. Now I'm excited to further my passion for endurance coaching with Elements Training Company. I'm currently working with 10 athletes and things are going well! The training programs are designed to be goal-oriented and focus on quality over quantity to balance training/racing with life obligations.
YGR: How was the experience of being the soigneur for Optum?
: The staff and riders of Optum are fun to be around and it definitely mixes things up to work on location at races around the country vs. in the office.
YGR: Preference between having your own practice and being a soigneur?
: Having my own practice is great because it allows me to use my expertise for neuromuscular therapy and soft tissue injuries, whereas the massage when I'm with the team is mostly about recovery and flushing out the legs.
YGR: Did your experience racing bikes and probably being in constant pain play a role in wanting to help others be healthy?
: I enjoy working with athletes and promoting healthy lifestyles for sure. I especially like to help them to avoid the mistakes I made back in the day and give them the tools to think outside the box and find what works best for them. Coaching and massage have given me a great platform for that.
YGR: Are a lot of your clients bike racers?
: Yes. It's great because in addition to helping them work through various injuries, it's a way for me stay up to date with the local cycling community since I've been out of the sport for a couple of years.
YGR: With your coaching, are you going more off of numbers, your own experiences, or a combo of both?
: It's definitely a combination and athlete-specific, depending on their preferences. Some people are super motivated by power and HR numbers and others like to go based on feel.
YGR: Bikes and business aside, you are new to the parenting thing, right?
: Our daughter Jolie was born in October and is almost 10 months old. She is amazing, changing so much all the time and growing fast. I've been lucky with my schedule being flexible to spend lots of time with her.
YGR: Okay back to bikes already, when will you put the little one on a strider?
: As soon as we get one. Hopefully the grandparents are reading this article*hint hint.
YGR: When you were on BMC, they shifted from being a continental team to pro continental team, right? What was that experience like as a rider being with the same program as it grew?
: Knowing their vision from the beginning, it was exciting to be a part of the transition. It meant that the team got invited to bigger races in Europe such as Tour de Suisse & Paris-Roubaix, some of which I raced. However, it also meant higher expectations for the riders as bigger names were hired and you had to get results in order to get a renewed contract.
YGR: Was riding a BMC as fun as it looks?
: It was definitely fun. I was never too picky, just wanted to go fast. Although, the BMC Time Machine was a pretty fresh looking TT bike and super fast. It definitely gave me confidence going into TT's.
YGR: What was your favorite race on U.S. soil?
: Tour of Utah because it catered to my strengths with altitude and climbing. The harder the race, the better for me, and it claims to be the "toughest" stage race in the U.S.
YGR: Do you wish riders could still experience Georgia and Missouri? What were those like compared to the more dominant pro races of the U.S. now (Gila, ATOC, Utah, Colorado)?
: I raced Georgia and Missouri twice. It was amazing the support that those races got in terms of fans. The terrain was much more rolling with sprint-type stages and fewer climbing days. So they provided a welcome contrast to the climbing-heavy races.
YGR: Favorite race outside of U.S.?
: Criterium International.
YGR: What was your go to food on the road?
: Baked potato with olive oil & salt. Always preferred real food over gels/bars.
YGR: Preference, host house or hotel?
: Host houses because you get to make friends with local bike enthusiasts and their pets.
YGR: What is your go to ride in the Fort?
: Anything west. Rist Canyon or Rattlesnake are my favorites.
YGR: Did you have any big post cycling goals when you retired that you've fulfilled?
: I wanted to get back into running. Running was my first passion, I definitely missed it over the years racing my bike. I wanted to run a fast marathon & did L.A.& Boston with a best time of 2:32.
YGR: Any final words to the community whether it be advice for bike racing, entrepreneurship, or life?
: I'm grateful to be a part of such a great cycling community here in Fort Collins! We are lucky to live here! Be safe out there and make sure you give a wave to fellow riders in passing. Especially when riding in Boulder. 🙂