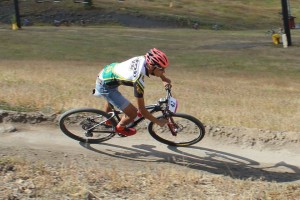 Kacey rocking the jorts at a collegiate mtb race. Photo by Dean Warren.
In this weeks 20ish Questions we catch up with local cross racer and mountain biker, Kacey Campbell.  He's the guy you see klanking heads at the local races wearing 'jorts' and a flannel. The interview goes about as you would expect from Kacey, awesome.
Rider Name Kacey Campbell
Team Teamjorts. Teamstag
Category pro mtb & cross, cat 5 everything else
Occupation Good question
Age 25
Years in the Fort 21ish, roamed around for a few years
Hometown Jort Collins
Type of Racer/Strengths Steep climbs, technical, FUN HAVING
YGR:  First off, why you gotta wear the jorts?  (Cut off jean shorts for those of you not in the know)
: Maximize leg movement, THEY ARE NOT WHITE TRASH. Honestly I think it's fun to lighten up the mood around a local race. Might be stepping on some toes but I think it's funny when people are so serious at a bike race that they can't crack a smile. You won't see me wearing jorts at bigger races
YGR: Seems like you've been diving into this CX thing pretty serious.  What brought that on?
: There's just a lot of buzz surrounding cross right now. The races are fun to go hang out at and people generally have good attitudes. I say this quite a bit but it's the closest I've gotten to racing motocross since I quit years ago. Going bar to bar with riders, picking lines and battling it out for an hour… the only thing missing is a throttle to twist.
YGR: Favorite race?
: New Belgium short tracks
YGR: How did you get into riding?
: Grew up racing motocross but never cycled until I went to college in Grand Junction. I went there to play soccer actually but all my friends were mtn biking so I tried it out and loved it. Shortly after I dropped out and had no real direction with my life (lived in Winter Park for a while). After my 21st birthday I did a 5 week bike tour up to the Northwest as a 'vision quest'. Ended up living in Seattle, working at Madfiber and just like that I was engulfed in the cycling industry. Met some amazing people (Justin, Tamara, Brian, Peter, Tyler) who brought me out to the races, here we are 3 years later. Probably worth noting that I moved back to Colorado in the summer of 2013. Showed up to a New Belgium short the following Spring in jorts… people still refer to me as the guy in jorts.
YGR: Favorite road ride?
: Don't do much of the road riding but Pennock Pass is a good one. Oh, going up Highway 1 on a packed down Schwinn has been my FAVORITE road ride
YGR: Favorite MTB ride?
: Fort Collins has so many great trails it's hard to go wrong. Give me 3 hours in horsetooth mtn park and I'm groovy. If I'm in the Northwest a Toby Swanson adventure ride takes the cake. They always involve a heavy, waist deep river crossing.
YGR: Favorite cross course?
: It's funny thinking about this, I feel like for most courses people put tape up in a field and let us go. I don't really like Jay Zorn but Cross of the North courses are always fun. If it rains or the conditions are challenging the course is fun regardless of the layout.
YGR: Do you have dress jorts?
: duh.. bought some ladies dress pants at a thrift store this year and cut em up. They are some of the best riding shorts imaginable while being quite classy at the same time.
YGR: What is your personal philosophy for riding and racing bikes? You always seem to be having fun.
: BIKES ARE FUN!! And if you're not having fun, why are you doing it? There are some awesome people that ride bikes and you can open up a lot of doors by not being a dick. At the end of the day we're all just riding bikes; if you can't look back on how much fun it was you should probably do something different… I hear video games are all the rave these days.
YGR: Goals? Factory team or independent?
: I'm hoping teamjorts goes factory but it doesn't look promising. Really, I think everybody dreams about riding bikes for a living or just being a professional athlete in general. Unfortunately it's hard to get to that level and even then it's sustainable for a few years. I'm still relatively new to this cycling stuff and as of now, I think it'd be fun to keep reaching for that next level. The day I get burnt out and stop enjoying what I'm doing, I'll take a step back and do something different.  
YGR: Favorite genre of bikes?
: Riding wise, mountain bikes. There's nothing like going out on a solo ride and forgetting about everything else out there. Those days where you're 'on rails' and can't make a mistake are especially fun. As far as racing goes, I like cyclocross the most. They're quick, (mostly) affordable and have a healthy atmosphere. It's funny, I actually follow motocross racing more than anything else. I can nerd out about all the latest happenings.
YGR: Who do you look up to in that genre?
: The euros are so good at cyclocross, it's really fun to watch. Kevin Pauwels has an effortless style that I'd say I look up to. For motocross, my favorite rider is Marvin Musquin. Again, a smooth, calculated riding style that's easy to watch.
YGR: So, you grew up racing motos?
: My dad was a local pro so I grew up going to races and spent a lot of time out at the motocross track as a kid. I idolized my dad and his friends, so once I became old enough to ride that's all I wanted to do. I raced from 50's up to 80's and got pretty fast for awhile. By the time I was 12 I'd broken a bunch of bones and had gotten scared away from it. It's embarrassing how bad I am at moto now.
YGR: How has that shaped your bike riding?
: The biggest part is just having a passion for two wheels. There's an empowering feeling behind riding and it can be therapeutic. I feel fortunate to realize that at a young age as riding has given a positive influence to my life. I guess my riding style may be a bit different. I tend to ride more upright and whip the bike around.
YGR: Can you manual?
YGR: You've been doing some coaching with CYF, hows that going?
: Last fall I took a semester off and had the time to help out. It's an awesome program that gets kids on bikes. The kids are always excited to ride and have a good attitude. The races are insane. Seeing 500+ high school cyclist is a little overwhelming but it's also exciting to see a sport grow. It's cool watching the kids develop skills and become better riders. I don't help out that much anymore just with time restraints but I try to join their rides as much as I can.
YGR: What's your area of expertise with the kids?
: Don't know if I have one. The kids have such a great group of coaches in place already. Andy has a fun way of teaching skills to the riders
Standard issue Kacey Campbell (right). The guy knows how to have fun. Photo by Rachel Dye. and it sticks with them. I coached the faster riders in Group 1, so for practice I would literally ride with them. My guidance is really minimal instructions like "get your elbows out" or "look ahead" because they are such great riders already. There have been instances where I am amazed at the stuff some of the riders pull off. Brannon Fix has obviously come out of the program but there are some really good riders in there that I hope stick with it. To me the best part of the program is if the kids don't want to be a serious racer, completely fine. They are taught skills that hopefully build a lifelong passion for cycling. To any parents reading this, GET YOUR KIDS IN THE PROGRAM. Cycling is unique in that you can go so many different directions with it and make a healthy, lasting lifestyle. The sooner you build that passion for riding, the better.
YGR: Word on the streets is that you prefer to race indy rather than on a team.  What's up with that?
: Haven't found one that'll take me in yet. I wouldn't say I prefer to be independent but if I'm going to be on a team I want it to feel right. I want to know everybody on it and keep everything fun. I get some help already but racing independent is expensive so I'm trying to join up with somebody next year.
YGR: MTB goals for next year?
: Trying to graduate this summer so there won't be much if any mountain biking.
YGR: 2016 CX goals?
: 2016 cross will be the focus. i want to utilize having a uci point as much as possible. having a call up at the bigger races is HUGE!
YGR: You're heading to CX Nats on Wednesday, what are your goals?
: Goal is to be top 5 in collegiate and top 30 in elite.