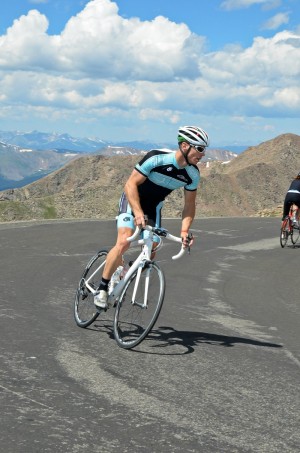 YGR was able to catch up with long time YGR supporter, First CIty Cycling sponsor, and rider Matt Skrdla. It's been a busy year for him already and he has a lot of exciting races still ahead.
Rider Name Matt Skrdla
Team Butler Cycling / FCCT
Category 2
Occupation Optometrist- Owner Spex Optical
Age 43
Years in the Fort 15
Hometown Kearney, Nebraska
Type of Racer/Strengths Road/Mountain. Strengths include sending your training buddies out for 2 hours of intervals before joining the ride!
YGR: For the readers that don't know, tell us about your involvement with Spex Vision Care and it's place in the cycling community.
: I started Spex Vision Care in November of 2004. I had been in Fort Collins for a couple of years and my wife and I decided Fort Collins was the community where we wanted to 'settle down'. I felt there was a need for a patient centered eye care clinic in Fort Collins and I feel over the 10+ years we have been caring for our patients that we have accomplished that.
I became involved in the Fort Collins cycling scene originally through mountain bike riding/racing. Then, Dan Porter approached me about YGR. The Porter's were undergrad friends so partnering w/ YGR was natural. That relationship introduced me to the Fort Collins Cycling Team, Wednesday Worlds, TTH, Oval, Butler, etc. I have tried to help sponsor and support local cycling when possible (YGR/FCCT/Butler/Fort Collins Track Club/Cross of the North).
YGR: How long have you been involved with the cycling scene here as a rider?
: As a rider for 14 years. I recently started racing on the road a couple of years ago and I raced mountain bikes before that for 10 or 11 years when time allowed (time was a bit tight when I was starting Spex Vision Care).
YGR: With your involvement with the new Fort Collins Track Club, do you plan on racing the velodrome as well?
: I am hoping to. I think the track would be a lot of fun and help my racing in so many ways.
YGR: Recently, you were involved in a crash at Superior, how's the recovery been going and are you now a member of the "anti cones on a bike race course" club?
: Firmly anti-cone! I wish local law enforcement would not require race promoters to utilize cones (my understanding is local law enforcement requires it when a complete road closure is not utilized). Personally, I think there needs to be zero tolerance for any racer willing to weave cones and/or crossing the yellow line – they are voluntarily putting others in their race at risk. Cones and yellow line crossings cause lot's of crashes in all ranks of racing without providing any increase in safety (I think there was a crash or two at Roubaix this year) – but I don't see them going away. I'd personally like to see the 8 foot banner flags that are used for advertising so that everyone in a group has a chance to see them – I'd loan out Spex Vision Care's flags – what great advertising!
As for recovery, it's going well – I'm back on the road bike (no gravel or mountain biking yet).
YGR: This September you are making the trip out for Masters Nationals, right? What event are you most looking forward to out there?
: This will be my first attempt at nationals. I need to get a bit of endurance back, but I'm hoping to do well in the road race. The course overall looks pretty good at Ogden this year.
YGR: You've been known to rotate kits between First City Cycling, Butler Cycling and your own Spex kits. What goes into the decision every time you race or ride as to who you are representing that day?
: Whatever is clean! Without getting into too much detail, certain chamois' treat me better than others – so while training, I typically wear the Spex kit b/c it's the most comfortable although the new Butler kit by Rouler we ordered last month is awesome! It's quickly becoming my new favorite. While racing, it depends on if there are any teammates racing as BRAC requires riders of the same team to wear the same kit to be fair to all racers (if you're racing solo, they don't seem to care). It also seems like the Spex kit is now recognized by a lot of friends on the road so I get a lot of waves and hello's which is nice.
YGR: From time spent riding with you, I've heard a bit about your mountain bike background. Any chance of going back over to dirt in the near future? What was the driving force to pick up road and leave the dirt a few years back?
: That's a long story so I'll try to sum it up: I used to ride the road strictly to train for mountain biking. A few years ago I was out on the mountain bike solo on a February afternoon, crashed = concussion. When I woke up it was getting dark and cold. I decided I needed to ride with others on the dirt, but my schedule didn't allow for that to happen much so I transitioned to the road. I like to race, so I gave road racing a try at Cobb Lake in 2013. Thankfully it had some dirt/gravel and a little climb so I did OK. Soon after I made a personal challenge to 'cat up' which meant committing to road racing for a while to earn some points (BRAC didn't used to allow points to roll over from year to year). I enjoy the challenge of road racing – you are more racing others than you are racing the course like you do on the mountain bike. I really miss mountain biking and I'll be updating my mountain bike this fall after I figure out how to replace my broken road bike from Superior's crash.
YGR: At some point over the last few years, I think everyone has been put into the pain cave by you at Wednesday Worlds. Is that your favorite group ride here in town?
: That's flattering…not true, but flattering! WW is my favorite ride locally. TTH is a close second, but WW is a bit longer, windier, and now w/ the Dairy Loop, it is also hillier. I like the challenge of a hard, high intensity ride. WW will quickly expose your weaknesses, keep you accountable during the winter, and reward hard work at the sprint points. It teaches you how to race if you don't have the chance to race every weekend. I've made some great friends in those windy echelons up north of Wellington…something about the camaraderie of a common goal amongst a few guys who are on their limit keeps me coming back!
YGR: What's that camera you are always using in group rides? Do you really want to be a cycling videographer (is that a word?) instead of an eye doctor?
: I started using the camera b/c of some motorist hostility. I have a few patients who are involved in law enforcement, and according to them, without video/audio footage a confrontation w/ an angry motorist will generally be a 'he said/she said' argument and nothing legally can be done in that situation w/o a witness (seems to be hard even with witnesses as we've seen recently). I also ride quite a bit solo, so if I was involved in a 'hit and run' like so many other cyclists have been recently, hopefully the video captures a license plate and a look at the driver. Thankfully, I have not had to use it for anything more serious than capturing friends cruising down Rist. Maybe the flashing light is also a bit of a deterrent?
YGR: When you are out of the office and off the bike, where do you find yourself spending time?
: I have two young children who are constantly needing fed and watered.
YGR: With those two young kids, having Disney channel on is probably a pretty regular thing. Do you consider yourself a new school Frozen fan or does the old school Lion King take the win?
: I'm old school! We've been able to hit Disney Land/World a couple of times so the kids go back and forth a bit since the theme parks are still quite 'old school' (example: It's a Small World – now try getting that song out of your head!).
YGR: Do the kids like to go out with you on bike rides through the neighborhood or parks in town?
: We are fortunate to live by Spring Creek Canyon Park so we have the bump track, Pineridge, and bike path to explore. My 'perfect' day is to go ride for a few hours and then take the kids on a ride – it's great recovery and I'm usually a better dad after a hard ride.
YGR: If there was one section of gravel you could pave in Larimer County, what would it be? *This is hypothetical people, don't worry we aren't advocating getting rid of any sweet gravel rides!
: That's tough b/c I really like gravel riding – but I'd vote for a paved road between Rustic and Red Feather. Coming down that would be awesome!
YGR: What's your favorite route around the Fort?
: Eden Valley – hopefully the county will get that bridge open soon
YGR: Favorite training partner in town?
: The Butler Boys – those guys keep me young (or at least immature;).
YGR: Favorite local race?
: Road = Superior Morgul. Mountain = anything at Winter Park
YGR: Any big end goals for racing and/or riding?
: To continue to make great friends, enjoy the time with them, help sponsor the northern Colorado cycling scene, and continue to set new PR's!
YGR: Any final words of wisdom for the community?
:I'll hold off on words of wisdom – we'd be here awhile;) I would like to thank the Fort Collins cycling community for their support of my clinic and by extension my family and the families of my team at Spex Vision Care. I really enjoy sponsoring YGR, FCCT, Butler Cycling, Fort Collins Track Club, Cross of the North and other cycling related activities and I would not be able to do that without your support!