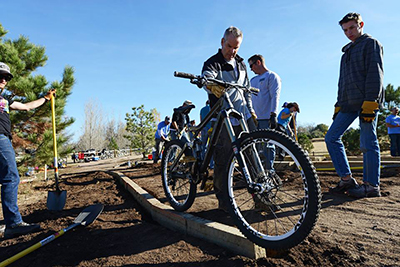 Steve Lacey checks the lines on a feature at the Spring Canyon Skills park. Photo by Glen AkinsRider Name Steve Lacey
Team Peloton
Category Mountain Expert depending on gravity
Occupation Semiconductor layout engineer/ manager
Age 53
Years in the Fort 27
Hometown East Lyme, Ct.
Type of Racer/Strengths Slow up, fast down, the more technical the better.
YGR: Steve, I saw your Monday Evening Trail Work page pop up on Facebook a while back, how long have you been organizing those projects? How did they get started?
I think the first projects I personally help start, then with Diamond Peaks MB Patrol, were the skinnies at Bobcat. After rangers destroyed all the alternate log lines that had been created illegally, Doug Cutter and I asked how we could create them legally. "Just ask", they replied. So I drew up some plans and we got them approved through the City and Thursday evening trail day was started.
YGR: What land agencies do you work with?
I work mainly with the City Natural Areas because they seem to welcome input from mountain bikers but would I/we would work with any land agency if the opportunity presented itself.
YGR: What trails do you work on?
I tend to gravitate towards working on expert level or advanced trails at the moment until current projects are completed.
YGR: What sections of trail have you worked on?
The skinnies and other upgrades to the Ginny Trail at Bobcat. Started building some alt lines on Maxwell, but the area proved to be very complicated with the high amount of traffic, abilities and opinions. Presented and got approval, with help from OMBC, for the Rimrock steps alternate ramp line which many user groups helped out on. West side of Reservoir Ridge alternate lines and re-route. Foothills trail from CR23 down below Soldier Canyon Dam and then back up to Reservoir Ridge Trail. Many alternate lines built and general maintenance or upgrades while still keeping the trail at an advanced level.
YGR: Do you think that adding an easier alternate line would increase the number of people riding that section (Foothills Trail under soldier Canyon Dam) therefore decreasing the congestion on Michaud and perhaps Maxwell?
 Of course making an easier line on that section of the Foothills trail would increase the traffic on it but since you can really only access that section of the trail from the top it would not do anything for the Maxwell or Michaud congestion.  That is why this section is perfect for an expert/advanced trail.  If there was a connector  along the bottom of the ridge between Maxwell and Michaud, say on the service road, that may be an option but the terrain is still such that an easy route would be very hard to accommodate in that area and hard to sustain.  I personally don't have an issue with Maxwell and it's congestion for the amount of time I'm on it compared to the rest of my ride and think for the amount of use it gets it does very well.  Stop, say hi and enjoy the company for 2 minutes!
YGR: What projects are up next?
I plan to continue/ finish the alternate lines on the Foothills trail and then help out with Michaud area upgrades and new advanced line. Continue to push for approval of "On the Rocks Trail" at Bobcat Ridge, a trail proposal started while working on Ginny trail. This is a multi use trail proposed for trail runners and hikers as well as mountain bikers taking users on some of the most unique rock formations in Fort Collins.
YGR: How many people do you usually get?
Usually 6 – 8 people show up on Monday's but the more people that start showing up the more the City sees that they can rely on volunteers to help with maintaining new trails.
YGR: How can people get involved?
To get involved with Monday evening trail work all people have to do is check on Mondayeveningtrailwork Facebook page for location and times and show up. Any and all user groups are welcome to help and provide input. Whether it's moving rock or trimming overgrowth there's usually something for everyone.
YGR: Have you proposed any modifications that the city didn't buy into?
Actually there has only been one rock outcropping on Reservoir ridge the City did not want to allow an alternate line on for safety concerns.
YGR: Aside from On the Rocks, do you have any other big projects that you're working on?
This year concentrate on completing advanced alternate lines on Foothills trail. Some good ones planned.
YGR: Has there been any thoughts about making Foothills Trail under soldier Canyon Dam more mtb friendly?
Personally, I love the Foothills trail as it is now. It is still a challenge to ride in both directions but everything is rideable. Linking everything together for a no dab run, up or down, is the challenge. My personal goal this season is to ride that section both ways without dabbing. To make that section of trail more MTB friendly would go against everything I'm trying to build around the area….technical, expert level trails or features where speed is secondary to actual bike handling skills along with having a high degree of fitness.
YGR: What's your favorite local trail?
My favorite local trails are…..Foothills trail, Upper Timber and Howard, West Ridge, Ginny. Horsetooth Rock trail was, and still is, a favorite as well and a great example of our mountain bike community not speaking loud enough to keep it multi-use.
YGR: For those that don't remember, what happened with the Horsetooth Rock Trail and when?
About 8 – 10 years ago Larimer County had a survey asking about the HTMP area. Despite a very small number of user conflict complaints between bikers, hikers and equestrians they went ahead and closed the Horsetooth Rock trail to Bikers to limit user conflict complaints. If they conducted the survey today I'd bet you'd get and increase of user complaints between user groups mainly centered around the service road which they force bikers to use, so closing the trail did nothing. Also, if you spend time on that trail you will see that trail maintenance on that trail is still an issue despite decreased MTB usage. I think with the increased pressure to close more trails to MTBs this would be a very good case study to open back up.
Page 93 deals with conflicts……more dog related conflicts than Mountain bikes! They never had a conflict issue!!!!!!
http://www.co.larimer.co.us/parks/htmp_plan/appendix_c_visitor_survey_results.pdf 
YGR: What's your favorite type of trail to ride? Favorite feature to build?
I like trails that challenge a riders skill and fitness or trails that you have to align all the stars to ride them without dabbing. The skinnies on Ginny were really a challenge to design and build and have to be my favorite but hauling the timbers up there was a chore.
YGR: What's your favorite trail system to travel to?
I don't have a favorite trail system per say. National, More Fun, Holy Cross, Amassa Back are trails I wish we could build here in FC.
YGR: What trail system should should the NoCo system strive to be like?
I've always said or used to believe "if you can truly ride all the trails around FC you can ride anywhere". The issue we face in NoCo is our soft surface trail system is not growing and keeping up with the demand quick enough. Our local leaders do not see a big enough economic impact or advantage to expand our trails like other areas with growing trail systems.
YGR: What location in NoCo has the most untapped potential for trails?
The Mayor's office and City Council office…..we have to force them to take notice of our trailheads and made aware of the potential and demand for soft surface trails for all skill levels and user groups in the area.
Final thoughts from Steve:
Many people complain that the trails in and around Fort Collins are being sanitized, made easier, with respect to mountain biking. I started mountain biking when Maxwell was the "A" trail and as rough as you could find. None of the trails at that time were designed for mountain biking or the traffic they are seeing now and sustainability not as big of a priority as it is today. Fort Collins trail usage is continuing to grow at a record pace, look at the trailheads on the weekends. Our trail system has to keep pace with that growth. Trails need to be designed for multi use, high traffic and longevity. This tends to lead to trails that are low maintenance, less inclined, less technical and promotes higher speeds by mountain bikes. A lot of these trails are also managed by people with little experience of what mountain bikes can do. I want to keep the trails challenging, exciting and new each time you ride not just try to ride them faster. I also like the thought of a group of riders of varying abilities having the ability to ride the same trail at relatively the same pace and one rider be just as challenged as another and still be within 20 feet of each other because a trail has been designed with multiple lines. Or more experienced riders riding challenging lines until less experienced riders are able regroup.