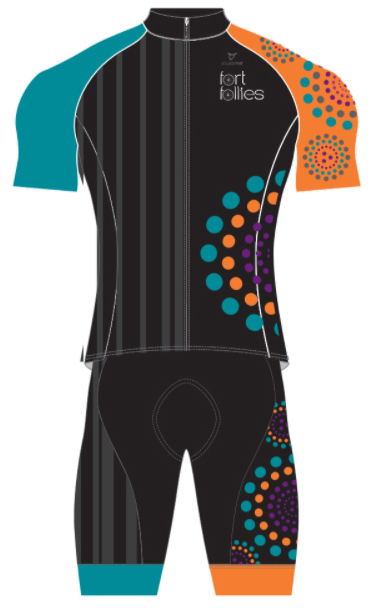 Racing/adventuring/riding team made of up women of all ages and abilities who are getting it done on road, cyclocross, gravel and mountain bikes.
Mission:
The Fort Follies are a group that seeks to empower women* in the Fort Collins area to be active and impactful members of our cycling community through riding, racing, and philanthropy. We strongly believe in a positive, supportive, and inclusive team, suited for women of all abilities and disciplines.
*The Follies are for all women, regardless of the sex they were identified as at birth.
Connect:
2021 Press Release:
This year sees a change in leadership for the Fort Follies- Lauren Nagle is taking over from Natalie Santelli. While Lauren has some big shoes to fill, the team is embracing this change so that Natalie can have time to focus on more important things in her life, like family.
There are other changes happening with the Follies, too. We have updated our website, including making our language be more inclusive. We have developed a scholarship program that aims at overcoming the financial barriers the sport of cycling often has. We are also talking about body inclusivity and what we can do to tell the world that all bodies are cycling bodies. As part of that we have made wearing our kit optional, and have switched our kit design refresh to be every other year to consume less. This year's kits will be for the 2021-2022 seasons, and while you will see some of us riding around in the new design, you will also see us wearing all the previous kit designs, too.
We are hopeful that 2021 will see a return of our weekly group rides: Wednesday Night Weepeats (hill repeats ad nauseam) and Sunday Funday (rides that build in length and difficulty as the warm seasons progress). We have several riders who have races on their calendar, even more who enjoy riding locally on singletrack, gravel, and pavement. We also have several year-round bike commuters on the team, holding down the nuts and bolts sector of being a cyclist. If you see us out riding be sure to say hi!
We are also hopeful to do several community oriented events, so even if you are not part of the Follies you can still get in on the fun…stay tuned!
The Fort Follies Cycling Team is one spoke of the NoCo Cycling Project (NCCP), a 501c3 organization.
Sponsors
Beyond Horizions Massage Therapy http://beyondhorizonsmt.com/
Bike Sports https://www.bikesportsco.com/
BoCo Gear https://bocogear.com/
Cuore https://www.cuore.ch/
DeNovo Crossfit https://denovocrossfit.com/
Edward Jones https://www.edwardjones.com/us-en/financial-advisor/kelli-olsheski
Hopped Seltzer https://hoppedseltzer.com/
Mulberry Maids https://www.mulberrymaids.com/
Precision Chiropractic https://precisionchiroco.com/
proVelo Bicycles https://www.provelobikes.com/
Rio Grande Restaurant https://riograndemexican.com/
Rudy Project https://www.rudyprojectna.com/
Skratch Labs https://www.skratchlabs.com/
Studio Q https://www.studioqcycling.com/
The Eye Center of Northern Colorado https://www.eyecenternoco.com/
The Rollin' Stone Wood Fired Pizzeria https://www.therollinstonepizzeria.com/
Turtle Mountain Fermentery https://www.turtlemountainfermentery.com/
Wander Coffee https://wandercoffee.com/
Wolverine Letterpress & Publick House https://www.wolverinefarm.org/
The Women's Clinic of Northern Colorado https://womensclinicnoco.com/
Zwei Brewing https://www.zweibrewing.com/
Roster
Whitney Allison
Victoria Balfour
Julia Beckel
Erin Berryman
Becca Blumberg
Jane Brewer
Celeste Cannon
Melissa Chehade
Kathy Collier
Jess Cooper
Ann Corran
Jenn Cram
Molly Cropp
Lisa Cunningham
Margaux Dart-Greenough
Marissa DeMercurio
Janna Dickerson
Laurel Donahue
Deb Eberling
Amber Fisher
Nicole Fleming
Cathy Fraser
Dani Gigliotti
Patricia Grajeda
Heather Haaland
Cheryl Hitchens
Gail Hogeland
Rachel Hurshman
Marketa Jancar
Andrea Jenney
Laura Jolly
Kylie Jones
Jenny Jones
Emma Jones
Tenae Jones
Jen Kaiser
Becci Kirby
Coral Lamb
Amy LaTendresse Glaser
anna marie Marie
Christina McClard Pearson
Nancy McElwain
Lauren Mehl
Teresa Metzger
Tirrel Miller
Emma Moore
Lauren Nagle
Staci Nouri
Elizabeth O'Brien Smith
Elizabeth Obermeier
Emily Osberg
Jo Raymond
MJ Redman
Mindy Rice
Rebecca Robbins
Natalie Santelli
Jen Schiller
Pam Schrock
Kate Schulte
Diane Schultz
Barbara Schultz
Kelly Sharp
Stephanie Shwiff
Lisa Sinclair
Amy Solana
Suzy Spezzano
Lindsay Stahl
Terri Sunset
Paige Tenneson
Anna Towne
Kelly Ulmer
Donna Urban
Jacqueline Vance
Michelle Verant
Anita Vissers
Tiffani Walker
Melody White
Tamara Yakaboski
Jill Zarestky
Katherine Zaunbrecher