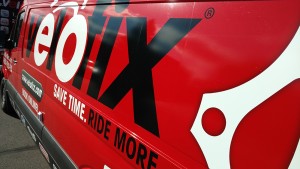 Last week I had the opportunity to have Trent Newcomer and his mechanics swing by YGR World Domination Headquarters with his two new VeloFix vans. The vans operate as fully functional bike repair shops that can come to your home or office. The guys were able to take my Veloforma single speed cx bike that was pretty much completely seized up after State Championships and bring it back to life with all new bearings, brake pads and Stans in about a hour.  The best part is, I never had to leave the house. The convenience of having a bike shop come to you is pretty unprecedented.
The vans are fully functional and taking appointments and taking appointments right now.
Check out the photo essay and interview with Trent below.
VeloFix Info
Site: http://www.velofix.com/
Facebook: https://www.facebook.com/VelofixBoulder/?fref=ts
Instagram: https://www.instagram.com/velofixcolorado/
Twitter: https://twitter.com/velofixcolorado
Rider Name Trent Newcomer
Team VeloFix
Category 3 CX, Expert MTB
Occupation Veterinarian
Age 45
Years in the Fort 16
Hometown Kansas City
Type of Racer/Strengths I have been told that one of my strengths as a cyclist is my ability to push myself and suffer. I suppose I am a fairly well rounded jack-of-all-trades, master-of-none kind of rider/racer. I have done a number of endurance mountain bike races and have really enjoyed them, but it is pretty hard to beat a good cyclocross race as well.
YGR: How did you hear about the VeloFix franchise?
: My wife actually saw it in Entrepreneur Magazine last year. It was one of a few mobile franchises that was featured in an article, and she left it open on the kitchen table with a little note that said she thought that it sounded like something that I might be interested in. Little did she know what that would lead to… I checked out their website and entered my information as being interested in franchise information, and the following day I was on the phone with the president of the company. In subsequent conversations, I grew more and more excited about the business model and, more specifically, the company itself.
YGR: What exactly does VeloFix do?
: Put simply, we are a full-service mobile bike shop that comes to you so you can have your bike tuned and/or repaired while you wait, without having to load it into your car, drop it off, and be without it for sometimes up to several days. Our goal is to save you time so you can ride more.
We also love working with companies that see value in promoting healthy and active lifestyles to their employees, recognizing that a healthier employee also tends to be a happier and more productive employee. Such companies can contact us to schedule a day for us to come out and, as a company-provided benefit, service their employees' bikes while they work. For those companies that are interested, we can also offer lunchtime learning sessions to their employees, during which we can teach bicycle safety as well as basic bicycle maintenance. Fort Collins is home to many such companies, as there are more certified Bicycle Friendly Business here than in any other city in the country, regardless of size. We look forward to the opportunity to contribute to this tremendous aspect of our community.
YGR: What does your wife think about all this?
: A great question, and I sometimes wonder if she now regrets ever sharing that article with me. Seriously, though, she is very supportive. She knows how passionate I am about cycling and has seen how excited I have been through the entire process with Velofix. She understands that it takes a lot of time to start a new business, especially while I am already operating another existing business, but she is behind me 100% and I can't put into words how much I appreciate her for that.
YGR: You hand kind of a rough start to this endeavor. Do you want to go into some of the van drama?
: Well, our initial start up did not go according to plan, to say the least. Only two days after we picked the van up from South Carolina, where the custom outfitting was performed, we had a little mishap. Brandon, my mechanic who was driving it back, was just pulling away from a gas pump at a station in St. Louis, when a car came speeding into the gas station, totally out of control. After pinballing off of three other cars as well as a gas pump, it slammed into the back of the van. Of course, the driver was not insured. Fortunately, the van was still driveable so we got it out here and were able to work out of it for a couple of weeks, until we could get it into the body shop and get two new fully functional vans on the road. It was definitely an unfortunate start to things, but it is also something that we will eventually be able to look back on and laugh about.
YGR: Tell us about the van. Year, make, model, motor. Where did it come from? Who outfitted it?
: The vans are 24 foot-long, 2016 Mercedes Sprinter vans with turbo diesel motors that have surprisingly efficient fuel efficiency. The vans are built in Germany and then are customized in Charleston, South Carolina.
YGR: You've got Fort Collins/Boulder and Denver metro. How long until you take over the rest of the State?
: I am very excited to have the franchise rights to all of Colorado, so the eventual goal is definitely to be able to service bikes all across the state – or at least along the Front Range. Of course, demand will dictate our rate of growth but within a year I would love to have a second van in the Fort Collins/Boulder territory and multiple vans throughout Denver. I anticipate opening Colorado Springs around this time next year, if all goes well.
YGR: What are some common misconceptions about VeloFix?
: The idea of a mobile bike shop that is truly full-service is new to many people so we have, indeed, encountered a number of people who have misconceptions about what we do. One misconception is that we are are only focused on race and event support. Though the van does lend itself very well to these things, and we do plan to participate in such events, they do not make up the core of our business. The most common misconception that we have encountered, however, is that we are like the AAA of bicycles in that we will come out and change your flat tire on the side of the road. If we happen to be driving by someone that is in need of assistance on the side of the road, of course we will stop and help. However, our model is to have people go on our website, select a level of service (basic tune, major tune, full overhaul, or a la carte), and schedule a specific day and time for us to come out and service their bikes at the location of their choice.
YGR: What is your favorite part about the vans?
: That is tough to answer because there really is nothing I don't love about them. They look great from the outside, but they are even more impressive on the inside. It is hard to believe that we can fit an entire bike shop inside a 24-foot Mercedes Sprinter van, but it is so well-thought-out that it works great. There is a complete tool set that can service pretty much any problem with any bike, the storage is so efficient that we are able to stock about any part that we will need, and we even have a good selection of tires, grips, cycling computers, sunglasses, power meters, and more. The work stand is mounted on the inside wall of the van, we have an air compressor, a circulating solvent tank to clean components – really everything we could ever need to keep our customers' bikes on the road and performing at their best.
YGR: Who are your wrenches?
: I am so excited about our two mechanics, Brandon Taylor and Adam Gipril. Not only are they fantastic mechanics, but they are also great guys who love working on bikes and talking about them to anyone who wants to listen. They have both been mechanics since 2009, are both certified through USA Cycling, and are constantly seeking additional training to ensure that they stay up-to-date with the latest technologies. Their goal is to do everything they can do to help others get the absolute most out of their personal cycling experiences – whether that is racing, commuting, or just going for a leisurely weekend ride with the family.
YGR: This is pretty much a dream job for these guys, no? What makes it so appealing to them?
: They love working on bikes, talking about bikes, and educating people about bikes. With Velofix, they have the opportunity to do this with each and every customer, so that they can make sure they get everything perfect and address each and every one of the customer's questions and concerns. The vans are outfitted with a flat-screen TV, wifi, and a coffee maker – we encourage anyone who is interested to stick around and watch as their bike is being repaired. They are welcome to ask questions and even learn about what Brandon and Adam are doing to make the repair, as it is being done. Of course, if the customer would rather just drop the bike off and go back to work or whatever else they want to do, that is fine too. Regardless, both Brandon and Adam love working with Velofix because they enjoy the increased personal interaction that they have with our customers, and they also feel that it provides a better opportunity for a top-quality bike repair and overall customer experience.
YGR: What do you with the vans in the off season?
: Fortunately in Colorado, there are not many days that are unsuitable for cycling. Having said that, there is definitely a degree of seasonality to the business as more people spend their winter weekends on their skis or snowboards rather than on their bikes. For this reason, starting next winter, we will be offering ski and snowboard repair and tuning services out of the van. Those who ride bicycles tend to be the same people as those who ski or snowboard, so hopefully they will see the value in scheduling us to come out and service their skis and snowboards, just like they do in having us come out to take care of their bikes.
YGR: Why is having Velofix come to you more appealing than taking your bike to a shop.
: We are not trying to take the place of local bike shops – and there are some great ones in our community. What we offer is simply a different experience, and an alternative for those people who would prefer the convenience of having their bicycles serviced at their homes or places of work. Velofix's motto is: "Save time. Ride more." And that is exactly what we try to provide to the people who elect to use our services.
YGR: Is it really a full service repair shop?
: Yes, it truly is. Each van is equipped with the same tools as any bike shop, and maintains a comprehensive inventory of parts sufficient to repair the vast majority of bicycles on the road, no matter the problem.
YGR: What about parts? Can I order parts from you?
: Yes, we work with multiple parts suppliers – the same ones used by most bike shops in the country. We can get most parts within 2 business days, and some even sooner. If anyone has any specific requests for parts, we would encourage them to go to www.velofix.com and schedule a service (it is a very simple process) and, in the comments section, make us aware any specific requests so that we can make sure to have what we need in time for the service. To reiterate, though, the parts that we regularly keep in inventory are sufficient to completely service the vast majority of bikes out there.
YGR: What does it mean for Front Range Veterinary Clinic in the short/long term?
: I feel very fortunate to be able to work as a veterinarian and also be involved with Velofix. I get to spend my days around animals and bikes and that is pretty tough to beat, in my book. My roles are very different with the two companies, though. At Front Range Veterinary Clinic, I am in and out of appointments throughout the day, and managing things there is done before, after, or between appointments. With Velofix, I have two certified and very skilled mechanics that are doing the work, leaving me with more flexibility to take care of the management side of things. Admittedly, it has been a bit hectic as we get things started with Velofix, but I am enjoying the process and loving the variety that both of my different roles offer.
YGR: What events can we expect to see you at this year?
: We are excited to provide support for a number of cycling events, both locally as well as around the state. We are still working on finalizing our event schedule, but a couple of events that we are already committed to include Bike MS, the Courage Classic, and of course we are planning to be at the YGR time-trial series. We are in discussions about participating in many other events as well, but our final event schedule is still a work in progress.
{oziogallery 532}