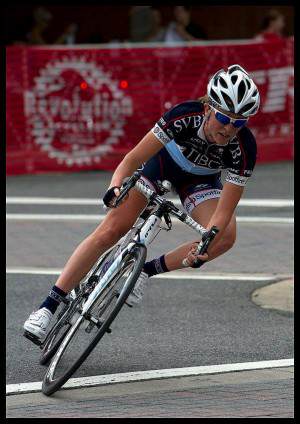 After a steady stream of setbacks during the 2012 cross season and the early part of the 2013 road season, Amanda Miller of Team Tibco finished 2013 strong, but still not 100%. Even though two bulging discs and illnesses sidelined her for much of the winter, her road season was salvaged with wins at The Air Force Classic and Cascade Cycling Classic, 2nd places at Criterium National Championships and Tour of Elk Grove, as well as a 6th place at Time Trial National Championships.
Note: This interview was conducted while Amanda was racing the Giro della Toscana.  Amanda's Team TIBCO was the only non-Italian, non-National Team to stay in the race after safety concerns were repeatedly ignored by race organizers. We're currently working on a follow up interview about the race.
Now with the 2013 cyclocross season quickly approaching, Amanda is gathering gear to makeup for last year.
YGR- Last winter was kinda rough, how concerned were you coming into the road season?
AM- Yes, it was really rough! I was concerned, for sure. But I continued to make progress so that helped ease my mind. I missed a solid 1.5months of training during the base season. I definitely felt it early in the year.
YGR- So would you consider 2013 a success?
AM- Yes, I would. All the setbacks aside, I've had a pretty good season, if not one of my best. I'd say the setbacks made me mentally and physically stronger. I had to learn how to listen to my body and be patient.
YGR- Any missed opportunities?
AM- A few, for sure. One that comes to mind is the Giro d'Italia Femminle. I didn't make the team this year, given I wasn't 100%. I understand the decision, but was disappointed to have missed it.
YGR- How's your back doing?
AM- Better. I still have problems though, and probably always will. It's a chain of events really. I think my back is looking forward to an offseason full of TLC 🙂
YGR- What exactly was your injury?  How did you get it?
AM- I have two bulging discs in my lower back (L4/L5, L5/S1). It's a very common thing, believe it or not. The discs bulge and press against my sciatic nerve. This causes the sciatica symptoms (loss of power in the leg, numbness in my toes, cramping in the leg, etc.). Well, this is my understanding of it anyway 🙂 How did I get it…well…I've crashed quite a bit 🙂 But it all started from a core exercise I was doing last off season. It was an exercise I had been doing for three months. Apparently I moved wrong that day or something, and caused the symptoms to start.
YGR- Are you still doing PT with that Rodrigo guy?
AM- When I'm in town, yes. He's helped me through this since the beginning and I've noticed the progression. In December/January, I couldn't pedal a bicycle without my leg cramping up (due to sciatica). Now I'm back to racing competitively.
YGR- Were your injuries/illnesses a blessing in disguise or did they just suck all around? AM- I think they were a blessing in disguise. Since I started racing professionally in 2009, I haven't had any real setbacks. Guess it's my body's way of saying two weeks for an off season the past few years isn't enough! Readers take note: REST IS IMPORTANT!
YGR- No cx team this year, what's up with that?
AM- I didn't want the commitment of a season given my back issues. Don't worry though. I'll still race some cross!
YGR- Are any of your current sponsors helping out?
AM- I'll be riding some Fuji CX bikes.
YGR- What's your bike build looking like?
AM- Still piecing it together 🙂
YGR- Races?
AM- Hopefully the Colorado Cross Cup/Boulder Cup, Gateway Cross, Derby City Cup, Jingle Cross Rock, and Nationals. I'll probably throw in a few local Colorado and Iowa races in between.
YGR- You always manage to surprise people regardless of the cycling discipline. To look at you, you'd never guess that you can time trial with the best or win a couple crits every year. Not to mention your ability to race cross and even pick up a couple mtb wins here and there….I guess there's really no question here, rather a rambling observation.
AM- Well thank you 🙂 I started with mountain biking, which I think helped develop my bike handling skills. It certainly helps with the transition from the road bike. I also think the mountain bike background has helped me with time trialing and criteriums. Note: My wins in criteriums haven't been from bunch sprints 🙂
YGR- Anywho, do you ever consider branching out and giving cross or mountain biking a real go?
AM- Yes I've thought about it a lot, actually! Maybe when I'm done with the road scene. I did a mountain bike race in Iowa last month and really enjoyed it. I hope to add a few more to my schedule next year.
YGR- Who are you riding for next year or is that still on the DL?
AM- I resigned with TIBCO.
YGR- You're not leaving Fort Collins are you? Better not be.
AM- No, not leaving Fort Collins (or don't want to anyway). However, I'm temporarily hanging out in Iowa. Planning to find a place in Fort Collins this off season. Any suggestions??