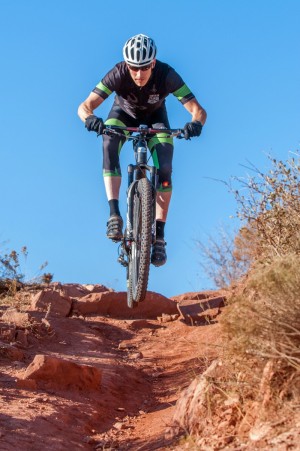 With the help of Teresa Garcia YGR had a chance to interview local mountain biker, Ben Parman.  Ben came out of nowhere to become one of the strongest riders in the area especially with regards to ultra distance mountain biking.  Over the past few years you've probably seen his name popping up at the top of leader boards and allover Strava.
Rider Name Ben Parman
Team Northern Colorado Grassroots (NCGR)
Category  Races Open/Pro, but does not hold a USAC license
Occupation Project Manager
Age 32
Years in the Fort 9 years (also lived here as a kid)
Hometown Fort Collins
Type of Racer/Strengths Endurance Mountain Bike, All-Rounder
YGR: How long have you been mountain biking?
: Five years
YGR: How did you get into mountain biking?
: When I bought my first mountain bike, I was overweight and not very healthy, and thought it might be a fun way to get in better shape. I had no intention of actually mountain biking, but just wanted to ride around town and didn't want a road bike. I started out just riding the paths around town, but eventually got bored with that so I attempted to go ride Coyote Ridge and failed miserably. I remember getting to the first rocky part of the trail and saying to myself "there's no way anyone actually rides this!" I kept going back, and with a little persistence, slowly started getting better.
YGR: How did you branch out and start meeting people to ride with?
: For the first few years I mostly just rode alone. Late in 2012, I had met a few riding buddies that were going to do a local race called '40 in the Fort' and got talked into signing up for it myself – this was my first mountain bike race. I went on a few organized course pre-rides before the race, and did a big group ride put on my Redstone Cyclery that went from Eldora to Winter Park and back, and really enjoyed the social aspect of it and that's when I started trying to get more involved with the cycling community and riding with other people. A few weeks later, I ended up getting 1'st place in Sport Class in 40 in the Fort and 7'th overall. I was pretty thrilled about that realized maybe I could actually be good at this and started trying to ride with people who pushed me a bit.
YGR: Do you have a coach, or do you coach yourself?
: I don't have a coach, but have loosely followed pre-packaged training plans. I used Lynda Wallenfel's base and 100 mile PR training plan early this year which helped give me some direction and motivation early in the season. I've also read The Cyclist's Training Bible by Joe Friel and have learned a lot from that. I've considered working directly with a coach, but have been pretty satisfied with my results from self-coaching so far.
YGR: Do you ride all year long or take a break from the bike?
: I ride all year.
YGR: What does a usual training week look like for you?
: It varies a lot depending on the time of year and what kind of races I have coming up. This time of year, I ride with no agenda and do whatever sounds like fun at the time. Early in the year, I try to put in a lot of base mileage and begin adding more and more structured interval days as I get closer to my first race, usually dialing back the volume but increasing intensity. Mid-season gets kind of hectic and often find myself just trying to recover between one race and the next, but if possible try to match my training to the demands of whatever I have coming next. My long weeks are usually a bit over 20hrs on the bike, and short weeks just shy of 10.
YGR: Favorite training ride?
: Definitely some combination of trails in Horsetooth Mountain Park and Lory State Park. I like to ride from home and hit the foothills trails before making a big loop around the reservoir, often doing something that resembles a lap of 40 in the Fort.
YGR: Hot topic right now, what are your thoughts on Michaud?
: I personally don't have any problems with the way it is now, but I think it could definitely be improved. There are several stretches of the trail that consist of oddly spaced, pointed, off camber rocks that are challenging in their own right, but also probably not what most mountain bikers daydream about riding. I met with several other local riders there just earlier today to discuss ways to improve some of these spots, and it seems there is a lot of natural terrain that could be better taken advantage of to create interesting, challenging obstacles that would likely satisfy more people than the way it's currently configured. Ideally, I would love to see some additional trails built in that area as well to give people some additional options and maybe help ease the congestion in other areas of that whole trail network as well.
YGR: What race wins or results that you are most proud of?
: I got 3'rd place at the Vapor Trail 125 this year, less than two minutes behind second, that's something I'm pretty proud of. I also won the Cougar Slayer (a 68 mile race that is part of the Colorado Endurance Series) this year and was really happy with that result as well. I intended to use this as one last big training race before the Vapor Trail 125 and had no plans to finish near the front, much less take the win. Around 15 miles into the race, I found myself riding the wheel of the guy who was in first and passed him when he made a mistake on a technical section and just decided to see how long I could run with it, and ended up taking it all the way to the finish line over 20 minutes ahead of 2'nd. I hadn't trained with any priority on this race and didn't taper for it at all, but somehow it worked out to be a good day for me.
YGR: Tell us about the Vapor Trail 125.
: The Vapor Trail 125 is a big loop that starts and ends in Salida, CO. It's 125 miles long with close to 20,000′ of elevation gain, climbing to nearly 13,000′ through the Collegiate Peaks. The race website describes it as being like doing the Leadville 100 twice, back to back, one of them being at night – and I think this is probably pretty accurate. The course is extremely difficult with several enormous climbs and descents that seem to never end. The race goes through the entire night and for many racers, most of the next day. I finished the race in just over 14 hours, which is pretty close to the time I was shooting for.
YGR: Tell us about the Colorado Endurance Series.
: The Colorado Endurance Series hosts underground, self-supported, adventure type of races that are mostly 100 milers and require self-navigation, and carrying everything you need from start to finish. The venues are typically on technical, challenging, unsanitized backcountry trails that people aren't necessarily going to learn about by walking into a local bike shop and asking for recommendations about where to ride. These kind of races really capture what I love about mountain biking, and I really enjoy long endurance races like these because I get to spend a lot of time on my bike. I like shorter races too, but if I'm going to devote a lot of time training for something, I'd rather it be for something that's not over after just a few hours.
YGR: Rumor has it that you're planning to do the Colorado Trail Race (CTR) next year, is this true?
: Yes it is.
YGR: How are preparing for the CTR?
: I originally intended to do it this year, but wasn't quite able to get all my gear together and make it work out with other things I had going on. Instead, I spent this year focusing on a lot of big endurance races, particularly Vapor Trail 125, which has given me a lot more experience with endurance racing and a better idea of what I'll be up against. I still don't have all the equipment I'll need, such as some custom made bike bags and lightweight camping gear. I've spent a lot of time figuring out my nutritional requirements for something of that duration as well, and think I have that pretty well dialed in at this point.
YGR: What are your goals for the CTR?
: Ever since learning about this race, it's been a dream of mine to do it. I hope it's something I will enjoy enough to do more than just once, and for my first attempt would really just like to have a clean run at it and finish without any major issues. So far, my body and mind seems to tolerate this endurance stuff pretty well, but having never done anything quite this big, I don't really know how I'll react to it. In terms of time, it's hard to say, but I would be happy to finish in under 5 days.
YGR: What bike do you plan on riding with CTR?
: My Niner JET 9 RDO. I've been really happy with this bike for the big endurance races I've been using it for so far and think it will be the right tool for the job. It's not the best frame for carrying cargo, but I think I will be better off with a full suspension bike and a little more weight on my back than riding my hardtail for the sake of being able to carry more on the frame but getting bucked around for over 500 miles.
YGR: How are you going to spec out your bike for CTR ?
Niner JET 9 RDO
SRAM XX1 1×11 drivetrain with a 28t chain ring
120 mm RockShox Pike
Tires: Maxxis Ikon 2.35 rear and Ardent 2.4 front ; I used this setup for the Cougar Slayer and Vapor Trail 125 and was very happy with how well they performed. Not what most would call a fast, "race tire" setup, but a little extra traction and confidence translates into a faster average speed for long distance races like this with a lot of technical terrain.
Light Setup: My handlebar light is an Exposure Six Pack. On a single charge this will run for 36 hours on low, which is still plenty of light for most situations. That's enough burn time for 6 nights at 6 hours per night, so I shouldn't have any issues there. I also have an Exposure Diablo helmet light which I probably won't use that much, but will be nice to have when I need it and as backup.
What kind of shoes do you plan to use? I found a shoe I really like for this kind of riding called the Specialized Rime. They are a softer shoe with a vibram sole that are really comfortable, and much better for walking in than my carbon soled race shoes. I used these for the Durango Dirty Century in which there were several river crossings and they did great on the wet rocks, and in Vapor Trail 125 they were really nice to have for the long hike a bike section.
YGR: What will your repair kit look like?
Everything I'll need to repair tires and tubes, and I'll definitely throw some extra sealant in my tires to start. Lots of chain lube, spare master link, derailleur cable and hanger, spokes, brake pads, multi-tool, zip ties, and duct tape to name a few. I'm very meticulous about keeping my bikes in top notch mechanical condition which helps prevent a lot of mechanical issues, but you never know what might happen.
YGR: What's your sleeping plan for the CTR?
: I'll ride for as long as I can, and sleep as little as I can
YGR: What is your nutrition plan for the CTR? How do you plan on getting from Buena Vista to Silverton (the longest section of the race; 200ish miles without a restock)
: I've been using a variety of homemade rice bars for race fuel so far this season which have worked out really well for me, so I plan to start the race with that. I'll have to depend on gas stations/convenience stores to resupply for the most part, so I'll try to go for calorically dense, whole foods as much as I can. For the long haul between BV and Silverton, I'll probably end up carrying more than I need, but the last thing I want is to run out of food along the way. Being a bigger guy though, fortunately, the weight penalty of a few extra frozen burritos won't hurt me as much as it might a smaller person.
YGR: Do you plan on riding any sections beforehand?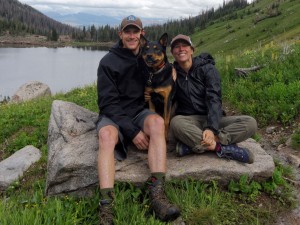 : I would like to, but it's not a huge priority. I've ridden several sections and pretty much know what to expect, and don't necessarily need to know what's around every corner – that's part of what keeps it interesting and exciting for me. I've spent a lot of time familiarizing myself with the route and marking waypoints for water stops, resupply points, and places to take shelter, so even if I haven't seen it all first hand I'll at least have a good idea of what's ahead of me.
YGR: Any other goals besides CTR?
: I would like to continue pursuing big endurance races, but really just want to keep getting better at everything I do on the bike. I would like to do Vapor Trail again and continue doing more of the Colorado Endurance Series races, and maybe some other multi-day bikepacking races.
YGR: Any words of wisdom?
In terms of riding and racing, I think it's really important to make sure whatever you are doing is fun. I've found myself getting too caught up in the training and competition side of things at times and it's hard to stay motivated if it's not fun anymore. There can be a fine balance between the two, but when I find it, that's when I race the best and also enjoy it the most.