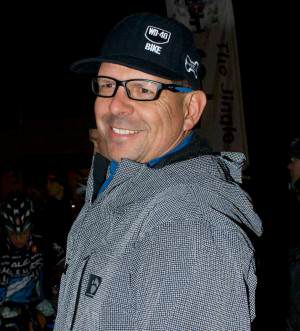 Rider: Name Brian Dallas
Team: WD-40 BIKE
Category: 4 CX, 4 RD. 3 MTB
Occupation: Field Operations Manager – WD-40 BIKE
Age: 49
Years in: Loveland 5
Hometown: Westlake Village, California
Family: Wife Carolyn, Son Charlie.
---
YGR: How/where/when did you get started wrenching?
: In 1989, I started my mechanics career as a bike builder for Bob's Cycling Center in Sacramento.
YGR: What teams/riders have you worked with?
: Road: TIBCO, ValueAct Capital, Kelly Benefits, Rapha-FOCUS.
YGR: What brought you to Colorado?
: Work. I was offered a job at Pearl Izumi in 2008
YGR: What do you miss about working with pro teams?
: Honestly, not a lot aside from working with some awesome people and getting to see fantastic places. But I miss traveling to Europe.
YGR: How is working for WD40 BIke better?
: My job with BIKE is great. We get to meet some pretty incredible people in our journeys. My team and I really enjoy what we do week in and week out. Sharing and teaching people the art of the bicycle has always been a passion.
YGR: Favorite WD40 Bike product?
: I have to say the Foaming Bike Wash. You can use it in so many instances. But the real one is something we are working on now and you are gonna love it (them).
YGR: I know you were integral to the design on the interior of the the WD4B Sprinter? What's your favorite part?
: The work bench. I took a standard Kobalt work bench and modified to fit into the Sprinter. It is the hub of our camp. It has lights, magnetic tool strips, shelves, power strip, iPhone charging station and an expresso machine. The newest member is becoming my favorite and that is our new trailer.
YGR: Current bikes in the stable?
: I have 5 right now. 1. Rapha-Continental Ira Ryan, Moots Psycho X RSL, Moots Vamoots RSL, Moots MX Divide & 9:ZERO:7 Alloy Fat Bike
YGR: Current favorite?
: I never pick favorites. I love them all
YGR: Most miles logged behind the wheel in one year?
: The last year. From Aug 2012-2013, 31,000
YGR: Craziest thing you've seen on the road (non cycling related).
: 2 years ago I was driving the Rapha-FOCUS Sprinter to California for the first CXLA race. It was 4am and I was about 20 miles from the MOAB exit. i70 in this area is separated by a very large median. A tractor trailer had gotten on to my side of the freeway by mistake and was traveling straight for me with his lights off. As luck would have it he woke up enough to stay in the fast lane as I passed him in the slow lane. It was the scariest and craziest thing I have ever seen on the road.
YGR: Favorite race to work?
: 2012 and 2013 Cyclocross World Championships
YGR: I saw you just bought a trailer. Whatcha putting in it?
: We put everything we were carrying in the Sprinter. I installed some wood shelves for product, 4 10×10 tents, 2 Huskavarna power washers, 1000 ft of hose, buckets, Honda generator, propane tanks, heaters, clear walls and the list goes on and on.
YGR: Favorite domestic cross racer to watch?
: I never pick favorites. But they know who they are.
YGR: Favorite domestic cross racer to have a beer with?:
        : Well not many drink beer. but I would have to say Katerina Nash.
YGR: Who's the next great white hope for American cross?
: There really are 2, Zach McDonald & Logan Owen.
YGR: I know you've got a little of everything in the garage, but what do you prefer to ride; road, cx or MTB?
YGR: Favorite place to snowboard in Colo?
: Winter Park but I will be heading to Steamboat this year. Ya never know.
YGR: Who's gonna win Nats? Men: Women:
: I have 2 picks for each. I like to keep my options open. For the women, Elle Anderson or Katie Compton. The men, Zach McDonald or Jeremy Powers
YGR: In your opinion, who are the most underrated racers in the mens and womens fields?
: I have seen some new and bright faces this year. Chloe Woodruff, Emily Kachorek, Stephen Hyde,
YGR: Who makes the best pressure washer?
: Too many to pick here, John Deere or anything with a Honda motor.
YGR: Which American had the most disappointing ride at  2013 CX Worlds?
YGR: Which American had the most surprisingly good ride?
YGR: Strictly from a mechanics standpoint, disc brakes for cross, yea or neigh?