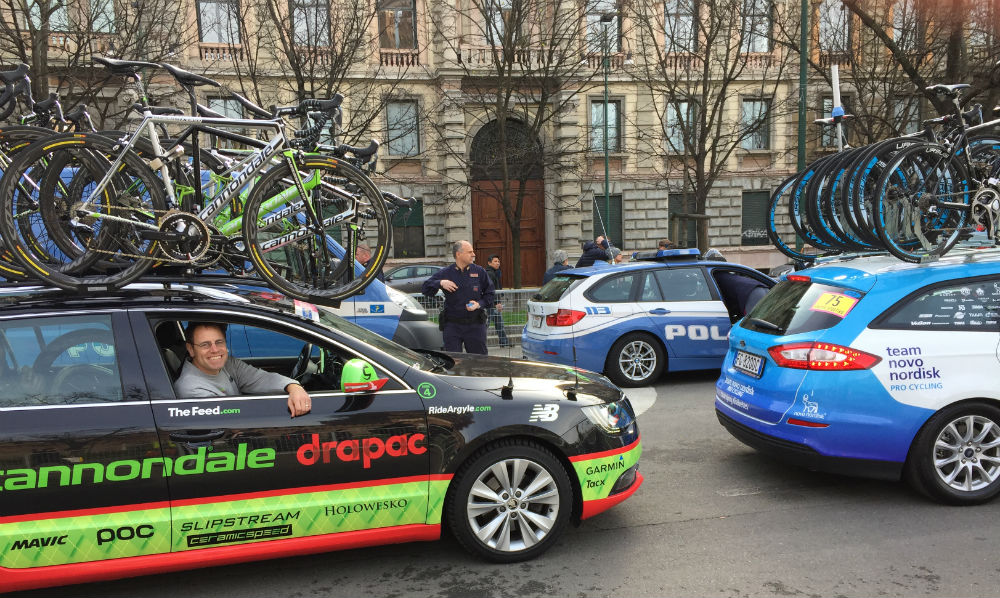 Dr Morgan at the start of Milan San Remo, his first race of the season.
YGR had the unique opportunity to 'sit down' with Cannondale Drapac team doctor and Fort Collins resident, Rick Morgan, while he was working the early spring classics. He managed to answer our barrage of questions in between the Milan San Remo, Waregem E3 and Gent-Wevelgem. Rick will work 5 races for the team, including 1/2 of the Giro.  The team's other four doctors will split up the rest of the season.  When he's not on the road with Cannondale Rick works as a family and sports medicine doctor for Associates in Family Medicine here in the Fort. 
| | |
| --- | --- |
| Rider Name | Rick Morgan |
| Team | Cannondale Drapac |
| Category | Team Doctor |
| Occupation | Family Medicine and Sports Medicine |
| Age | 45 |
| Years in the Fort | Moved to FTC from steamboat in 8th grade, graduated FCHS.  College in Boulder and then med school in Denver.  Married to Cate, also FCHS.  We moved to Seattle for my residency and for her grad school, thinking we'd come right back to Colorado but stayed there 10 years and did a year of work in Alaska.  I decided to do an additional year of training in Sports medicine, and that took us to South Carolina, Steadman Hawkins Clinic there, and then stayed on for another 3 years working there.  We moved back to Colorado, finally, in the summer of 2015. |
| Hometown | Fort Collins is home. |
| Type of Racer/Strengths | Cross racer- sort of. |
YGR:  How long have you worked for Cannondale?
: This is my second season with Cannondale.  Last year I was lucky enough to do Tirreno-Adriatico, most of the Giro and half the Vuelta.
YGR:  Have you worked with any other teams?
: I started working with cyclists in 2011, in my fellowship, the Chipotle Devo team which was the baby Garmin until if folded at the end of the season.  I was hooked though, really enjoyed working with the young cyclists, so I basically did a cold call to Hincapie Devo which happened to be based in Greenville SC where we lived.  I worked with them for 3 seasons.  It was great, they moved up from purely Devo to solid Conti team and have had several guys up to the ProTour.  Still a great group, still friends.
YGR: Do you ride yourself?
: I love to ride when I can.  Some weeks that works out, others it doesn't
Mostly road but I've been doing more gravel out east of town and trying to get back into some mountain biking with my wife on our bikes from the 90s…This year I've signed up for Mt. Evans so I have some serious motivation to train regularly.
YGR: How did you get started?
: I have always loved bikes.  I bought my first mountain bike from the old Bike Broker because I couldn't afford a car in high school.  That bike got me through medical school basically and then I 'upgraded' to a steel hardtail gary fisher that I still have.  I bought a road bike when we moved to Seattle and started riding there for fitness and the fun of getting out and exploring with friends.
I didn't like crits so I've just done cross if I was doing to do any racing.
YGR: What races will you work this year?
: This year I have done MSR, now currently Waregem, E3 and tomorrow Gent-wevelgem. Later I do 1/2 the Giro again, which is great, and also the Tour of Poland.  I've never been there so that is exciting.
Dr Morgan in front of the Cannondale Drapac team bus before the start of Milan San Remo.
YGR:  Do you only work with the team during races (training camps, testing, other duties)?
: My team duties with Cannondale are throughout the year.  We currently have 5 doctors, 2 based in Europe.  The calendar has expanded and there are UCI mandates for doctors at certain races.  We all have regular/real jobs as well so the workload on the road is spread more or less evenly.   Throughout the year riders have quarterly blood tests and then of course illness and injury.  We have several ways for rides to get in contact with us and we also have about 5 riders each that we are responsible for–just regular contact, checking in.
YGR: Who is your favorite rider to work with?
: I can't say I have a favorite rider.  Overall cyclists are very appreciative because many grew up with their parents doing all the side-work.  Now they have access to a lot and they get it.  Some of the foreign riders had a lot of challenges in their lives, for many areas it is their only escape.  You need to probe deeply because they will rarely complain about anything because the alternative to racing may have been pretty bleak.
If I had to choose a rider type, I would say Eastern European.  No complaints, nice as anyone you could meet, work hard, will ride themselves inside out in terrible weather without complaint.  GC leaders are more like fine tuned exotic cars, so it poses different challenges but the rewards are big too.
We had a big challenge to the team last year in the Vuelta when our team road captain went out with a fracture-dislocation of his shoulder–he still finished the stage, by the way.  We lost another due to injury and we were just starting to go into the big mountains against the biggest riders in the world–froome, Quintana, contador–and our guys all rallied and we ended up with 2 in the top ten and just a really rewarding race.  A lot of positive energy overall.
YGR: What's the most common injury you deal with during the race?
: The most common issues vary a bit by the time of the year or what riders are gearing up for.  Early on it tends to be patellar tendon issue, shoe/saddle issues as often they have changed some equipment and also are coming from a relative rest period.
Once the racing gears up it becomes crashes and illness, respiratory and GI being the most common.  They deal with road rash well.
YGR:  What are some of the perks of working with a big pro team?
: The perks of a big team is the amount of support.  Several mechanics, several soigneurs, logistics is dialed in for sure.  My job is more focused.  Also, access to medical care.  Not to get political, but American riders in America can face some serious challenges for tests, hospital visits, etc.  European riders at home have great access.  Riders racing or training out of their home country are generally covered by the Team insurance.  At the pro level everyone gets an EKG yearly and an ECHO every other year, plus physiologic testing and 4x yearly labs.  You certainly know more of what is going on with the rider.
YGR:  Do different races require different preparation/supplies?
: We have a set medical supply list that really covers a broad spectrum, first aid, wound care.  I carry a lot of over the counter medications because it can be hard to find in some tiny towns in Europe.  I also carry a fair amount of prescription medicine, although that is generally only used if a rider is too sick to carry on racing, but I can at least start them on something while they transfer home.  I also carry some prescriptions that riders may have accidentally left at home, like asthma inhalers. We also take care of any staff issues health wise, so that is actually more people, although they don't tend to get as sick.
YGR: Speaking of supplies, what do you have with you in the car?
: In the car I have wound care supplies, burn netting (City Drug, shameless plug) and then stuff to cover symptoms that come up—meds for nausea, diarrhea, OTC pain meds, allergy meds, inhalers, etc that occasionally they need in the race.
YGR: Which car are you in, in the caravan?
: In the grand tours I'm often in car 1 which can be good.  Car 2 is the gamble, if we get a guy in the break you get to go up front and that's fun because you get to see a lot of the race.  If they aren't in the break, you are about 50 cars back.  It's a long day.  Riding at 25 mph is fast, but driving at 25 mph for 6 hours is not.
For the one day races here in Belgium, we have just one car with 2 DSs and a mechanic so I am just at the start and then at the finish.  Not as exciting but you do actually get to watch the race on TV, or better yet, walk around some small town and explore a bit.
YGR: What does a usual race day look like for you?
: Race days are long but varied.  For grand tours, up around 7 for breakfast and bags down to the trucks.  The guys eat an hour later, then check up if there are issues.  For those races we are checking daily weights and urine concentration before they eat.  Then on the bus around 9 for the transfer to the start.  Check on guys, dress wounds, etc on the bus.  I've definitely improved on wound dressing while bouncing around twisty roads.
Every rider is different of course, some are particular with things, or needy, others are low maintenance.
The riders go sign in and then the race starts.  Generally 5-6 hours in the car and then back on the bus after the finish.  They shower on the bus so if there are wound issues I deal with them on the way back to the hotel.  That ride may be 15 minutes or several hours depending.  The riders then go for massage, and that is generally a bit of down time for me so I may go for a quick jog and then do an email update for the medical team.  That may happen while having a negroni at the bar.  When in Rome…
Then team meeting, dinner for them at 8-830, dinner for us at 9 and then I usually leave dinner to check on all the guys before bed.  During longer races sleep is challenging for some of them.  Often a fair amount of caffeine in the race, adrenaline during the finish.  We work a lot on sleep hygiene for them, but they are all on laptops, they share rooms, it is a challenge.
Then maybe a quick call home to my family and bed around 10-11.
YGR: Has working with a professional cycling team changed the way you handle certain injuries at Associates in Family Medicine here in Fort Collins.
: For my work at home, I deal with a lot of common injuries in the active population we have.  One difference, of course, is the older athlete or just the older patient with arthritis, rotator cuff problems, etc.  that is different but we want keep people moving, productive in work, happy, healthy.
In general, I would say that my mental approach has changed over time regarding the over scheduled, over specialized young athlete.  It is not a service to the younger athlete and burnout is common.  In addition, overuse injuries that I used to only see with adults we now see in kids.  I have worked with multiple national champs who just walked away from it all.
Doing multiple sports in a year and actually having time off are critical.  For our riders they only have to ride.  Maybe 20-30 hours in a week depending.  The other time is strength training, recovery, nutrition, etc.
I have young athletes doing the same hours but also in school, work, etc.  it's a challenge.
Another change has been some of the more significant injuries.  It used to be that you only saw scapula fractures in car accidents, then maybe in pro cycling.  Now i see it in weekend warriors.  Full suspension bikes allow serious speed downhill and big trauma when you crash.
One similarity is the desire to keep participating despite injury.  You have to decide what is hurting–may be ok to continue–and what is injured and needs to stop/heal/recover.
YGR: How did the classics treat you this year?
We had one guy crash out of Gent-wevelgem Sunday, but pretty routine road rash.
The biggest issue was our big classics guy, Sep Vanmarcke, got a GI issue that caused him to miss Sunday's race, we sent him home.

YGR: Scariest moment as a team doc?
My most memorable was my very first race with Cannondale, just 7 km into the Tirreno-Adriatic TTT and wheels touched at 60 kph, half the team hit the deck.  Not how I was hoping to start.

My scariest moments have actually come as a race doctor rather than a team doctor.  Race coverage encompasses a lot more variables and coordination.
I was the medical director for the paracycling world championships when that was in South Carolina and the crashes can be quite challenging.  We had one crash into the barriers that resulted in an open chest wound, that was bad.
YGR: What's the craziest procedure you've ever performed whilst hanging out of a moving car?
Most of the in-race treatments from the car are relatively mild, wound care, applying burn netting, etc.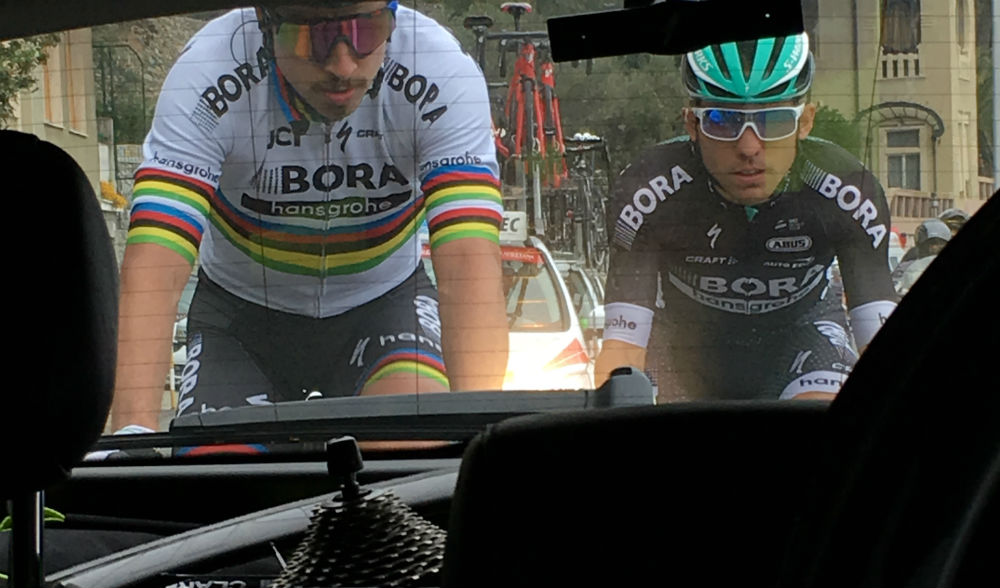 Drafting Sagan back to the field after a nature break.