In July of this year, Cosmo Catalano of http://cyclocosm.com/ moved to Fort Collins. The Cyclocosm is homegrown, cut to the chase cycling coverage. Each episode of The Week in Bike and How the Race Was Won lasts only a few minutes and is filmed in Cosmo's Old Town home.
Nicole Swan caught up with the man with the best name in domestic cycling for this edition of 20ish Questions.
Rider name: Cosmo Catalano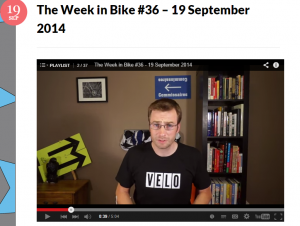 Team: First City Cycling Team
Age: 32 (cx racing age 33)
Occupation: I make stuff with computers
Hometown: Williamstown, MA
Type of racer/strengths: I think the term for "I'm not particularly good at anything" is "rouleur".
What brings you to Fort Collins?
My girlfriend (Amy) was finishing up her residency at the University of Connecticut and during the job search asked "Do you think you could live in Fort Collins?" I had never been to FC specifically, but it took about five minutes after getting here for a visit to realize this place is awesome.
How do you like Fort Collins?
I love it! Lots of fun places to go, strong coffee, great beer, everyone's riding bikes around. There have been so many moments riding/walking/hiking around here where I've just been like "wow, this is awesome".
How do you like the NoCo riding so far? How does it compare to New England?
Also love it. It's very different from New England—the big climbs are way longer, and the grades are definitely steadier. On the other side of that, you can head east and ride for hours in the same gear, at the same effort.
In New England, even the rides along rivers are always rolling. If you go out for a climbing day out there, with very few exceptions, you're looking at doing 3 or 4 10-15 minute climbs. Here you can get the elevation of a hilly 50-60mi New England ride just going up Rist.
Also, there are fewer trees, plus that reservoir thing, so tons and tons of views. Then there's the mountain biking…
This isn't your first time living in Colorado – what brought you here the first time?
I had just finished college, and had been working at an internship that was across the river from where I went to school; I was kind of in a rut. When the internship expired, a friend of mine working at the Colorado Rocky Mountain School was like "hey, there's a bike shop here in Carbondale that needs someone". Pay was about the same, so I figured "why not"?
How/when/where did you get into cycling/racing?
I'd always had a mountain bike but mostly rode it for transportation with occasional off-road rides in toe straps and running shoes. I was a cross-country skier in college, and pretty much everyone on the team did a few road races in the spring, so I grabbed an old steel 12 speed (2×6) from a pile of abandoned bikes that campus security assembled each spring, hacksawed the u-lock and fixed it up.
Not sure I'm any better results-wise at road bikes than I was at skiing, but I definitely loved the speed and tactical aspects of racing from day 1. Plus, with road biking, it's harder to miss the wax.
You lived in New England for several years – what's your favorite New England course/race?
I love the CycleSmart International in Northampton, MA. It's very fast and grassy, broken up with a great run-up and short, hard-but-fun technical sections. It plays to my strengths in that regard, but it also started life as Adam Myerson's baby, so a ton of work goes into making the course and organization feel super-polished. It's made with love.
What Colorado race are you looking forward to participating in?
Cross of the North, of course!
In all seriousness, I'm just excited to see what's out here. It was really fun to race at Valmont two weeks ago after helping with the video production of Nationals last year.  
You're three races (likely more by the time this runs) into the Colorado 'cross scene. How's it going?
All things considered, I think it's going OK. My fitness isn't where I want it to be, but I'm happy with how I've finished so far (5th, 7th, 16th, 10th , 4th and 25th in Open 3 races). There's also surprising amount of adjustment involved in terms of handling, especially getting used to cornering hard on the hardpack and grainy surfaces out here, nailing down what tire pressures to run, etc.
How does COCX compare to #NECX? The good, the bad, and the ugly.
I've really enjoyed cyclocross out here so far. I'd been warned by a lot of people that the courses suck and the crowds are boring, but for all my complaining about it on Twitter, it's been really fun. I'm psyched to race every weekend.
Good—the racing's definitely more accessible out here. You don't have the mad rush to register for races that close in 3 hours, and anyone can look at a registration page (well, PDF…) and think "hey, there's a field for me".
Bad—A lot of that is training wheels. Bike racing is anxious and intimidating, and that stress is a big part what makes it exciting. It is way more fun to be battling every turn for 35th place than it is to ride a dirt track TT for 4th. I've been mentally fighting this generalization, but it does feel like a lot of racers (especially male and aged 35+) in CO need to pull up their big kid bib shorts and realize it's OK to start a race where they won't ever see the front of the field.
On the whole, NECX—especially the UCI series races—are just more professional. A lot of brain cells and bad days have gone into their current setup, and refinements are always happening. As a racer, information is clearer, race operations are smoother and more consistent, and the racing is just more fun.
What's your favorite race to watch? To commentate on?
Probably Roubaix, for both. Just by the nature of the course, there are a lot of variables no one can control for, which really takes away the threat of a totally negative day where no one attacks. One-day races generally are a little more interesting to watch and talk about than a given day of a stage race because there is literally no tomorrow—the only goal of every team is to get their rider across the line first at the end of the day.
There's a lot of cool multi-day complexity in stage races, but it's a lot tricker to spell out in the moment. Stage race sprints are some of the coolest parts of cycling, but it really takes going through HD video a half dozen times to spell out what happened—not a luxury I have while live-tweeting.
How did you get started making cycling commentary/highlight videos?
I'm not really sure, honestly. I was a huge fan of ZeFrank's "the Show" (you can view individual episodes by pasting their URLs into a thing I built) back in '06-'07, and I remember being introduced to the Zero Punctuation video game reviews the winter before I made the first HTRWW—when I go back and watch the '09 San Remo, I can definitely feel that influence. But I don't remember a specific moment where I was like "ok, I should do this".
I'd been complaining about OLN/Versus' coverage for years, so proof-of-concept that better features could be made might have also been a motivating factor. I do tremendous amount of complaining in my life, but I try to providing working examples of how things could be better to back it up.
Do you have a favorite video you've done?
It's tough to say—unfortunately, a lot of them cloud together in my head. The ones I like best really strike that balance between analytical and funny. It looks kind of low-rent by my current standards but I always smile at the 2012 Amstel Gold video where I counted Oscar Freire's looks back. I think the 2013 Liege (the one with the Panda) was also pretty great, but Dan Martin made it easy by riding so smart in the last 20 kilometers. And I had a ton of fun with the James Bond joke early in the 2013 Tour, and writing synth music for Roubaix in 2013.
What's it like being Internet famous? Do you get recognized on the street?
It's kind of bizarre. I never really got noticed before I moved out here, but I was stopped a couple of times in Aspen and Boulder by fans at the Pro Challenge this year. I think it's "helped" (if that's the right term) to actually appear in person in some videos
You're really good at cycling-related rants; what's your next rant going to be about?
Not really sure—generally a game-time decision.
Related, what's one thing that needs to change in professional cycling (UCI, etc) to move forward/gain popularity/etc?
There are a lot of things, but I keep finding myself back at getting people access good race footage. When I started watching during peak Lance (circa 2002), I was fortunate to have housemates who'd split the bill for OLN to watch as-live re-broadcasts of the TdF every night. That's really what got things going for me.
That was, I hasten to emphasize, 12 years ago. It's mindblowing that the only (legal) way to see, say, the World Championships is to call your cable provider and demand that they carry Universal Sports.
The technology exists right now for anyone to just go to YouTube and pay 99¢ to watch a stage of the Vuelta in HD—it would be effectively free money for rightsholders. Likewise, so many of the legitimate recaps that are available to people online don't make me think "that bike race looked awesome!"; they make me think "man, am I glad I didn't have to sit through that bike race".
What do you do off the bike? Are you still looking for one of those job things in Fort Collins? (Feel free to give our audience your elevator pitch.)
Nothing in terms of a day-job yet—gonna see if there's money to be made from this Cyclocosm thing or not. Historically, I've done web development, mostly because the cost of entry is so low and because I like making things. I also like drinking delicious beer, which this town has plenty of.
You have a new puppy, Sabrina – has this affected your training for 'cross season?
I certainly don't want to say "negatively", but she hasn't really helped. Mostly she impacts the time I spend on other things—if she's making noise, it's distracting and I can't get things done. If she's not making noise, I can only assume she's pooping in the house somewhere, which also makes it tricky to get things done. It's a real Catch 22, and the end result is it takes longer to do everything else and there's less time on the bike. But she's super cute and fun to play with, so not a particularly difficult sacrifice.