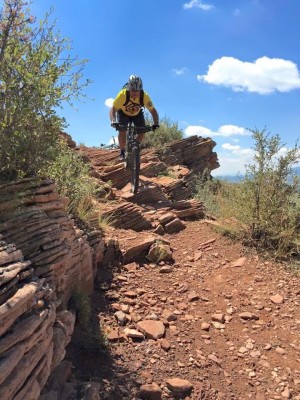 The Overland Mountain Bike Club is perhaps Fort Collins most underrated bicycle organization. Much of what the advocacy group does goes unnoticed or gets misconstrued.  The club takes part in trail planning, construction, and maintenance in Northern Colorado and Southern Wyoming but they also run the Diamond Peaks Mountain Bike Patrol program, donate money to high school mountain bike teams, promote the 40 in the Fort mtb race and assist with Stone Temple 8, Laramie Enduro, Gowdy Grinder and the McKee Classic road ride.  In order to continue to grow these programs, increase funding and membership, the club has hired its first ever Club Administrator, Kenny Bearden.  In the following interview we'll get to know Kenny and Overland.
Rider Name Kenny Bearden
Team Overland Mountain Bike Club
Occupation Club Administrator – Overland Mountain Bike Club
Age 42
Years in the Fort 16
Hometown Houston, TX
YGR: First off, congrats on the new gig with Overland. What's your official title and when did you start? 
: Thank you!  Official title is Club Administrator.  The contract was signed on Oct 21.
YGR: How long have you been with Overland and what positions have you held?
: I've been with Overland for 6 years.  I served on the Board of Directors for 2 years, have been Director of our patrol group for 2 years, and a member of our patrol committee for an additional 2 years.
YGR: Is the the Club Administrator position your full time job now?
: It is.
YGR: What did you do before you took the job as CA?
: Immediately prior I was working as an independent financial investigator.  Prior to that I held management and operations roles in the commercial finance industry with Textron Financial and TCF Inventory Finance.  And as you'd expect, my degree from Texas A&M is in Wildlife & Fisheries Sciences, so naturally I ended up in finance.
YGR: You're the first person to hold this position, right?  Why did Overland decide it needed it?
: Yes, this is the first paid position Overland has had.  This has been talked about within Overland for years.  When the rebranding took place in 2009 to move from Diamond Peaks Mountain Bike Patrol to Overland Mountain Bike Club, the club went through a pretty significant level of growth.  This coincided with the rapid growth of Tour de Fat as well.  In the last few years, I think Overland has sort of plateaued.  Our membership has stayed fairly steady.  The revenue structure of Tour de Fat has seen some changes.  Regional population and the corresponding level of trail-use is increasing significantly.  Overland recognized that we needed to take that next step to improve the health of our organization, to achieve our strategic vision and long-term goals, and to improve the overall mountain biking experience in this region.
YGR: What do you do when you're not steering the ship at Overland?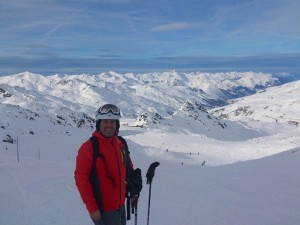 : Depends on the season.  If it's cold and there's snow on the ground, I'm usually up at Breckenridge, A-Basin, Vail, Beaver Creek, etc on my skis.  Also flyfish quite a bit, play some golf, do some bird hunting…kind of the typical Colorado mountain stuff.  I'm also an avid nature photographer, so a lot of times I simply head out with the camera just to see what I can capture on that given day.  I do some planned photo trips and shoots, but mostly it's just heading up into RMNP, Poudre Canyon or a local natural area to catch a sunrise or sunset.
I also love live music and the occasional night out in Old Town.  Music will range from seeing The Good Time Travelers or 12 Cents For Marvin at Avo's to heading down to Denver for the Colorado Symphony.
Oh, I do get out on my mountain bike from time to time as well…
YGR: What do you ride?
: Scott Genius 27.5
YGR: Favorite local trail?
: Blue Sky-Indian Summer-Devil's Backbone and back…you get a little bit of everything.
YGR: Favorite all time trail? 
: The Whole Enchilada…hands down.  Ripping that trail with my buddy Justin Schmidt on a warm spring day, followed by a couple tacos and a beer or two…can't beat it!
YGR: What are some of the changes you're going to make as CA?
: As Club Administrator and independent contractor, I'll be making recommendations for changes to our Board of Directors.  First, and a somewhat significant one, is considering the possibilities of becoming an official IMBA Chapter Club.  IMBA has a wealth of knowledge and experience in helping regions expand and improve their trail networks.  Being able to tap into that knowledge could provide some big benefits to our organization and the community as a whole.  Also, they are basically the sole advocate for mountain biking access on a national level.  How we can best support them should be considered as well.
Another is increasing the level of cooperation among all mountain biking organizations in this region.  As volunteer organizations, we all have very limited resources.  We focus on member-engagement, events and club operations.  We naturally tend to focus on our part and what we do well.  We all want more trails and better trails for mountain biking.  We all probably have our own ideas and opinions about how to make that happen.  Obviously bringing people together to determine shared goals and a common focus will make this a more efficient process.
The other biggest change is improving the overall image of Overland.  This club does many, many good things.  I know a lot of people outside of our membership don't realize the amount of things we do, or they have an inaccurate understanding of how we operate.  Improving the visibility of what we do and why we do it will happen.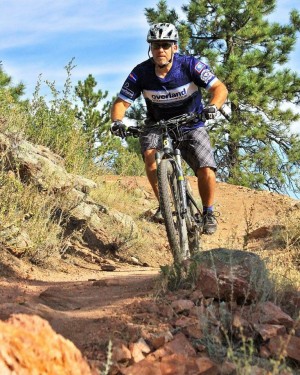 YGR: Why wouldn't you want to become an IMBA Chapter Club?
: I think some members have had a desire to "keep it local".  Some feel we wouldn't gain enough based on what we give up.  There would be an increase in annual membership dues…$20 currently for OMBC to $35 as IMBA Chapter Club.  My opinion, a lot of that has come from a lack of information as to how the Chapter Club process works.
YGR:  How many members does Overland have?
: Current membership is around 275.
YGR: Can people be members of Overland and other cycling teams/clubs?
: Absolutely!  We're not a race team, nor do we have any sort of exclusivity requirement.  We have club members who do race, but there is no organized race component of Overland.  We're just a group who likes to ride mountain bikes and give a little back to the community however we can.
YGR: Where does funding come from?
: The vast majority of our funding currently comes from Tour de Fat.  We get additional funds through membership dues and 40 in the Fort.  The biggest role in this new position will be finding additional sources of revenue.
YGR: What is the biggest challenge facing Overland as an organization right now?
: Biggest challenge…organizing and finding our direction going forward.  This is a big transition for the club.  We are investing in some things and there needs to be a significant payoff.  Specifically, we need to find additional sources of revenue to be a healthier non-profit organization.  We are financially sound to maintain our current level of operations.  But it takes serious financial resources to make significant trail projects happen.  Our goal is to have a world-class trail network in this area.  We already have it in Gowdy.  Glendo is well on its way as well.  But when you look at the terrain and resources we have right at the edge of town, we shouldn't have to drive 1-2 hours to get to world-class mountain biking trails or IMBA Epic trails.  Look at what's happening in Fruita, Moab, Steamboat, Crested Butte, Jackson, Bend, Sedona, even Duluth, MN, and many other towns around the country.  There is no reason those types of things can't happen here as well.  Fort Collins prides itself on our outdoor lifestyle and recreation opportunities.  We have a lot of trails.  We have very few really good mountain bike trails.  These types of trails SHOULD be here!  To make that happen it takes money, leadership, and a shared focus of the mountain biking community.  Overland can do a better job of increasing member engagement and attracting new members.  We can do a better job of getting this message out to people.  We can do a better job of working with and helping organize this mountain biking community…clubs, race teams, bike shops and businesses, tourism agencies, etc.  And it's not just mountain bikers either.  There are trail runners, hikers and equestrian groups who would all benefit from this as well.
It's pretty easy to get this information out in an interview, but the challenge is actually making it happen.  And this is not just Overland's challenge.  This is the challenge of everyone who reads this interview and rides a mountain bike in this area.
YGR:  What big projects are in the works right now?
: The biggest project is the new Corral Center Bike Park at Lory State Park.  Overland will be involved to some degree with fundraising and maintenance.  Estimated cost is around $95,000.  This project is being led by Lory State Park and Friends of Lory State Park.  This is scheduled for completion in 2016.
The Spring Canyon MTB Skills Park is another.  Work began on Halloween with the upper skills lines being installed.  We have another 5-6 work days needed for completion…or about 700 more volunteer hours.  A secondary goal of this project is for it to be a model for other parks around town.  Hopefully we can end up with 5-6 of these smaller skills parks around town so they are easily accessible to all residents.
A new and improved 40 in the Fort event is looking like a big project.  We will have a new Race Director this year.  One of our new board members, Andy Tomaszewski, will be taking the lead on this.  Can't get into too many details because it's still in initial discussion stage and needs to be approached to the land agencies…but a multi-day event is being considered with the same 40 we all know and love taking center stage.
YGR: Overland does a lot of good for the Northern Colorado and Southern Wyoming cycling community, how do you intend to get the word out about all you do?
: We are currently working on a new marketing plan.  My goal is to use video resources to make short clips of every trail project (what's being done, why it's needed, who is involved, etc) to give a before, during and after visual and description of the changes.  Something similar can be done with each event Overland hosts or participates in.  We can create a YouTube channel and post links on our website, Facebook, Twitter, YGR, mtbtime…whoever is willing and interested in sharing our info we are willing to work with.
We are also in the process of redesigning the Overland website to make it more appealing and user-friendly.  Better visibility of events, sign-ups, meetings, projects, photo and video gallery, patrol reporting, etc.
YGR: What are the biggest challenges facing Overland as an advocacy group?
Currently the biggest challenge is volunteer resources.  It takes a lot of time meeting with land agencies, attending land use board meetings, city council meetings, soliciting funds, writing news articles and getting our info out.  We partner with 5 separate land agencies…the City of Fort Collins, Larimer County, Lory SP, WY State Parks and the US Forest Service…each agency has trail maintenance needs.  Planning trail days for each agency takes a toll on resources because you have to plan the scope of work, the calendar date, a back-up date, manage sign-ups, day-of logistics, food for volunteers, etc.  This is all the work of volunteers.
With our increasing population and huge increases in overall trail-usage, the demands for trail maintenance are going up quickly…let alone getting new trails approved and built.
These are all reasons why this full-time administrator position was needed.  Not just to maintain what we are currently doing, but to bring us to a higher level as well.
YGR: What 3 new trails are likely to come to Northern Colorado in the near future? 
: Excellent question!!!  Will let you know as soon as they're determined.
Actually, Overland has been working with Larimer County on a new trail out of an expanded trailhead area of Devil's Backbone…the Hidden Valley Trail.  This will allow for separation of bikes and hikers along the first couple miles of DBB.  It's common to see 200+ hikers and 100+ bikes on this trail on the weekends, so separating the users with an additional trail will be a huge improvement.
Although not an actual trail, Overland will be working closely with Lory State Park and Friends of Lory State Park to develop the new Corral Center Bike Park.  The initial conceptual design has been put together by Scott Gordon with ContourLogic.  We had an initial walk-through and design review last week that went very well.  It won't be as expansive (or expensive) as Valmont in Boulder, but it will have many similar features and style.  Some things to look forward to with it:  approximately 4,000 sq ft medium-large pump track, approximately 17,000 sq ft for jump and flow lines, multiple progressive skills trails with drop-in entries, Tot Trak and skills area, community/viewing areas.  Specific features are likely to include skinnies, boulders, bridges, switchbacks, steps, ledges, etc…with some of these specifically designed to mirror certain features encountered currently in the Lory trail network.  There is still plenty of work to do for it…fundraising, selecting a contractor, build-out and training volunteers for maintenance.  I'm very excited to see the finished project!
Larimer County is also developing a new trail in Hermit Park Open Space near Estes Park which we will assist on as well.
Construction on the re-designed Youngs Gulch trail should begin in 2016.  Unfortunately, Overland did not have any input into this design and routing process, so there's nothing I can really tell you about it.  We will be providing some financial and volunteer support, however, and look forward to it re-opening.
We do have some things moving, but trust me…I would sincerely prefer to be telling you about the 3 new, awesome trails we are working on right at the edge of town that will blow everyone's minds.  But, it's just not happening.  And that's in part why I was hired.  I cannot guarantee any new trails, but I will be doing my very best to make some things happen.  I do have some ideas, which are my personal ideas and not yet being pushed by Overland.  We will present some of these ideas to our area land agencies to discuss the possibilities.
YGR: From a design standpoint, what challenges do you face when planning a new trail or updating an old one?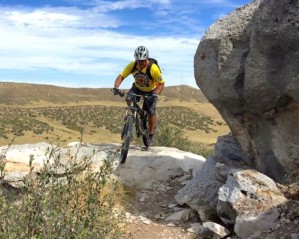 : Easy…land agency constraints.  Any time a new trail or a re-route of more than about 10 feet from the old route takes place, or is proposed, multiple environmental impact studies typically have to be conducted.  These can range from several months to several years and cost a considerable amount of money.  You hear a lot on blogs and social media, "well why can't we just build another trail?"  That's why.  For example, Lory State Park is home to the Preble's Meadow Jumping Mouse.  The Preble's Meadow Jumping Mouse is protected under the Endangered Species Act.  Any new trail or significant re-route must first undergo a study to determine potential impacts to the mouse.
These decisions come down to the individual land agencies.  Another example, Overland has an additional 5-6 alternate lines designed to connect with the 1 we put in on Sawmill in 2014.  The county has identified other projects which they deem of higher importance than the alt lines.  We have to find the balance point of meeting land agency needs vs having our requests met.  Although challenging at times, it still remains a rewarding and productive process.  Overland continues to maintain excellent relationships with all 5 land agencies we partner with.
There are many obstacles out there that prevent new trails from going in…environmental, financial, legal, political.  It's my hope that we can help organize this entire mountain biking community in order to speed up some of these processes and to continue building on these strong land agency partnerships.
Once the land agency challenges are met, you then have the challenge of meeting expectations of riders.  What ability level is being targeted?  What terrain constraints are present?  If updating a section of existing trail, you want to maintain the overall character of that trail with the new section.  Flow is the popular buzzword.  And as we all know from the Michaud discussions recently, flow for one person can be very different from another.
YGR: We know Overland works hard to maintain and build new trails but what other programs does it administer?
: The single biggest program we have is Diamond Peaks Mountain Bike Patrol, which is how the club was originally founded back in 1995.  Each patroller must go through and maintain a certification process including basic medical, volunteer and bicycle maintenance training, as well as pass an annual background check.  We have operating agreements in place with 5 different land agencies.  Our patrol territory ranges from Estes Park to Glendo, WY.  We assist with medical and mechanical issues, provide trail assistance and information, speak with trail users about etiquette, "Rules of the Trail" and any other local trail issues.  We also keep track of trail-user statistics and log a trail conditions report for each patrol ride.  There is no enforcement role at all…strictly assist, educate and inform.  In 2015 we have logged over 320 patrol rides, observed over 10,700 trail-users with over 4500 trail-user contacts.  We currently have about 50 certified patrollers.
I think most people know about 40 in the Fort.  Look for more info after the new year because we could be having some exciting changes coming to this event in 2016.
We schedule 2 Take-a-Kid-MTB'ing events each year where we lead young riders on the local trails and talk about basic skills and proper trail etiquette.  This is always a great event that is well-received by the kids, parents and volunteers.
We donate money annually to high school mountain bike teams in Fort Collins (Ciclismo), Cheyenne and Laramie.
We donate money and provide volunteers for the 8-day Granite Ridge & Stone Temple Mountain Bike Camps for kids at Curt Gowdy State Park.
Races/rides we assist with include Stone Temple 8, Laramie Enduro, Gowdy Grinder and the McKee Classic road ride.  We will be taking on a larger role with Stone Temple 8 going forward.
YGR: Hot button question, Michaud, what is your personal take on the trail?  What is the club's position?
: Personally, I kind of like it the way it is.  It's a difficult trail.  Not one that I would call "fun", but it's definitely a challenge.  I think removing 4-5 specific rocks would make it a bit better and reduce some the braiding taking place while maintaining its current character.  There are a couple sections where the addition of alt lines could provide an easier route for those looking for it.
I was part of the group that reviewed it on-site after this whole fiasco developed.  We all pretty much agreed with the above.
As for Overland's "official" stance…I think everyone should come out for the Overland Season-Kickoff Meeting in early March to hear about it in person!  😉