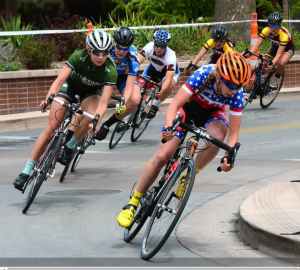 Mel Beale in the CSU kit keeps a close eye on the Stars and Stripes Jersey. Rider Name Melanie Beale
Team Thump p/b Turin and CSU Rams Cycling
Category Road 2; CX 3 
Occupation Chemistry Tutor/Barista
Age 22
Years in the Fort 3
Hometown Boulder, CO
Type of Racer/Strengths Power climber, road racer
For the first time since being apart of the FoCo cycling community, YGR caught up with local rider Melanie Beale. Mel's name has been popping up a lot recently between stellar results, showing for Worlds and sticking it to the man. Mel's had a pretty crazy race calendar while balancing school and work.
YGR: Let's get right to the busy schedule you've had this year. In addition to the majority of the Colorado calendar, you've raced collegiate cyclocross nationals in Austin, collegiate road nationals in Asheville, the NorthStar criterium weekend in Minnesota, and Tour of America's Dairyland in Wisconsin. You've raced almost all of these in previous seasons, what was the difference in your approach to these this year?
: Last year, my approach to collegiate nationals was to just survive. I was still very new to racing and I just needed to see what it was all about. As for North Star and Dairyland, last year I was a cat 3 so my goal was to be on the podium and/or get top-ten places. This year, my goal for collegiate nationals was a top ten or maybe a podium. I unfortunately missed the podium, but I took 7th overall (9th in both the criterium and the road race) and 6th in the TT. As for Dairyland, this year my goal was to just survive. These were my first races with professional teams like ISCorp, Pepper Palace, and UHC. I took 20th in the road race which was pretty cool, and then mid-pack in all of the criteriums.
YGR: Collegiate road nationals seemed to go pretty well. Did you hit your goal, exceed it, or did you leave feeling like their might have been more you could have done?
: I certainly hit my initial goal of getting a top-ten. However, once I was there I felt as though I could podium. I was off the front with two other climbers on the final lap of the road race, but there was a long false-flat downhill so the sprinters caught us and I sprinted for 9th. As for the criterium, I was one of the 12 women to actually finish the entire race (~65 starters) and ended up 9th. Also thought I could have done better but it was still pretty good. I would have loved a podium but my finishes were pretty decent!
YGR: Right before heading to Tulsa Tough, you got caught up in a crash at Deer Trail Road Race and had to miss Tulsa. What happened out there and have you had any lingering injuries from that fall or have you come back stronger?
: My only lingering injury is getting the wind blown out of my sails. I was ready to win that race, and I am pretty sure I could have. On the final lap, I was in a group of 4 or 5 riders and we were going down a hill. The cat 4 (maybe masters) men were coming up the hill getting ready to finish. A certain team in red who are known for being sketchy caused a crash. Two riders went down and then the ones behind them crossed the double yellow- straight into us. I took the brunt of it and went over the handlebars, caught myself with my left hand, and then landed on my left shoulder. I got up and my hoods were bent but my bike was fine. Nothing really hurt because of adrenaline, but my intuition told me I couldn't finish. A couple minutes later I went to take off my jersey to get my road rash cleaned, and just moving my shoulder hurt so badly that I nearly passed out. I had to sit down right where I was to not hit the deck… uh oh. Turns out I had a grade 1 separated shoulder. I was off the bike for a week and easy for another week. It's healed up now, just a little tight because I didn't do any physical therapy. My fitness hasn't really come back to that level at all since. Cat 4 men: please be safe out there.
YGR: Again some bad luck for your calendar when NorthStar cancelled the women's stage race at the last minute. What was the reasoning for the cancellation? How did this affect your summer race plan?
: The reasoning for the cancellation was lack of registration. Well no s**t, it was at the same time as Amateur Road Nationals AND Dairyland. Who decided that was a good idea? I was absolutely thrilled to race it, and very bummed out when it was canceled. I still went to Minnesota to support my boyfriend Tony in the race. I got to see Tony's family and my cousin in Minneapolis, and I raced two amateur crits and took 3rd in both, so there was some silver lining. I thoroughly enjoyed watching the men's races- there were a lot of Colorado men out there. George Simpson and I believe I saw Mike Williams as well!
YGR: What's left on the road calendar for you this year? Enough time to finish off the cat 1 upgrade?
: I honestly have no idea how many points I have towards a cat 1 upgrade, nor do I really care. Unlike in men's racing, cat 2 women can be picked up for a professional team. This is because a lot of the "professional" teams (i.e. Colavita and ISCorp) are technically Amateur Elite teams, so I could be on a "pro" team but still be a cat 2. My only race left now is Steamboat. I would have loved to guest ride Tour of Utah or the Pro Challenge this year, but it didn't happen for me. Next year! There aren't any other local races I can do until Steamboat. I'll hit that race hard and go for a podium, and then call it a season. I'm a little bit burned out so I am ok with that!
YGR: This is your first year racing with Thump, right? How has being apart of their program been for you?
: Yes it is! It's been a lot of fun. All of the men are awesome and talented. There are about 15 of us women, mostly cat 3's, and they are all a bunch of sweethearts. There are three cat 2s racing this year; Sue Lloyd, Sam Anderson, and myself. They're both amazing women and unbelievably helpful! We haven't done a lot as a team since I have done travel races, so I did a lot of solo work this season.
YGR: You've never been one to shy away from rubbing 'bows with the guys in town out at the local group rides. What's your favorite local group ride?
: Definitely Wednesday Worlds. It's hard and fairly short, and I can make it almost every week. Sara Kammlade and I are the only two women who regularly show up, but sometimes Georgia or Whitney make an appearance. It's fast, good energy, and a great workout. Highly recommended!
YGR: Do you feel like in your three years of racing the women's scene has grown in town, in Colorado, and at the out of state races you've gone too?
: It's a fairly short time, so it's hard to gauge. I knew literally nothing about racing even two years ago, so I don't feel I have much to compare it to. I know the Fort Follies have grown substantially, and that is super exciting! A bunch of them sport the polka dots at mountain bike races and kick butt. There are a bunch of women in town who are active in the cycling community… Georgia, Whitney, Sara, Abby, Heather, Suzie, Reanna, Natalie, Gail, Ilka, and many more. Fantastic group of ladies!
YGR: What is a change you'd like to see happen in women's racing to help with the further development of the sport?
: Equal payouts (within reason) would be awesome. What I mean by that is there shouldn't be equal payouts for an 8-woman pro-1-2 field and a 40-man pro-1-2 field. However, the prize for first place should be the same, and if the fields are comparable sizes I think equal payouts are something that really needs to happen. Hey, it's motivation to race for a poor college student like me! Also, the distances really need to be more equal. Race directors seem to think that women can't ride more than like 50 miles. WATCH ME. Physiologically, women have an innately better endurance system than men do, and we recover better for long stage races like the Tour de France. But for some reason we only get one short day in the Tour? Makes no sense.
YGR: Shifting gears a bit, what are you studying in school, graduation date and post grad plans?
: I study Nutrition Pre-Med, but I do not plan to go to medical school. I love nutrition and I also love all the science classes that go with pre-med, so I chose that major. I graduate this December; hopefully summa cum laude. I plan to attend graduate school for Exercise Physiology; hopefully as a Ph.D. student. I'll start either Fall 2016 or Fall 2017. Where, you may ask? I'm looking all over- from the Scandinavian countries, to New Zealand and Australia, to the eastern U.S. I guess time will tell!
YGR: With the time you're planning on spending in Tucson next year for the early part of the season, any plans of studying up for grad school or are you just taking some time to ride the bike and work?
: Indeed I am! I'll mostly just be taking a "brain break," but I plan to take the GRE and get certified as a personal trainer during that time. Most of the time will be spent making enough money to get by and training!
YGR: How have you applied what you've learned from your major to your cycling routine?
: Absolutely! Last semester I took a class called Nutrition for Athletes and this summer I took Exercise Physiology. Both of those classes have informed me immensely about what I should eat and how all of the energy systems in the body work. Cycling is sort of the sport of focus in Exercise Physiology. This is because it's easy to measure wattage on a bike in addition to the heart rate, lactate levels, etc. you could measure in other endurance athletes like runners.
YGR: Last year you started racing cross, any plans to really dive deep into cross or are you planning on sticking to trying to make the run at a contract on the road?
: Since I'm still a cat 3 in cross, I think I could get some good results and have some fun in the early season. Once the weather gets bad, I plan to bail and work on strength and base for the off-season. I'll race collegiate cross nationals in January and then head down to Tucson and begin my training for the road season.
YGR: Any big non bike related events coming up besides graduation?
: Not that I can think of! Graduating and moving is definitely enough for me.
YGR: Do you have a timeline for when you'd like to progress to being on a women's domestic or continental team?
: ASAP! I don't have the results quite yet, but I hope to get there next season if all goes well. I will be on a new team next year- they just started as a men's team this year and they're starting a women's team for next year. TBA!
YGR: End goal for the sport?
: Race professionally. I'm young so I have a lot of time to get there! I don't think I will ever be the star rider, but since I am an all-arounder I think I could make a killer domestique/work horse someday.
YGR: Favorite local route?
: Definitely the dams. After leaving town or not riding the dams for even a week or two, I am in awe upon returning. They're my favorite ride in the entire world.
YGR: Any final words of wisdom for the community?
: Get out there and ride! Don't be afraid to get dropped- it'll make you stronger.