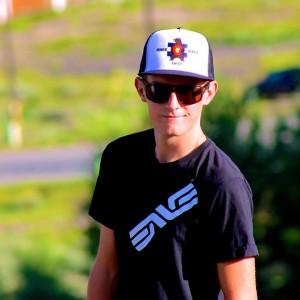 Local pro mountain biker, Mark Currie recently wrapped up his Spring campaign with a third place finish at Ridgeline Rampage. YGR caught up with the Adrenalin Project Pro to see what's coming up next for him and how he's building up to Leadville.
Rider Name: Mark Currie
Team: The Adrenalin Project
Category: Pro
Occupation: Student
Age: 20
Years in the Fort: 3
Hometown: Highlands Ranch, Colorado
Type of Racer/Strengths: Endurance MTB – love the technical stuff.
YGR: For riders in the Fort that have never heard of The Adrenalin Project, tell us a little bit about what it is.  
● : The Adrenalin Project is a team based out of Littleton, Colorado. We have 11 guys, consisting of a few pro mountain bikers, a couple of pro ultra-runners, and a few pro xterra athletes. Through racing and training, we seek to enjoy being in the outdoors doing what we love.
YGR: This is your first season racing with TAP, how has it compared to racing solo as you have done in seasons past?
● : So far it has been awesome. I'm the youngest guy on the team, so it's been great to have new training partners, friends, and mentors. Additionally, we've got some badass kits – so that's always a good thing!
YGR: How has the adjustment been for you racing with the pros this year compared to last year?
● : I'd say it's been a very natural, and good progression. I raced pro in a few races in 2014 too, but definitely didn't have nearly the same fitness as I have this year. So far, the season looks to be shaping up nicely! I unexpectedly wound up on the podium at Ridgeline Rampage a few weeks back, so that was a huge encouragement to me that clearly what I'm doing has been working.
YGR: That Strava website keeps telling us that you are in Moab what seems like every other weekend. How was this Spring semester for you balancing school, training, racing, and "Moabing", do you all call it that?
● : Yes, yes, yes… Guilty as charged. Moab and I have had a great relationship in 2015 so far haha, with several trips already! It's a blast to get out there and ride some different challenging stuff, especially when the snow flies here. It's always a challenge to balance school, riding, and traveling. I've tried to keep school a priority, but leave plenty of time to get out and play too. I work hard during the week, so I usually have the weekend free for riding. I'm lucky in that I have been ahead on credits, allowing me to take less credits per semester, equaling more time on the trails. Big win!
YGR: So last year you won your qualifier for Leadville and deferred it to this year, how have you been preparing for the big one?
● : Yes, I did! Silver Rush 50 in 2014 was a great race for me. So far this year, I've just been riding more, training harder and trying to get all the pieces ready to come together at Leadville, in early August. I'm also racing the Bailey Hundo in a few weeks, so that will be a great race to test out the legs at that distance this year and see how I stack up. I'm hoping for big things there too, as well as Leadville, so it's about to get exciting.
YGR: Is your focus at Leadville more on your age group or the overall?
● : I'd say the overall standings. If everything goes as planned, I'd like to be pretty close to the front of the race, hopefully with a good, and fast overall finish! Of course, at that race, the weather, mechanicals, and the altitude can all be interesting factors, so I'm hoping for a good day.
YGR: If you find yourself up there at the front with Todd Wells in the end, what's your advantage?
● : To be honest with you, if that situation was to occur, and I'm anywhere within sight of Todd close to the end of the race I think I'd be absolutely mindblown. That's not something I anticipate being possible just yet haha, but i'll get back to you if it happens!
YGR: You aren't a Colorado native or even a U.S. citizen, any aspirations to go back and race for the Irish national team someday?
● : I'm trying to spend as much time in Colorado as I can, and preferably not too much time in Ireland haha… Especially after the rain here the last 2 weeks, and knowing that's what I grew up with everyday, I don't think I could handle it back there for too long! It would be a cool experience to race in the country I grew up in, but as far as the Irish national team, I haven't really considered the possibility.
YGR: Lately, it's been raining a little bit. Have you deferred to riding road, inside on the trainer or what?
● : Like we just talked about, I grew up with rain almost every day in Ireland and have grown to despise the stuff. However, I've sucked it up and I've been trying to stay outdoors, rather than on the trainer, meaning that unfortunately I have had to give in and get back on the skinny tires for a while. I can't wait for everything to dry up, and get back out for a rip.
YGR: What's your favorite local trail to hit?
● : Bobcat Ridge
YGR: To this point in your career, what has been your favorite race in Colorado?
● : The Bailey Hundo. It starts out with 60 miles of epic Colorado Trail singletrack, which is almost unheard of for 100 mile races in Colorado.
YGR: This fall will also be your final season of racing collegiate, which event will take most of your focus at nationals so you can go out with a stars and stripes jersey?
● : Providing that I can acquire a trail bike, I'm planning on taking a shot at the omnium. I'm a fast descender on my XC bike, so on a trail bike, I think I could put down a pretty quick downhill run. Hopefully I can combine that with good finishes in the XC and short-track, and I'll find myself on the podium!
YGR: What got you started into cycling? You have a bit of a running background, right?
● : When I moved here from Ireland, we bought some crappy mountain bikes and started riding them. I quickly figured out that I was pretty good at it and loved riding, and it's all taken off from there. I used to run track and XC, and have ran a marathon, but there's not a doubt in my mind that mountain biking is much more fun. Plus, runners are far too serious anyways haha…
YGR: Who all is included in your dream group to get pinned with on the trails?
● : Let's see here… Emily Batty. For those of you who don't know who that is, look her up and you'll quickly see what I mean haha!
YGR: Favorite training partner?
● : That'll have to be my good buddy, and roommate Jonathan Modig. For those of you who know Jon, he's a pretty high energy level dude, meaning that when the two of us get out on our mountain bikes together, it's always a good time.
YGR: What all do you have going on this summer to maintain some life balance when off the bike?
● : I'm back home in Highlands Ranch, eating all of the home-cooked food I can manage before school starts again in August and I have to cook again! I'm working a bit in a bike shop, to earn a little spare cash to fund my adventures! Other than riding and working, you'll be able to find my spending time with the family, and probably around Fort Collins with friends on the weekends I'm not racing.
YGR: What's your plan for after college? Will the ole bike be taken into account for a career decision?
● : I'm graduating in May 2016 with a finance degree. The dream would be able to integrate what I've learned in school with my passion for mountain biking. I'm not exactly sure what this is going to look like just yet, but at least I have a year to figure it out!
YGR: Any final words of wisdom to leave the readers with?
● : Mountain biking is all about having fun, so don't take yourself too seriously. Get out there, enjoy the trails, have a blast, and make sure you have enough time for a wave when you're out there on the trails and you see somebody else ride by.
Ride on!