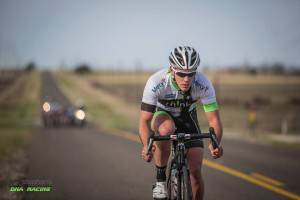 Local Elite road racer, Zack Allison just opened the Source Endurance Training Center of the Rockies in the basement of Peloton Cycles on College. YGR caught up with the Elevate Cycling Cat 1 to see how the season is progressing, how SETCR is doing in it's first months and what his plans are for next year. 
Rider Name Zack Allison
Team Elevate Cycling – Formerly Think Finance. https://www.facebook.com/ElevateCyclingTeam?ref=br_tf
Category Cat 1
Occupation Owner SETCR, Coach, Racer
Age 25
Years in the Fort 6
Hometown Arlington VA
Type of Racer/Strengths All arounder/strong finishes, sprinting
YGR: For readers that don't know, tell us what Source Endurance Training Center of the Rockies is.
: The Source Endurance Training Center is a space below Peloton cycles North where cyclists can workout during non ideal conditions whether it be lack of daylight, snow, rain, anything. We have Lactate Threshold testing, a modest weight setup, 10 Wahoo Kickr Smart Trainers, by the end of the month the Moto will be up and running for motor pacing, and my Podium legs have been shipped to start building our options for recovery.
YGR: You've been open for about two months now, how are things going?
: The training center is going great. There are people trickling in as the weather fluctuates. The winter has been pretty mild so its hard to book classes when its a high of 60 like this week but as the daylight goes away there are consistently booked classes  in the evenings.
YGR: Is attendance above or below projections?
: Its about right where I thought it would be. There are 16 classes a week not including the "special team classes" so that is an opportunity to have 160 athletes roll though the training center a week. We are at about 60 people on any given week. I would say that its taken off for the first month of being open. I think its only up from here. People take off seasons, cross racing lends itself to riding outside in colder weather. Once people start their winter training and the weather turns I can see more classes being full but I am happy with where we are at now.
YGR: Now that you've been open for awhile, are you making any changes to your business model based on market demand?

: Yes, the normal offerings are the threshold, tempo, VO2, or climbing interval style classes. the classes are $25 for a single session and you get a discount if you buy a 5, 10, or 20 pack. We are keeping some of those weekly classes but starting in January we will be offering a 12 week build style class. You pick your time slot, its the same time and day for 12 weeks, but the class changes and builds on itself for better training. These will start the second week of January. I am very open to suggestions on how to make these classes better. We had the TTH ride come in on a rainy day and fill the training center, the First City team, Norther Colorado Grassroots, and Fort Follies teams have weekly classes that fill up. If you have any ideas or a class that you want to see happen just let me know.
YGR:  How is the space below Peloton working out for ya?
: The Space is great. Initially looking at it with the Peloton crew I thought "wow this is huge" as it filled up with training equipment it got smaller and smaller. I think it is the perfect space to be able to start this project in Fort Collins. Peloton has also been great working with me as a start up subleasing from them. There's still a long way to go but I do not think I could have made it this far without their generosity and trust.
YGR:  How did you decide on the Wahoo Kickr trainers, and how are they holding up?
: The trainer decision was between Computrainer and Kickr. The Computrainer is sort of the gold standard of trainers that measure power. They are extremely accurate, lab grade strain gauges. The problems with these units are they have a ton of wires, they are bulky, you burn through rear tires, and the software is a bit old. The Kickr's on the other hand are wireless, minus the power cord, they are ant+ and bluetooth compatible, you put your bike on a cassette so you don't eat though tires, and the software is open source and had many developers moving it along. They are also cheaper, this makes for a bit less accurate of a power measuring unit and there have been some connectivity kinks but overall I'm happy with the Kickrs. I do have a computrainer for LT testing where you need that accuracy.
YGR: What are the plans for SECTR in the summer?
: I think that for the most part the classes will die off in the summer but that's not our only service. As people stop riding indoors in April/May we will have more people getting behind the moto, likely some more testing, the gym will be open, just a shift in services as riding moves outdoors.
YGR: What is the most challenging part of being a business owner?
: A mixture of the stress and lack of sleep. Starting out I'm running all the classes, 545am and some days going past 9pm for special classes. On top of running the place there is a list a mile long on things that need to happen to make it better, it's definitely stressful but all you can do is keep chuggin' away, get a couple new things done a day while keeping it running as smoothly as possible.
YGR: What is the most surprising part of working with so many different riders in a classroom setting? Have you seen any really interesting things with regards to power, heartrate general riding style?
You see a ton of things at the training center that you dont see outside, pedal styles, major differences in genetics when you are comparing 10 peoples numbers of varying ages all at the same time. I think the most surprising thing is looking at some of the really fast riders of different ages. Some young guys have "ok" numbers and are given the world, where as some older guys have CRAZY good numbers (cough, Stefko, Cough) and do their damndest to get to the races on their own and have a family and different priorities. I'm not saying we should all be tested at birth and placed into a sport based on our genetics, if that were the case I definitely would not be in cycling, but it interesting noting differences in abilities vs opportunities and where people are in the sport.   
YGR: What rider have you been the most impressed by?
There are a few different ways to be impressed. I mentioned Steve Stefko earlier, Brad Cole, pure engines those guys, from a power standpoint. You, Dan have great numbers too, same for Jake Arnold. Those numbers are almost expected though, what impresses me more are the guys like Carl Woodworth, or Clint Waara, you, Tony Steward, some of my other clients. They have full time jobs, they are full time parents, and still come in when they can and workout but also have great numbers. These examples work hard at taking care of themselves and their work and families. If you're a pro you better have a high threshold power but if you have a full time job and a family and have good numbers thats way more impressive to me.
YGR: How is it affecting your training/racing?
: I had to cut my season short, decided to quit while I was ahead after a successful track nationals. I'm not really sure yet if I've been negatively affected. I'm going to get in a good block of training this week with the nice weather. I haven't raced since opening. I think I'll make it. I have a bigger commitment to the racing team this year so I have to step up and earn the support I'm getting from Elevate. Right now the numbers are good.
YGR:  We've had a really nice fall, that can't be helping your numbers.  As an elite road racer it's got to be tough wanting nice weather personally but needing the cold and snow professionally.
: Bright side is I own a training center. No matter the weather I have a place to train. It works well, nice weather, less booked I get to ride in the nice weather. Bad weather I train in the training center with clients.
YGR: Speaking of racing, you've been on Th!nk Finance for a few years now.  How does riding for one of the best financed elite teams differ from riding on a continental team?
: There's not a huge difference. The money is there for us to be pro conti, when you look at what that will buy you in the US its a boatload of money just to be able to do a couple races not open to non pro teams. We can do Gila, Naturevalley GP, all the pro races and pay the riders way more by not dishing out the 40k to be pro. Maybe if we get to the point of having a roster worthy of a fight for Tour of Cali or Colorado it would be worth it but we are not there yet. Its cool having "pro" on your licence but its cooler to have the right support as an elite rider rather than not get paid at all and have "pro" in your team name.
YGR:  What are your racing plans for next season?
: Think Finance has turned into Elevate cycling, the same owner Ken Reese is behind it, we will be on Focus bikes which I am very psyched about. We brought on some really fast riders, one local rider to be noted, Jake Arnold formerly of Incycle Predator, and we sort of merged with The Boneshaker Project out of Austin, TX bringing on Heath Blackgrove, Logan Hutchings and a few other very fast guys. We will be the fastest elite team in the US. Mostly UCI and NRC stage races on the calendar so far.
YGR: How is that different than previous years.
: Last year we had the support but this year we have the support and the roster.
YGR:  Some of our readers might not know this, but you and your teammates won the National Team Pursuit Championships in 2014 .Do you plan to do more track racing this year?
: The track racing is crazy fun. I would love to do as much as possible but it can't overlap any road racing. The new track in Erie will be a great resource for me to train and race locally. There just is not enough support for track like there is road so if there is an overlapping race between National Racing Calendar and National Track Calendar, road will always win.
YGR: Your longtime girlfriend Whitney Schultz and her family just launched Peritus Coffee Roasters. Who's a better business person?
Better business person…..haha This feels like a trap……;) The Schultz family, Whitney, Quinn, and Lisa are extremely smart, they would win the business person battle if there was one. What I think is great is that these are two close families that started 2 new businesses in the same week that go well together. Their Coffee is amazing and I'm proud to offer it at the training center. Whitney is getting out of her 8-5 marketing job this week and will be able to use her smarts to get Peritus moving some beans. Keep an eye out for their coffee around town its really great stuff.
YGR: Did you guys launch both these businesses strictly out of necessity?  I mean, coffee beans for as far as the eye can see and a state of the art training facility for a couple of cyclists sounds pretty sweet.
HA we basically took the two things we spend the most money on and made them in large quantities, training and coffee. Turns out other people need those things too.
YGR:  Favorite local ride?
: Well it was Poudre, Stove Prairie, Buckhorn, with a nice loop down to the damn store to make it a nice 4 hours but thats still closed. I'll say Estes Via Glenhaven is the ultimate ride. Views, climbing, descents, it has it all.
YGR: Favorite local race?
: Criterium – Oval Crit – Road Race – Weld County RR. Weld county has a bit of dirt, some rollers, Tactics, a fast finish, good spring classic road race.
YGR: What could local promoters do to improve road racing along the front range.
: I think having better partnerships with sponsors and more of an event setting. This can create better promotions for the sponsors and better payout for the races. Even on pro team calendars there are races that we go to and enjoy every year that are semi local, Lago Vista, bike the bricks in Texas, Most of Diaryland is not on the national crit calendar. These are big events attractive to out of state racers. Promoting a race is very very hard but the fact that there is not a local race in Colorado that anyone out of state travels to is weird to me. Its not all about money but some of it is and the other part is having a great event.
YGR:  Favorite training partner?
: Yea its probably Whitney. If you asked her she would probably say "I hate riding with that half wheeler"
YGR: I assume Whitney and your training is vastly different due to season schedules, racing styles, physiology, etc…, do you two attempt to to train together?  If so, how do those rides playout?
: We actually ride together alot, mostly weekends. We are both really busy so its nice to be able to get in a 4 hour ride and talk a bunch. She is a motor and light. I'm more of a sprinter so it works out that I dont wait on her much. The one rule is sprinting for town lines I have to sprint seated. Other than that doing base pace with climbing its really evenly matched.